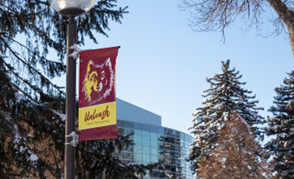 ABERDEEN, S.D. – Northern State University in Aberdeen, S.D., has released the dean's list for the fall 2022 semester.
Students who have earned at least a 3.5 grade point average for the semester are eligible for the dean's list. Students who achieved dean's list status and requested that their names be released to the media are listed below, grouped by state and hometown:
ARIZONA
Dakota Larson, Chandler
Ivan Martin, Glendale
CALIFORNIA
Joshua Blakely, Whittier
Blake Clay, Whittier
COLORADO
Mackenna Heiden, Aurora
Tanner Reddan, Castle Rock
Elly Smith, Centennial
Taylor Buckley, Colorado Springs
IOWA
Abigail Holmes, Algona
Delaney Ryken , Ames
Reese Johnson, Denver
Avery Blasdel, Glenwood
Tyler Kimm, North Liberty
Evan Helvig, Sioux City
Mikayla Riesberg, Templeton
Sarah Gaul, Urbandale
Kaitlyn Morrison, Woodbine
IDAHO
Haley Osborne, Boise
ILLINOIS
Collin Olla-Chatman, Chicago
INDIANA
Delanee Grier, Fort Wayne
KANSAS
Alison Jones, Lawrence
MINNESOTA
Victoria Kolbinger, Becker
Lauren Walter, Belle Plaine
Miah Stone, Bemidji
Sara Evenson, Benson
Kaleb Skelly, Blaine
Luke Gunderson, Buffalo
Kennedy Sohler, Buffalo
Alexa Sutherland, Cambridge
Kaylin Anderson, Canby
Drew Benson, Chaska
Dayne McNaughton, Chaska
Alexis Chase, Chatfield
Jackson Weidner, Cottage Grove
Rachel Garvey, Dayton
Maximillian Otto, Delano
Jack Paulson, Delano
Scott Jussila, Elk River
Shelby Novotny, Elk River
Samuel Fuller, Evansville
Kristen Kokett, Evansville
Alec Larson, Glenwood
Abigail Rux, Hawley
Brooke Maier, Hayward
Jaron Gross, Hillman
Zoe Boughton, Inver Grove Heights
Laci Leverty, Isanti
Bryce Knapek, Kimball
Elinor Sayers, Lakeville
Mia Zagorski, Lakeville
Ella McCormick, Mahtomedi
Wyatt Block, Mankato
Chase Groh, Mankato
Jessica Ryman, Maple Grove
Autumn McDonnel, Marshall
Eva Larson, Minneapolis
Jack Miller, Minnetonka
Samantha Weidenbach, Monticello
Summer Carlson, Moorhead
Katherine Pickering, Moorhead
Chloe Strom, Moorhead
Jordan Hillesheim, New Ulm
Drew Smook, North Mankato
Paige Johnson, Park Rapids
Blakemon Ask, Plymouth
Quinton Ask, Plymouth
Blake Stoks, Porter
Teagan Block, Prior Lake
Cole Carney, Prior Lake
Rachel LeMair, Prior Lake
Cory St. Martin, Prior Lake
Brent Hokeness, Rushmore
Annabelle Ellerbusch, Sauk Rapids
Jacob Schloe, Sauk Rapids
Jacob Swanson, South St. Paul
Jaquelyn Yang, St. Paul
Kennedy Gravelle, Wadena
Justin Streit, Watkins
Treyson Longstreet, Waverly
Sera Speltz, Winona
Anastasia Cardinal, Winsted
MISSOURI
Alexandria Arndt, Blue Springs
MONTANA
MacKenzie Turner, Belgrade
Michael Hurlbert, Clancy
NORTH DAKOTA
Nathan Schauer, Ashley
Mckenzie Balzer, Bismarck
Emma Glant, Bismarck
Mia Hinsz, Bismarck
Grace Humann, Bismarck
Therese Haberman, Bottineau
Tyra Steinwand, Edgeley
Katrina Weigel, Edgeley
Eric Blondo, Ellendale
Carolyn Endres, Ellendale
Kristi Gilbert, Ellendale
Taylor Krege, Ellendale
Holly Durbin, Fargo
Hannah Kearns, Fargo
Madison Langlie, Fargo
Easton Rerick, Fargo
Dawson Weisenberger, Fargo
Zachary Carolin, Grand Forks
Destiny Wenger, Hazelton
Hannah Murchie, Jamestown
Allie Windjue, Jamestown
Abigail Scheuring, Lidgerwood
Bethany Shearer, Lisbon
Mayson Sheldon, Mandan
Morgan Sheldon, Mandan
Kristin Johnson, Menoken
Sidney Anderson, Milnor
Alison Theis, Minot
Trista Henderson, Rolla
Joel Matehs, Rugby
Tyler Schwartz, Tioga
Avery Murray, Valley City
Brandon Steinhauer, West Fargo
NEBRASKA
Alli Jackson, Allen
Faith Carroll, Central City
Izaak Hunsley, Hastings
Laine Converse, Ithaca
Anabelle Gillen, Mitchell
Eden Ford, Omaha
Trevor Schwartz, Scottsbluff
Joshua Trumble, Springfield
Brooke Carlson, Syracuse
NEVADA
Jordan DeMarce, Las Vegas
Brian Baker, Reno
NEW YORK
Shanice Burrell, Bronx
Faith Acevedo, Valley Stream
SOUTH DAKOTA
Jacob Angerhofer, Aberdeen
Jennifer Appl, Aberdeen
Preston Barr, Aberdeen
Christopher Beusch, Aberdeen
Brookelyn Beyers, Aberdeen
Simon Bickford, Aberdeen
Sara Bokelheide, Aberdeen
Erica Carda, Aberdeen
Dante Casanova, Aberdeen
Kalid Castillo, Aberdeen
Clifford Clothier, Aberdeen
McKenzie Cordie, Aberdeen
Emilie Crosby, Aberdeen
Taye Cundiff, Aberdeen
Bailey Dinger, Aberdeen
Dylan Eckart, Aberdeen
Brandon Eisenbeisz, Aberdeen
Brent Ekanger, Aberdeen
Emma Fabert, Aberdeen
Megan Fastenau, Aberdeen
Morgan Fiedler, Aberdeen
Landen Fischer, Aberdeen
Mason Flakus, Aberdeen
Samantha Fletcher, Aberdeen
Alexys Forred, Aberdeen
Mirra Frohling, Aberdeen
Maria Garcia, Aberdeen
Hannah Gasperich, Aberdeen
Drew Geier, Aberdeen
Ceylie Gergen, Aberdeen
Clint Gergen, Aberdeen
Makenna Glanzer, Aberdeen
Cassidy Gough, Aberdeen
Lillian Grebner, Aberdeen
Matthew Grebner, Aberdeen
Michael Grebner, Aberdeen
Christina Grettler, Aberdeen
Norma Hall, Aberdeen
Aaron Hanson, Aberdeen
Olivia Hanson, Aberdeen
Kaitlynn Harmon, Aberdeen
Jackson Harrison, Aberdeen
Makala Hauge, Aberdeen
Cody He Crow, Aberdeen
Tiger Heart, Aberdeen
Ashle Heier, Aberdeen
Joshua Hellwig, Aberdeen
Jenna Helms, Aberdeen
Taite Hensley, Aberdeen
Sydney Hepperle, Aberdeen
Kayleen Hermans, Aberdeen
Tucker Hermans, Aberdeen
Jordan Hermansen, Aberdeen
Alyssa Hintz, Aberdeen
Brooke Hintz, Aberdeen
Kendra Hinz, Aberdeen
Taylor Hoelscher, Aberdeen
Cole Holmes, Aberdeen
Chloe Honabarger, Aberdeen
Maria Htoo, Aberdeen
Caiti Hubert, Aberdeen
Ruth Hulscher, Aberdeen
Jayda Hunstad, Aberdeen
Destiny Jensen, Aberdeen
Saw Joe, Aberdeen
Derek Johnson, Aberdeen
McKayla Johnston, Aberdeen
Wesley Jones, Aberdeen
Haley Kastigar, Aberdeen
Sarah Keen, Aberdeen
Alci Kelly, Aberdeen
Trejon King, Aberdeen
Grace Kramer, Aberdeen
Alexis LaFave, Aberdeen
Hannah LaJoie, Aberdeen
Paige Larson, Aberdeen
Walker Larson, Aberdeen
Hailey Latham, Aberdeen
William Madler, Aberdeen
Christian Malsom, Aberdeen
Alexis Martin, Aberdeen
Hannah McLeod, Aberdeen
Nathan McLeod, Aberdeen
Prancine Mendoza, Aberdeen
Hailey Moeller, Aberdeen
Delci Mueller, Aberdeen
Shelby Nash, Aberdeen
Mattilyn Nehlich, Aberdeen
Grace Nelson, Aberdeen
Laura Ochsner, Aberdeen
Megan O'Donnell, Aberdeen
Julia Orr, Aberdeen
Madeline Orr, Aberdeen
Robert Padgett, Aberdeen
Nathan Palmer, Aberdeen
Jeremy Pasara, Aberdeen
Julianna Pasara, Aberdeen
Abbigail Patton, Aberdeen
Rosa Paw, Aberdeen
Tanner Pietz, Aberdeen
Skylar Pike, Aberdeen
Isabela Polanco Garcia, Aberdeen
Holly Randall, Aberdeen
Ashlyn Reimer, Aberdeen
Roberta Rernleitner, Aberdeen
Fionualla Rigg, Aberdeen
Laurie Rogers, Aberdeen
Andrew Rohrbach, Aberdeen
Brady Rohrbach, Aberdeen
Camryn Romig , Aberdeen
Kenissa Ross, Aberdeen
Austin Russell, Aberdeen
Esther Santiago, Aberdeen
Matt Scepaniak, Aberdeen
Rhianna Schmidt, Aberdeen
John Schwab, Aberdeen
Kaylee Senger, Aberdeen
Hailey Sharp, Aberdeen
Jaeden Shaving, Aberdeen
Trent Shuey, Aberdeen
Kara Sinar, Aberdeen
Hailey Smith, Aberdeen
Taylor Speidel, Aberdeen
Kelly Stadel, Aberdeen
Joshua Steinwandt, Aberdeen
Diamond Sturdevant, Aberdeen
Lachelle Swanson, Aberdeen
Tia Swiontek, Aberdeen
Katelyn Thares, Aberdeen
Kasey Tobin, Aberdeen
Lily Tobin, Aberdeen
Lora Toncheva, Aberdeen
Madison Vinich, Aberdeen
Brooke Vitters, Aberdeen
Taylor Vitters, Aberdeen
Madisyn Voegele, Aberdeen
Elizabeth Wagner, Aberdeen
Joshua Wakefield, Aberdeen
Tatum Waldrop, Aberdeen
Devin Weber, Aberdeen
Karly Wellman, Aberdeen
Madelyn Westby, Aberdeen
Mariah William, Aberdeen
Jesse Williams, Aberdeen
Skylinn Williams, Aberdeen
Benjamin Wirth, Aberdeen
Ryann Yamaura, Aberdeen
Emma Yeske, Aberdeen
Christian Zetterlund, Aberdeen
Caitlynn Barse, Andover
Hope Neugebauer, Armour
Kiara O'Daniel, Athol
Shannon White, Aurora
Samantha Ferguson, Bath
Aunna Cloos, Big Stone City
Bethany Dybdahl, Brandon
Macyn Flanigan, Brandon
Melissa Jacobson, Brandon
Connor Knecht, Brandon
Calista Kocmick, Brandon
Hunter Marso, Brandon
Megan Pickering, Brandon
Austin Reiter, Brandon
Caleb Zerr, Brandon
Meadow Remily, Brentford
Bryce Peterson, Bristol
Emily Richie, Bristol
Anna Witt, Bristol
Aidan Fredrickson, Britton
Mya Hagenson, Britton
Skylar Nikko, Britton
Emma Storley, Britton
Brock Longville, Brookings
Maggie McDermott, Brookings
Kendra Reisetter, Brookings
Kellrhema Udoetuk, Brookings
Alayna Benike, Castlewood
Chloe Carroll, Castlewood
Camille Koenig, Chamberlain
Makenna Larson, Chester
Kayla Jensen, Claremont
Kasie Ingraham, Clark
Alexis Benson, Clear Lake
Kenzie Hamann, Clear Lake
Jessica Huntimer, Colton
Brynlee Lokkeberg, Colton
Jaden Barse, Corsica
Maria Jackson, Dell Rapids
Connor Libis, Dell Rapids
Madison Zwinger, Dimock
Erin Lemke, Dupree
Jastyn Rousseau, Eagle Butte
Skyler Muilenburg, Ethan
Chantel Mehlhaff, Eureka
Megan Weber, Eureka
Ally Cunningham, Faulkton
Jazlynn Geditz, Faulkton
Peyton Melius, Faulkton
Lauren Geranen, Frederick
Miranda Lai, Frederick
Grant Gubrud, Gary
Haley Wenger, Gregory
Jaimen Farrell, Groton
Carrie Feser Cole, Groton
Alyssa Fordham, Groton
Braden Freeman, Groton
Alexis Hanten, Groton
Logan Hinman, Groton
Eh Tha You Say, Groton
Grace Wiedrick, Groton
Wyatt Turnquist, Hamill
Mckenzee Danielson, Harrisburg
Ryan Hirschkorn, Harrisburg
Clayton Randall, Herreid
Madalyn Schumacher, Herreid
Olivia Christensen, Hitchcock
Taren Tschetter, Hitchcock
Bethany Wiebe, Hitchcock
Ashley Blocker, Hosmer
Hailey Buckmeier, Houghton
Jessica Artz, Hoven
Cally Anderson, Huron
Jessica Brockhoft, Huron
Kierra Dragt, Huron
Paw Hser Eh, Huron
Jenna Evans, Huron
Austin Gross, Huron
Thet Hlaing, Huron
Brevan Hooks, Huron
Htee Hser, Huron
Eh Kwa Lar Htoo, Huron
Paw Htoo, Huron
Maggie Knippling, Huron
Delaney Kouf, Huron
Noelle Nemmers, Huron
Ruby Ortega, Huron
Shee Paw, Huron
Kristin Paye, Huron
Eh Poh, Huron
Morgan Rathjen, Huron
Chit Snow, Huron
Mu Soe, Huron
Taylor Stuart, Huron
Reese Uecker, Huron
Hailey Bierman, Ipswich
Kaden Boettcher, Ipswich
Katelyn Geditz, Ipswich
Olivia Gohl, Ipswich
Halle Heinz, Ipswich
Rose McGeorge, Ipswich
Darius Swanson, Lake City
Emily Palmer, Langford
Jessica Colville, Lemmon
Rianna Fillipi, Lennox
Tyson Stoebner, Lennox
Skyler Geffre, Leola
BriAnna Linn, Letcher
Avery Schut, Madison
Ezekiel Duncan, Mellette
Ella Kasuske, Milbank
Kimberly Van Sambeek, Milbank
Abigail Breitling, Miller
Hunter Russell, Miller
Brock Baker, Mina
Alexa Rossman, Mina
Brenden Salfrank, Mina
Taylor Thorson, Mina
Estella Bullis, Mitchell
Brooke Flemmer, Mitchell
Cameron Gauger, Mitchell
Jonah Schmidt, Mitchell
Brady Bauer, Mobridge
Peyton Nelson, Mt. Vernon
Hayden Bohl, Northville
Caleb Schentzel, Northville
Colton Wicks, Nunda
Teri Carter, Onida
Jacob Howard, Onida
Alyssa Meyer, Orient
Crystal Cook, Parker
Audra Bland, Pierre
Paige Brandt, Pierre
Delaine Campbell, Pierre
Grace Campbell, Pierre
Addison Cumbow, Pierre
Ashley Even, Pierre
Carly Handcock, Pierre
Spencer Kelly, Pierre
Danielle Nickle, Pierre
Savannah Shrake, Pierre
Hailey Switzer, Pierre
Collin Engebretson, Platte
Jonathan Burkhalter, Prairie City
Taylor Bach, Rapid City
Dylan Grundstrom, Rapid City
Connor Knigge, Rapid City
Charles Larson, Rapid City
Madison March, Rapid City
Karley Tracy-King, Rapid City
Tyler Voorhees, Rapid City
Arin Wagner, Rapid City
Chasity Lewis, Raymond
Stephen Rowenhorst, Redfield
Trevor Beyers, Roscoe
Bridget Fuhrmann, Roscoe
Bailey Hammrich, Roscoe
Kristi Schurr, Roscoe
Vanessa Christensen, Rosholt
Payton Sattler, Roslyn
Randi Schuster, Roslyn
Abigail Ketelhut, Saint Lawrence
Donovan Knecht, Selby
Michelle Knecht, Selby
Nathan Brecht, Sioux Falls
Tevan Bryant, Sioux Falls
Michael Chevalier, Sioux Falls
Marisa Christensen, Sioux Falls
Jacob Ebeling, Sioux Falls
Hannah Eckhoff, Sioux Falls
Kendall Glissendorf, Sioux Falls
Avery Kautz, Sioux Falls
Lennon Keller, Sioux Falls
Christen Kessler, Sioux Falls
Kyra Knudtson, Sioux Falls
Leah Koltz, Sioux Falls
Ethan Kurtz, Sioux Falls
Ava Pickard, Sioux Falls
Emma Reck, Sioux Falls
Grace Schatz, Sioux Falls
Kylee Van Egdom, Sioux Falls
Brooke Wilcox, Sioux Falls
Shannon Wiley, Sioux Falls
Amara Vogel, Sisseton
Natalie Miles, Spearfish
Jaci Mollman, Spearfish
Christine Stoltenberg, Stratford
Brittany Delzer, Sturgis
Dylan Blair, Summerset
Eathen Erck, Tea
Elias Heier, Tea
Colton Kraft, Timber Lake
Zoe Olson, Timber Lake
Jessica Stockert, Vale
Gabrielle Grieme, Valley Springs
Hannah Gruhn, Vermillion
Allison King, Virgil
Kamryn Schwartz, Volga
Landon Leidholt, Warner
Benjamin Althoff, Watertown
Tyler Althoff, Watertown
Micah Baldwin, Watertown
Mitchell Buller, Watertown
Ella Cozad, Watertown
Megan Dockter, Watertown
Evan Halbe, Watertown
Abby Hartman, Watertown
Brenna Herting, Watertown
Anna Hoffman, Watertown
Jalyssa Johnson, Watertown
Allison Kluver, Watertown
Mallory Kohl, Watertown
Hilary Loehrer, Watertown
Margaret Meland, Watertown
Nevaeh Meyer, Watertown
Hannah Mielitz, Watertown
Gabrielle Mischke, Watertown
Madison Park, Watertown
Brayden Prokop, Watertown
Kade Russell, Watertown
Ryan Stark, Watertown
Delanie Tschakert, Watertown
Mackenzie Turbak, Watertown
Drew Veflin, Watertown
Sara Thyen, Waverly
Emily Breske, Webster
Kennedy Johnson, Webster
Cael Larson, Webster
Brooke Niederbaumer, Wecota
Hailey Clarke, Wessington
Jerrit Mehling, Wessington
Josie Mehling, Wessington
Dylan Schimke, Wessington Springs
Mckenzie Hassebroek, Westport
Katelyn Mehlhaff, Westport
Reece Moehlenbrink, Wetonka
Ashley Landmark, White
Spencer Christensen, White River
Kayla Natoli, Winner
McKenzie Hochhalter, Wolsey
Macie Luce, Wolsey
Rebekah Williams, Wolsey
Braxton Gentles, Woonsocket
TEXAS
Jessica Hernandez, El Paso
VIRGINIA
Kennedy Davis, Fairfax
WASHINGTON
Ashton Williamson, Aberdeen
Renea Taylor, Malott
WISCONSIN
Mackenzi Matson, DeForest
Chandler Ashland, Eau Claire
Joshua Witt, Green Bay
Ashley Fauske, Kaukauna
Joshua Dilling, Oshkosh
Kelsey Selden, Prairie du Sac
Cody Horon, Union Grove
Andrew Wedwick, Viroqua
Madisyn Filber, West Bend
WYOMING
Della Donovan, Casper
McCaden Anderson, Lander
INTERNATIONAL
Winifred Chibuko, Ogudu, Nigeria
Kyanna Collymore, Bridgetown, Barbados
Lauren Forsyth, Durban, South Africa
Mia Fursedonne, Essex, Great Britain
Hannah Kiernan, Bradford, Ontario, Canada
Luana Matos, Sarzedo, Brazil
Esteban Ortiz Reyes, Mexico City, Mexico
Ann Paul, Ernakulam, India
Glen Quayle, Baldrine, Isle of Man
Hannah Rodts, Prince George, British Columbia, Canada
Hannah Smith, Chelmsford, Great Britain
Sierra Sweeney, Porters Lake, Nova Scotia, Canada
Jagoda Szybinska, Poznan, Poland
Natalia Szybinska, Poznan, Poland
Itsuki Takahira, Fukuoka, Japan
Samuel Tremelling, Chelmsford, Great Britain
About Northern State University

Northern State University is a student-centered institution that provides an outstanding educational experience, preparing students through the liberal arts and professional education for their future endeavors. A regional university, Northern offers rigorous academics; diverse civic, social and cultural opportunities; and a commitment to building an inclusive environment for all points of view. Northern also offers a broad-based athletics program, sponsoring 15 NCAA Division II intercollegiate varsity sports that compete in the Northern Sun Intercollegiate Athletic Conference (NSIC). The university strives to enrich the community through partnerships such as its Educational Impact Campaign, which opened a new South Dakota School for the Blind and Visually Impaired; new athletic and recreation fields; and an on-campus regional sports complex. With the $55 million campaign, NSU has been the recipient of more than $150 million in privately funded building projects and scholarships within a decade. To learn more, visit NSU Admissions.