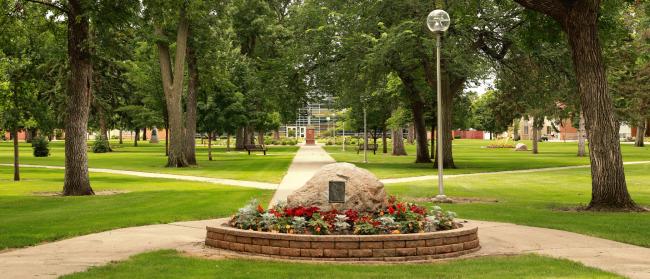 ABERDEEN, S.D. – Northern State University in Aberdeen, S.D., has released the dean's list for the spring 2023 semester.
Students who have earned at least a 3.5 grade point average for the semester are eligible for the dean's list. Students who achieved dean's list status and requested that their names be released to the media are listed below, grouped by state and hometown:
ARIZONA
Dakota Larson, Chandler
John Jacklin, Glendale
CALIFORNIA
Blake Clay, Whittier
COLORADO
Mary Franssen, Arvada
Mackenna Heiden, Aurora
Elly Smith, Centennial
Taylor Buckley, Colorado Springs
Rylie Reading, Colorado Springs
Marshall Barrer, Fort Collins
Madelyn Gonzales, Northglenn
IOWA
Abigail Holmes, Algona
Delaney Ryken, Ames
Reese Johnson, Denver
Jordan Sedivec, Granger
Mikayla Riesberg, Templeton
IDAHO
Haley Osborne, Boise
ILLINOIS
Erin Day, Bartlett
Graham Borden, Geneva
INDIANA
Delanee Grier, Fort Wayne
KANSAS
Alison Jones, Lawrence
Julia Westrich, Tonganoxie
MINNESOTA
Alexis Phillips, Albertville
Carlie Wolf, Alexandria
Annabelle Ellerbusch, Barnesville
Victoria Kolbinger, Becker
Lauren Walter, Belle Plaine
Miah Stone, Bemidji
Sara Evenson, Benson
Kai Brisk, Buffalo
Logan Grossinger, Buffalo
Luke Gunderson, Buffalo
Alexa Sutherland, Cambridge
Drew Benson, Chaska
Dayne McNaughton, Chaska
Alexis Chase, Chatfield
Jackson Weidner, Cottage Grove
Christian Mundt, Crystal
Maximillian Otto, Delano
Jack Paulson, Delano
Scott Jussila, Elk River
Shelby Novotny, Elk River
Samuel Fuller, Evansville
Kristen Kokett, Evansville
Kinze Stradtman, Fairmont
Alec Larson, Glenwood
Nathan Alto, Gonvick
Brody Hampl, Hastings
Abigail Rux, Hawley
Brooke Maier, Hayward
Jaron Gross, Hillman
Zoe Boughton, Inver Grove Heights
Bryce Knapek, Kimball
Elinor Sayers, Lakeville
Mia Zagorski, Lakeville
Josie Shurb, Louisburg
Ella McCormick, Mahtomedi
Wyatt Block, Mankato
Gabriella Dimatteo, Maple Grove
Jessica Ryman, Maple Grove
Autumn McDonnel, Marshall
Eva Larson, Minneapolis
Jack Miller, Minnetonka
Summer Carlson, Moorhead
Chloe Strom, Moorhead
Drew Smook, North Mankato
Paige Johnson, Park Rapids
Blakemon Ask, Plymouth
Quinton Ask, Plymouth
Blake Stoks, Porter
Teagan Block, Prior Lake
Cole Carney, Prior Lake
Cory St. Martin, Prior Lake
Brenden Baxter, Rochester
Jacob Muhich, Rogers
Brent Hokeness, Rushmore
Jacob Schloe, Sauk Rapids
Brandon Dorshak, Savage
Mya Krause, Spicer
Jaquelyn Yang, St. Paul
Hanna Thompson, Victoria
Kennedy Gravelle, Wadena
Treyson Longstreet, Waverly
Anastasia Cardinal, Winsted
Nathan Van Orman, Worthington
MISSOURI
Alexandria Arndt, Blue Springs
Keri Walker, Manchester
MONTANA
Michael Hurlbert, Clancy
NEBRASKA
Alli Jackson, Allen
Faith Carroll, Central City
Kamdyn Barrientos, Grand Island
Sean Juengst, Grand Island
Cole Huss, Gretna
Izaak Hunsley, Hastings
Anabelle Gillen, Mitchell
Eden Ford, Omaha
Claire Zbylut, Papillion
Trevor Schwartz, Scottsbluff
Brooke Carlson, Syracuse
Karson Hesser, Wahoo
NEVADA
Jordan DeMarce, Las Vegas
Brian Baker, Reno
NEW JERSEY
Anyela Betancur, West Orange
NEW YORK
Faith Acevedo, Valley Stream
NORTH DAKOTA
Nathan Schauer, Ashley
Mia Hinsz, Bismarck
Grace Humann, Bismarck
William Madler, Bismarck
Reagan Spomer, Bismarck
Therese Haberman, Bottineau
Jessica Bertsch, Cando
Katrina Weigel, Edgeley
Carolyn Endres, Ellendale
Kristi Gilbert, Ellendale
Clayton Grueneich, Ellendale
Taylor Krege, Ellendale
Holly Durbin, Fargo
Madison Langlie, Fargo
Jacksen Moni, Fargo
Easton Rerick, Fargo
Zachary Carolin, Grand Forks
Hannah Murchie, Jamestown
Allie Windjue, Jamestown
Abigail Scheuring, Lidgerwood
Sidney Anderson, Lisbon
Bethany Shearer, Lisbon
Xavier Scott, Mandan
Mayson Sheldon, Mandan
Morgan Sheldon, Mandan
Kristin Johnson, Menoken
Alison Theis, Minot
Pamela McGregor, Oakes
Brandon Steinhauer, West Fargo
OKLAHOMA
Zachary Punt, Lawton
SOUTH DAKOTA
Jazmine Ackerman, Aberdeen
James Beilke, Aberdeen
Christopher Beusch, Aberdeen
Brookelyn Beyers, Aberdeen
Simon Bickford, Aberdeen
Abigail Bigelow, Aberdeen
Morgan Bingham, Aberdeen
Sara Bokelheide, Aberdeen
Erica Carda, Aberdeen
Dante Casanova, Aberdeen
Kalid Castillo, Aberdeen
McKenzie Cordie, Aberdeen
Taye Cundiff, Aberdeen
Megan Denison, Aberdeen
Hunter DeRize, Aberdeen
Brent Ekanger, Aberdeen
Jaimen Farrell, Aberdeen
Megan Fastenau, Aberdeen
Morgan Fiedler, Aberdeen
Landen Fischer, Aberdeen
Mason Flakus, Aberdeen
Samantha Fletcher, Aberdeen
Alexys Forred, Aberdeen
Hannah Gasperich, Aberdeen
Ceylie Gergen, Aberdeen
Clint Gergen, Aberdeen
Makenna Glanzer, Aberdeen
Cassidy Gough, Aberdeen
John Grabowska, Aberdeen
Matthew Grebner, Aberdeen
Michael Grebner, Aberdeen
Norma Hall, Aberdeen
Jackson Harrison, Aberdeen
Makayla Hauck, Aberdeen
Makala Hauge, Aberdeen
Tiger Heart, Aberdeen
Ashle Heier, Aberdeen
Joshua Hellwig, Aberdeen
Jenna Helms, Aberdeen
Taite Hensley, Aberdeen
Kayleen Hermans, Aberdeen
Tucker Hermans, Aberdeen
Jordan Hermansen, Aberdeen
Alyssa Hintz, Aberdeen
Kendra Hinz, Aberdeen
Taylor Hoelscher, Aberdeen
Cole Holmes, Aberdeen
Maria Htoo, Aberdeen
Ruth Hulscher, Aberdeen
Jayda Hunstad, Aberdeen
Destiny Jensen, Aberdeen
Saw Joe, Aberdeen
Derek Johnson, Aberdeen
McKayla Johnston, Aberdeen
Alci Kelly, Aberdeen
Abigail Kline, Aberdeen
Hannah Kraft, Aberdeen
Grace Kramer, Aberdeen
Kendra Kranz, Aberdeen
Catherine Laducer, Aberdeen
Alyson Lang, Aberdeen
Walker Larson, Aberdeen
Isaac Ligon, Aberdeen
Matthew Maag, Aberdeen
Maria Martens, Aberdeen
Seth Martens, Aberdeen
Alexis Martin, Aberdeen
Aiden McCafferty, Aberdeen
Hannah McLeod, Aberdeen
Joshua Mehlhoff, Aberdeen
Prancine Mendoza, Aberdeen
Hailey Moeller, Aberdeen
Laura Mount, Aberdeen
Shelby Nash, Aberdeen
Mattilyn Nehlich, Aberdeen
Grace Nelson, Aberdeen
Julia Orr, Aberdeen
Madeline Orr, Aberdeen
Robert Padgett, Aberdeen
Jameson Palmer, Aberdeen
Jeremy Pasara, Aberdeen
Rosa Paw-Ktaw, Aberdeen
Dawson Pfister, Aberdeen
Tanner Pietz, Aberdeen
Skylar Pike, Aberdeen
Isabela Polanco Garcia, Aberdeen
Amanda Pupo, Aberdeen
Reece Ragatz, Aberdeen
Holly Randall, Aberdeen
Ashlyn Reimer, Aberdeen
Roberta Rernleitner, Aberdeen
Fionualla Rigg, Aberdeen
Laurie Rogers, Aberdeen
Andrew Rohrbach, Aberdeen
Brady Rohrbach, Aberdeen
Camryn Romig , Aberdeen
Kenissa Ross, Aberdeen
Chloe Rush, Aberdeen
Esther Santiago, Aberdeen
Matt Scepaniak, Aberdeen
Rhianna Schmidt, Aberdeen
Julia Schriver, Aberdeen
John Schwab, Aberdeen
Jaeden Shaving, Aberdeen
Trent Shuey, Aberdeen
Caitlyn Simon, Aberdeen
Tanner Simon, Aberdeen
Hailey Smith, Aberdeen
Taylor Speidel, Aberdeen
Joshua Steinwandt, Aberdeen
Benjamin Stucke, Aberdeen
Tia Swiontek, Aberdeen
Megan Tiede, Aberdeen
Kasey Tobin, Aberdeen
Lily Tobin, Aberdeen
Lora Toncheva, Aberdeen
Kaitlyn Vincent, Aberdeen
Brooke Vitters, Aberdeen
Taylor Vitters, Aberdeen
Madisyn Voegele, Aberdeen
Joshua Wakefield, Aberdeen
Alexis Wald, Aberdeen
Tatum Waldrop, Aberdeen
Karly Wellman, Aberdeen
Madelyn Westby, Aberdeen
Mariah William, Aberdeen
Jesse Williams, Aberdeen
Skylinn Williams, Aberdeen
Stephanie Wills, Aberdeen
Ryann Yamaura, Aberdeen
Caitlynn Barse, Andover
Hope Neugebauer, Armour
Mason Fey, Ashton
Layne Voeller, Barnard
Angelica Winters, Batesland
Samantha Ferguson, Bath
Summer Roelke, Beresford
Aunna Cloos, Big Stone City
Kaylee Mehlhaff, Black Hawk
Melissa Jacobson, Brandon
Connor Knecht, Brandon
Calista Kocmick, Brandon
Hunter Marso, Brandon
Megan Pickering, Brandon
Brittney Reiter, Brandon
Jeremy Sommer, Brandon
Gavin Terhark, Brandon
Caleb Zerr, Brandon
Cody Neumann, Brant Lake
Meadow Remily, Brentford
Bryce Peterson, Bristol
Aidan Fredrickson, Britton
Mya Hagenson, Britton
Emma Storley, Britton
Nickolas Hogan, Brookings
Brock Longville, Brookings
Maggie McDermott, Brookings
Kendra Reisetter, Brookings
Miranda Schmidt, Brookings
Kellrhema Udoetuk, Brookings
Elizabeth Hofer, Bruce
Gabrielle Mischke, Bruce
Alayna Benike, Castlewood
Chloe Carroll, Castlewood
Camille Koenig, Chamberlain
Makenna Larson, Chester
Kayla Jensen, Claremont
Alyssa Keough, Claremont
Kenzie Hamann, Clear Lake
Jessica Huntimer, Colton
Jaden Barse, Corsica
Madison Zwinger, Dimock
Erin Lemke, Dupree
Tayzia Claymore-Knight, Eagle Butte
Jastyn Rousseau, Eagle Butte
Levi Cooper, Eden
Skyler Muilenburg, Ethan
Megan Weber, Eureka
Ally Cunningham, Faulkton
Jazlynn Geditz, Faulkton
Peyton Melius, Faulkton
Ryleigh Huppler, Florence
Emma Thill, Florence
Chelsea Deichert, Fort Pierre
Lauren Geranen, Frederick
Miranda Lai, Frederick
Grant Gubrud, Gary
Haley Wenger, Gregory
Madisen Bjerke, Groton
Carrie Feser Cole, Groton
Alyssa Fordham, Groton
Braden Freeman, Groton
Alexis Hanten, Groton
Kasey Hinman, Groton
Logan Hinman, Groton
Regan Leicht, Groton
Eh Tha You Say, Groton
Wyatt Turnquist, Hamill
Mckenzee Danielson, Harrisburg
Ryan Hirschkorn, Harrisburg
Margaret Neeley, Herreid
Clayton Randall, Herreid
Olivia Christensen, Hitchcock
Taren Tschetter, Hitchcock
Bethany Wiebe, Hitchcock
Ashley Blocker, Hosmer
Hailey Buckmeier, Houghton
Jessica Artz, Hoven
Isabella Sautner, Hoven
Jessica Brockhoft, Huron
Kierra Dragt, Huron
Paw Hser Eh, Huron
Jenna Evans, Huron
Darrian Hood, Huron
Brevan Hooks, Huron
Htee Hser, Huron
Eh Kwa Lar Htoo, Huron
Maggie Knippling, Huron
Delaney Kouf, Huron
Tyson Lien, Huron
Addysen Morrison, Huron
Noelle Nemmers, Huron
Ruby Ortega, Huron
Eh Poh, Huron
Morgan Rathjen, Huron
Chit Snow, Huron
Taylor Stuart, Huron
Anna Tebay, Huron
Hailey Bierman, Ipswich
Kaden Boettcher, Ipswich
Katelyn Geditz, Ipswich
Olivia Gohl, Ipswich
Halle Heinz, Ipswich
Austin Russell, Ipswich
Darius Swanson, Lake City
Emily Palmer, Langford
Jessica Colville, Lemmon
Abigail Brooks, Madison
Avery Schut, Madison
Miranda Thorson, Mansfield
Ella Kasuske, Milbank
Parker Schell, Milbank
Abigail Breitling, Miller
Brock Baker, Mina
Brenden Salfrank, Mina
Taylor Thorson, Mina
Estella Bullis, Mitchell
Cameron Gauger, Mitchell
Carter Moller, Mitchell
Jonah Schmidt, Mitchell
Hayden Bohl, Northville
Caleb Schentzel, Northville
Colton Wicks, Nunda
Alyssa Meyer, Orient
Faith Schulte, Orient
Audra Bland, Pierre
Paige Brandt, Pierre
Addison Cumbow, Pierre
Carly Handcock, Pierre
Eli Houdyshell, Pierre
Madysen Hudson, Pierre
Spencer Kelly, Pierre
Bradley Richards, Pierre
Hailey Switzer, Pierre
Jonathan Burkhalter, Prairie City
Taylor Bach, Rapid City
Dylan Grundstrom, Rapid City
Connor Knigge, Rapid City
Charles Larson, Rapid City
Madison March, Rapid City
Kevin Munoz, Rapid City
Arin Wagner, Rapid City
Chasity Lewis, Raymond
Stephen Rowenhorst, Redfield
Bridget Fuhrmann, Roscoe
Vanessa Christensen, Rosholt
Payton Sattler, Roslyn
Randi Schuster, Roslyn
Abigail Ketelhut, Saint Lawrence
Brandon Lauer, Salem
Michelle Knecht, Selby
Andrew Blazevich, Sioux Falls
Vance Borchers, Sioux Falls
Michael Chevalier, Sioux Falls
Marisa Christensen, Sioux Falls
Jacob Ebeling, Sioux Falls
Reagan Elrod, Sioux Falls
Mitchell Hoover, Sioux Falls
Marit Hoyme, Sioux Falls
Avery Kautz, Sioux Falls
Lennon Keller, Sioux Falls
Kyra Knudtson, Sioux Falls
Ethan Kurtz, Sioux Falls
Abby Meister, Sioux Falls
Ava Pickard, Sioux Falls
Austin Portner, Sioux Falls
Emma Reck, Sioux Falls
Abigail Robinson, Sioux Falls
Grace Schatz, Sioux Falls
Maxamillion Thomson, Sioux Falls
Mitchell Tolk, Sioux Falls
Ayden Viox, Sioux Falls
Shannon Wiley, Sioux Falls
Natalie Miles, Spearfish
Alexandra Zwaschka, Spearfish
Christine Stoltenberg, Stratford
EmmahLeigh Cass, Sturgis
Eathen Erck, Tea
Elias Heier, Tea
Colton Kraft, Timber Lake
Zoe Olson, Timber Lake
Allison King, Virgil
Kamryn Schwartz, Volga
Austin Dreyer, Warner
Landon Leidholt, Warner
Kayla Zubke, Warner
Eliza Allen, Watertown
Tyler Althoff, Watertown
Micah Baldwin, Watertown
Ella Cozad, Watertown
Megan Dockter, Watertown
Evan Halbe, Watertown
Abby Hartman, Watertown
Jalyssa Johnson, Watertown
Allison Kluver, Watertown
Margaret Meland, Watertown
Nevaeh Meyer, Watertown
Hannah Mielitz, Watertown
Teagan Moes, Watertown
Madison Park, Watertown
Brayden Prokop, Watertown
Trajan Schmidt, Watertown
Ryan Stark, Watertown
Delanie Tschakert, Watertown
Drew Veflin, Watertown
Sara Thyen, Waverly
Emily Breske, Webster
Kennedy Johnson, Webster
Ella Kaufman, Webster
Maray Larson, Webster
Brooke Niederbaumer, Wecota
Dylan Schimke, Wessington Springs
Katelyn Mehlhaff, Westport
Reece Moehlenbrink, Wetonka
Ashley Landmark, White
Spencer Christensen, White River
Dalton Baker, Winner
Kayla Natoli, Winner
McKenzie Hochhalter, Wolsey
Cassidy Slykhuis, Woonsocket
TEXAS
Kari Wichner, Jarrell
UTAH
Sione Fehoko, West Valley City
VIRGINIA
Kennedy Davis, Fairfax
WISCONSIN
Brianna Back, Cottage Grove
Chandler Ashland, Eau Claire
Joshua Witt, Green Bay
Ashley Fauske, Kaukauna
Joshua Dilling, Oshkosh
Kelsey Selden, Prairie du Sac
Cody Horon, Union Grove
Andrew Wedwick, Viroqua
Madisyn Filber, West Bend
WYOMING
Della Donovan, Casper
Jorge Garcia, Pine Bluffs
INTERNATIONAL
Winifred Chibuko, Ogudu, Nigeria
Shawney Coenraad, Oranjestad, Aruba
Kyanna Collymore, Bridgetown, Barbados
Lilja Davidsdottir, Iceland
Lauren Forsyth, Durban, South Africa
Mia Fursedonne, Essex, United Kingdom
Hannah Kiernan, Bradford, Ontario, Canada
Luana Matos, Sarzedo, Brazil
Farai Mhende, Solihull, United Kingdom
Esteban Ortiz Reyes, Mexico City, Mexico
Ann Paul, Ernakulam, India
Glen Quayle, Baldrine, Isle of Man
Hannah Rodts, Prince George, British Columbia, Canada
Hannah Smith, Chelmsford, United Kingdom
Sierra Sweeney, Porters Lake, Nova Scotia, Canada
Natalia Szybinska, Poznan, Poland
Samuel Tremelling, Chelmsford, United Kingdom
Georgy Turner, Johannesburg, South Africa
Jackson Willis, Mullion Creek, Australia
About Northern State University

Northern State University is a student-centered institution that provides an outstanding educational experience, preparing students through the liberal arts and professional education for their future endeavors. A regional university, Northern offers rigorous academics; diverse civic, social and cultural opportunities; and a commitment to building an inclusive environment for all points of view. Northern also offers a broad-based athletics program, sponsoring 15 NCAA Division II intercollegiate varsity sports that compete in the Northern Sun Intercollegiate Athletic Conference (NSIC). The university strives to enrich the community through partnerships such as its Educational Impact Campaign, which opened a new South Dakota School for the Blind and Visually Impaired; new athletic and recreation fields; and an on-campus regional sports complex. With the $55 million campaign, NSU has been the recipient of more than $150 million in privately funded building projects and scholarships within a decade. To learn more, visit NSU Admissions.