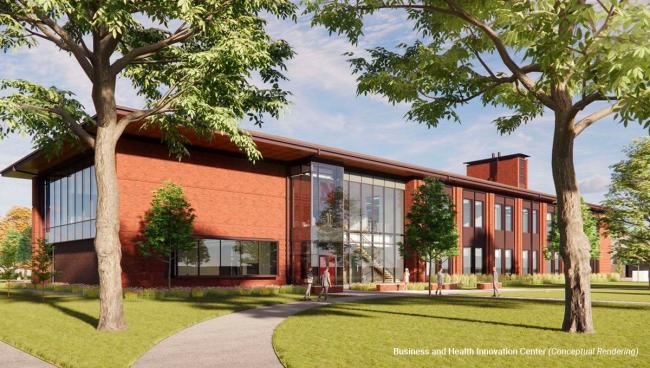 ABERDEEN, S.D. – Northern State University will begin construction on a leading-edge Business and Health Innovation Center following approval by the U.S. Treasury to utilize $29.5 million of American Rescue Plan Act (ARPA) Capital Construction funds for the project.
"The Business and Health Innovation Center positions Northern to meet critical workforce needs in business, banking, finance, accounting and nursing," said Dr. Neal Schnoor, president of Northern. "It is a generational opportunity to advance regional health and economic development."
Schnoor also expressed appreciation to Gov. Kristi Noem, the South Dakota Board of Regents, and the state Legislature for their support of the project. ARPA funds were appropriated during the 2022 legislative session and a $1.5 million state appropriation in the 2023 session allowed Northern to complete the facility design.
The soon-to-be-built facility will enhance education and workforce readiness for students in the School of Business and the Department of Nursing. Every aspect of the design will enhance recruitment, instruction, collaboration, accessibility and student engagement and enable community members' to directly engage in work, education and health monitoring.
"While the new center aligns with all of our five strategic priorities, it uniquely advances our emphasis on increasing community access, engagement, partnership and collaboration to best serve our region and state," Schnoor said.
One example is the creation of the Northern Innovation and Startup Center, funded by a federal Economic Development Administration grant, in partnership with the Aberdeen Development Corporation. This center will play a key role in career programming, professional development, entrepreneurship, and economic development.
The center will also house Northern's Bachelor of Science Nursing program, allowing Northern to partner with local providers to offer free healthcare clinics, immunizations, health screenings and workshops on self-care and health monitoring, and provide free public access to telehealth rooms.
In addition to the construction of the new facility, the project includes the demolition of Lincoln and Briscoe halls. Demolition and construction will begin in early 2024 with a goal of opening the new business and health center in the fall of 2025.
For more information about this press release, please contact Chad Hatzenbuhler, Northern's director of communications and marketing at chad.hatzenbuhler@northern.edu.