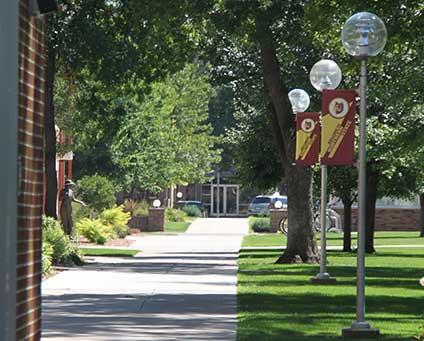 ABERDEEN, S.D. – Northern State University has installed additional lighting and security cameras in an effort aimed at keeping campus safe.
Lighting has been added in the Washington Street parking lot, McArthur-Welsh parking lot, the campus green and near the Mewaldt-Jensen building. Cameras have also been installed in the Washington Street parking lot, McArthur-Welsh parking lot and the Kramer Hall entrance.
Landscaping work is also being completed to improve safety by trimming trees near the Physical Plant and removing bushes near Steele Hall.
This campus safety effort began in spring 2021 with the NSU Student Affairs Strategic Action Plan, which called for assessing and improving campus security measures.
This led to a joint initiative involving Student Affairs, NSU Facilities Management, the NSU Student Government Association and the Aberdeen Police Department. Together, they toured campus to assess safety needs and determine what projects needed to be completed.
Improvements began in summer 2021, with the last project completed in January 2022.
About Northern State University
Northern State University is a student-centered institution that provides an outstanding educational experience, preparing students through the liberal arts and professional education for their future endeavors. A regional university, Northern offers rigorous academics; diverse civic, social and cultural opportunities; and a commitment to building an inclusive environment for all points of view. Northern also offers a broad-based athletics program, sponsoring 15 NCAA Division II intercollegiate varsity sports that compete in the Northern Sun Intercollegiate Athletic Conference (NSIC). The university strives to enrich the community through partnerships such as its Educational Impact Campaign, which opened a new South Dakota School for the Blind and Visually Impaired; new athletic and recreation fields; and an on-campus regional sports complex. With the $55 million campaign, NSU has been the recipient of more than $150 million in privately funded building projects and scholarships within a decade. To learn more, visit NSU Admissions.