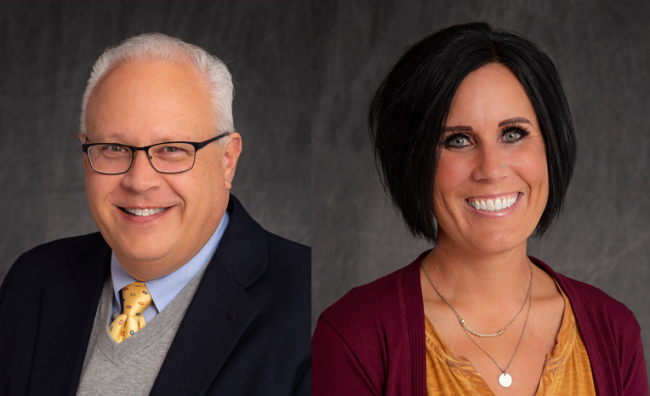 ABERDEEN, S.D. – Northern State University has appointed Dr. Doug Ohmer as dean of the NSU School of Business and Dr. Anna Schwan as interim dean of the Millicent Atkins School of Education.
Ohmer has worked at Northern since 1994. He earned a bachelor's degree in business administration and banking from Thomas More College in Crestview Hills, Ky.; an MBA from Northern Kentucky University; and a Ph.D. in business administration/management from the University of Kentucky in Lexington.
Prior to his Ph.D. studies, Ohmer worked as marketing manager for Tente Casters USA in Erlanger, Ky., a subsidiary of Tente Rollen GmbH in Wermelskirchen, Germany.
At Northern, Ohmer has held numerous positions within the School of Business, including department chair, department coordinator and founding director of the Center of Excellence in International Business.
Schwan, assistant professor of teacher education/department chair, has worked at Northern since 2017. She earned bachelor's degrees in English and Spanish from South Dakota State University, a Master of Education in Teaching English Learners from Valley City (N.D.) State University, and a Doctor of Education in School Administration from the University of South Dakota.
Schwan's professional work experience also includes serving as a middle school/high school principal, grades 6-12 English as a second language teacher, grades 7-12 language arts teacher, and K-12 Spanish teacher.
Schwan's term will be a two-year appointment; a national search for the position will be conducted in the 2023-24 academic year.
Ohmer previously served as dean of the School of Business, but also began leading the School of Education when the NSU College of Professional Studies was established. Now, each school will once again be led by a distinct academic dean while remaining branches of the College of Professional Studies. The change is part of an effort to expand deans' roles in NSU strategic priorities, such as enrollment and fundraising. Drs. Alyssa Kiesow (College of Arts and Sciences) and Kenneth Boulton (School of Fine Arts) will remain in their current positions.
About Northern State University
Northern State University is a student-centered institution that provides an outstanding educational experience, preparing students through the liberal arts and professional education for their future endeavors. A regional university, Northern offers rigorous academics; diverse civic, social and cultural opportunities; and a commitment to building an inclusive environment for all points of view. Northern also offers a broad-based athletics program, sponsoring 15 NCAA Division II intercollegiate varsity sports that compete in the Northern Sun Intercollegiate Athletic Conference (NSIC). The university strives to enrich the community through partnerships such as its Educational Impact Campaign, which opened a new South Dakota School for the Blind and Visually Impaired; new athletic and recreation fields; and an on-campus regional sports complex. With the $55 million campaign, NSU has been the recipient of more than $150 million in privately funded building projects and scholarships within a decade. To learn more, visit NSU Admissions.