Image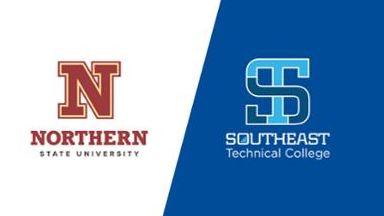 ABERDEEN, S.D. – Northern State University's criminal justice major is now offered online as well as on campus.
Northern has also signed an articulation agreement allowing graduates of Southeast Technical College's law enforcement program to complete the NSU bachelor's degree in criminal justice online in just two years. This provides a seamless path to further education for students at STC.
The agreement is in addition to a similar agreement between the two institutions that allows STC graduates to earn six different business degrees (accounting, banking and financial services, business administration, finance, management, or marketing) fully online at Northern.
"Southeast Tech's expanding partnership with Northern State University is another great example of how the needs of South Dakota students are being put first," said Dr. Benjamin Valdez, Vice President of Academics at STC. "We are excited for this partnership and the ability to offer multiple pathways for students to pursue their ultimate career goals after graduation from STC."
Potential Benefits
Students who choose to obtain a bachelor's degree receive a more in-depth education and possible career benefits, such as potentially higher earnings. The U.S. Bureau of Labor Statistics reports higher median weekly earnings for people who obtain a bachelor's degree than those who obtain an associate degree.
At Northern, students majoring in criminal justice also receive priority admission to NSU's CACREP-accredited counseling master's program.
Learn More
To learn more about studying criminal justice at Northern, visit NSU Criminal Justice. For more information about Southeast Tech's associate degree, visit STC Law Enforcement.
About Northern State University
Northern State University is a student-centered institution that provides an outstanding educational experience, preparing students through the liberal arts and professional education for their future endeavors. A regional university, Northern offers rigorous academics; diverse civic, social and cultural opportunities; and a commitment to building an inclusive environment for all points of view. Northern also offers a broad-based athletics program, sponsoring 15 NCAA Division II intercollegiate varsity sports that compete in the Northern Sun Intercollegiate Athletic Conference (NSIC). The university strives to enrich the community through partnerships such as its Educational Impact Campaign, which opened a new South Dakota School for the Blind and Visually Impaired; new athletic and recreation fields; and an on-campus regional sports complex. With the $55 million campaign, NSU has been the recipient of more than $150 million in privately funded building projects and scholarships within a decade. To learn more, visit NSU Admissions.
About Southeast Technical College
Southeast Tech is a career-focused learning environment for determined students who expect a life-changing education that gets results. Our faculty and staff are passionate about student success, and more than 65 associate degrees, diplomas, certificates and apprenticeships provide pathways to professional accomplishment utilizing skills-relevant facilities and Sioux Falls as an extended classroom. Southeast Tech is a smart investment for students to launch their in-demand, technical careers in two years or less. Learn more about Southeast Tech at www.southeasttech.edu.