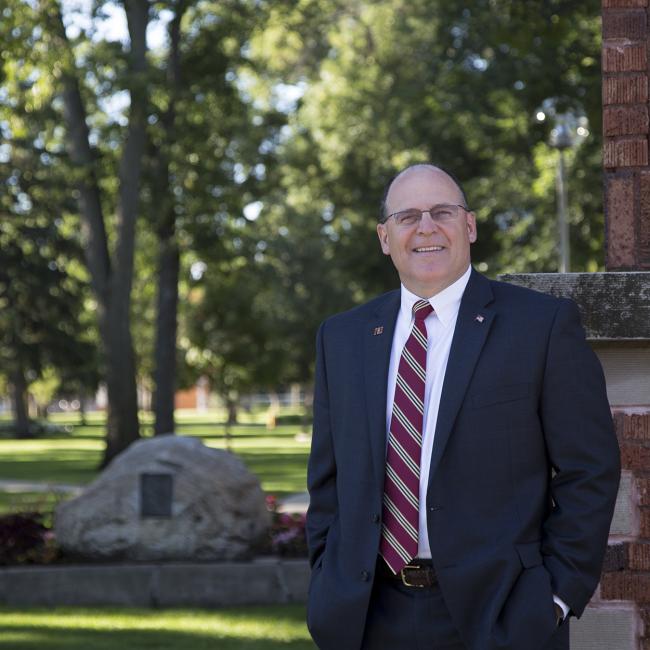 ABERDEEN, S.D. – Northern State University President Timothy M. Downs has announced his resignation to pursue a new opportunity in higher education.
In his five years on the Aberdeen campus, Downs presided over positive changes on campus and within the Aberdeen community, including freshman class growth in four of the past five years, a freshman to sophomore retention rate above 73 percent, and major academic and sports facility enhancements. New facilities were funded by donations that amounted to more than $110 million.
Facilities include:
Addition of two new residence halls
A new science center
The new South Dakota School for the Blind and Visually Impaired facility, a longtime academic partner with NSU's Millicent Atkins School of Education
The Athletic and Recreation Fields project, home to women's soccer, men's football and outdoor intramurals
Substantive renovations to the Barnett Center, including a center-hung scoreboard and new playing surfaces
The final project, to be completed this fall, the on-campus Regional Sports Complex, including a competition football stadium and women's softball complex.
A career academic, Dr. Downs advocated for and obtained nearly 20 new programs during his time at NSU, including growth in graduate programs that contributed to a nearly 30 percent increase in graduate credit hours this spring. Northern is also presently a candidate to join the Council of Public Liberal Arts Colleges (COPLAC), affirming the quality of the liberal arts at Northern. In addition, Northern strengthened its brand identity, including revamping its social media, trademarking logos, and implementing a cohesive messaging campaign.
"Mary and I came to Aberdeen to transform campus, and I believe we accomplished our mission," said Downs. "I have tremendous faith that campus will continue this positive momentum, which has unleashed Northern to not only sustain, but thrive."
An interim president will be designated to lead Northern, while a search for the next president commences immediately.
Downs was appointed the 17th president of NSU on June 27, 2016. He came to the Aberdeen campus from Niagara University of Lewiston, N.Y., where he served as provost and chief academic officer from 2011 to 2016. He holds a Ph.D. in organizational communication from the University of Oklahoma.
About Northern State University
Northern State University is a student-centered institution that provides an outstanding educational experience, preparing students through the liberal arts and professional education for their future endeavors. A regional university, Northern offers rigorous academics; diverse civic, social and cultural opportunities; and a commitment to building an inclusive environment for all points of view. Northern also offers a broad-based athletics program, sponsoring 15 NCAA Division II intercollegiate varsity sports that compete in the Northern Sun Intercollegiate Athletic Conference (NSIC). The university strives to enrich the community through partnerships such as its Educational Impact Campaign, which opened a new South Dakota School for the Blind and Visually Impaired; new athletic and recreation fields; and, soon, an on-campus regional sports complex. With the $55 million campaign, NSU has been the recipient of more than $120 million in privately funded building projects and scholarships within a decade. To learn more, visit NSU Admissions.