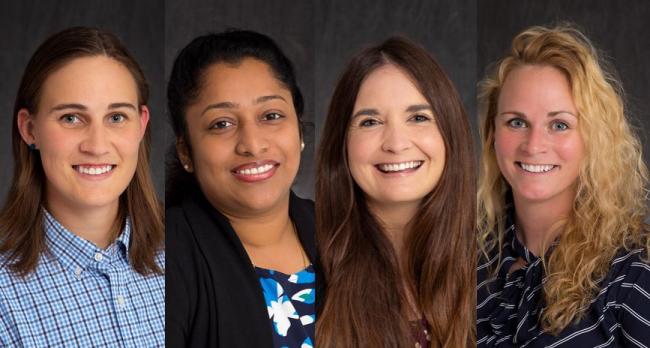 Pictured: Drs. Kelsie Roberts, Shalini Mathew, Lauren Pierce and Chelsee Shortt
ABERDEEN, S.D. – A Northern State University research team has been awarded an NCAA grant aimed at enhancing student-athlete mental health.
Drs. Kelsie Roberts, Lauren Pierce, Shalini Mathew and Chelsee Shortt won the grant for their project, "Changing Outcomes through Positive Empowerment (COPE): A Mental Health Initiative for Student Athletes." The faculty members are being assisted by NSU Student Athlete Advisory Committee President Shelby Novotny, and NSU Director of Counseling and Health Services Heather Aldentaler.
Their research aims to enhance mental health literacy in campus culture by creating a program for student-athletes and coaches that targets time constraints, criticism, relationships, pressure, fatigue, disconnection and wellbeing, according to the grant proposal. The project aims to decrease stigma, increase help-seeking behaviors and enhance psychological skills. It also seeks to gain insight into the comfort level, preparedness and knowledge of coaches surrounding their approach to the mental health and well-being of their athletes.
The NSU team's grant was one of five awarded through the NCAA Innovations in Research and Practice Grant Program for the 2022-23 academic year. Each of the five research teams will conduct projects designed to enhance college athletes' psychosocial well-being and mental health.
This is the eighth year of the NCAA Innovations in Research and Practice Grant Program. Along with the NSU team, projects were also chosen from Boston University, Rowan, Texas A&M-Kingsville and Colorado-Colorado Springs. View the full NCAA press release here.
About Northern State University
Northern State University is a student-centered institution that provides an outstanding educational experience, preparing students through the liberal arts and professional education for their future endeavors. A regional university, Northern offers rigorous academics; diverse civic, social and cultural opportunities; and a commitment to building an inclusive environment for all points of view. Northern also offers a broad-based athletics program, sponsoring 15 NCAA Division II intercollegiate varsity sports that compete in the Northern Sun Intercollegiate Athletic Conference (NSIC). The university strives to enrich the community through partnerships such as its Educational Impact Campaign, which opened a new South Dakota School for the Blind and Visually Impaired; new athletic and recreation fields; and an on-campus regional sports complex. With the $55 million campaign, NSU has been the recipient of more than $150 million in privately funded building projects and scholarships within a decade. To learn more, visit NSU Admissions.