Image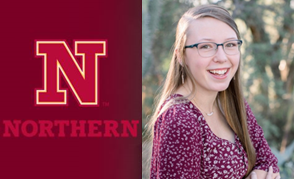 ABERDEEN, S.D. – Northern State University student Haley Wenger is the recipient of a $2,000 Delta Mu Delta Board Scholarship.
Delta Mu Delta is the business honorary society affiliated with the Accreditation Council for Business Schools and Programs (ACBSP), which is the accreditor of the NSU School of Business.
Wenger, a senior business management major with a human resource management minor, is one of 66 Delta Mu Delta scholarship recipients this year.
"I am so excited for her," said Dr. Sal Villegas, faculty advisor for Northern's Delta Mu Delta chapter. "She took home one of the major $2,000 scholarships, which definitely shows that our business students cannot only compete, but that they are the best of the best."
Originally from Gregory, S.D., Wenger has also won multiple Phi Beta Lambda (Business Club) State Leadership Conference Awards, as well as numerous TRIO awards. She is also the recipient of a 2020 ASBSD/Governor's Academic Excellence Award.
"I chose to attend Northern because of the welcoming and knowledgeable professors within the School of Business," Wenger said, "so my favorite aspect of NSU is the true academic, campus and community support that students receive!"
Learn more about studying business at Northern by visiting NSU School of Business.
About Northern State University
Northern State University is a student-centered institution that provides an outstanding educational experience, preparing students through the liberal arts and professional education for their future endeavors. A regional university, Northern offers rigorous academics; diverse civic, social and cultural opportunities; and a commitment to building an inclusive environment for all points of view. Northern also offers a broad-based athletics program, sponsoring 15 NCAA Division II intercollegiate varsity sports that compete in the Northern Sun Intercollegiate Athletic Conference (NSIC). The university strives to enrich the community through partnerships such as its Educational Impact Campaign, which opened a new South Dakota School for the Blind and Visually Impaired; new athletic and recreation fields; and an on-campus regional sports complex. With the $55 million campaign, NSU has been the recipient of more than $150 million in privately funded building projects and scholarships within a decade. To learn more, visit NSU Admissions.