Image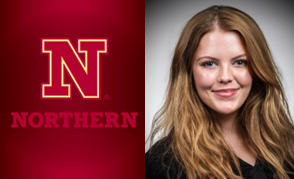 ABERDEEN, S.D. – Northern State University student Grace Kramer has been named a finalist to this year's South Dakota Governor's Giant Vision Competition.
Kramer, a biochemistry major from Aberdeen, was named a finalist in the Student Business Competition for her business idea, eqUTI, which prevents urinary tract infections in women. Kramer's idea also won Northern's Idea Pitch Competition last fall.
Kramer will now compete for a $5,000 first place prize among the other nine student finalists at the Governor's Giant Vision Competition on April 25 in Sioux Falls.
This is the second year in a row that Northern will be represented at the finals for this highly competitive contest. Last year, NSU student Tawnie Williams won third place for her idea, SYNOZYME: enzymatic biodegradation of un-recyclable consumer plastic products.
Kramer said NSU Assistant Professor of Management Dr. Sal Villegas has been wonderful to work with.
"I have no business background, so when he reached out offering to help me turn my pitch into a real business plan, I was truly grateful," she said. "I am so glad I am at a university that fosters such a supportive environment for its students and allows them to achieve things they never thought were possible."
About Northern State University

Northern State University is a student-centered institution that provides an outstanding educational experience, preparing students through the liberal arts and professional education for their future endeavors. A regional university, Northern offers rigorous academics; diverse civic, social and cultural opportunities; and a commitment to building an inclusive environment for all points of view. Northern also offers a broad-based athletics program, sponsoring 15 NCAA Division II intercollegiate varsity sports that compete in the Northern Sun Intercollegiate Athletic Conference (NSIC). The university strives to enrich the community through partnerships such as its Educational Impact Campaign, which opened a new South Dakota School for the Blind and Visually Impaired; new athletic and recreation fields; and an on-campus regional sports complex. With the $55 million campaign, NSU has been the recipient of more than $150 million in privately funded building projects and scholarships within a decade. To learn more, visit NSU Admissions.