Image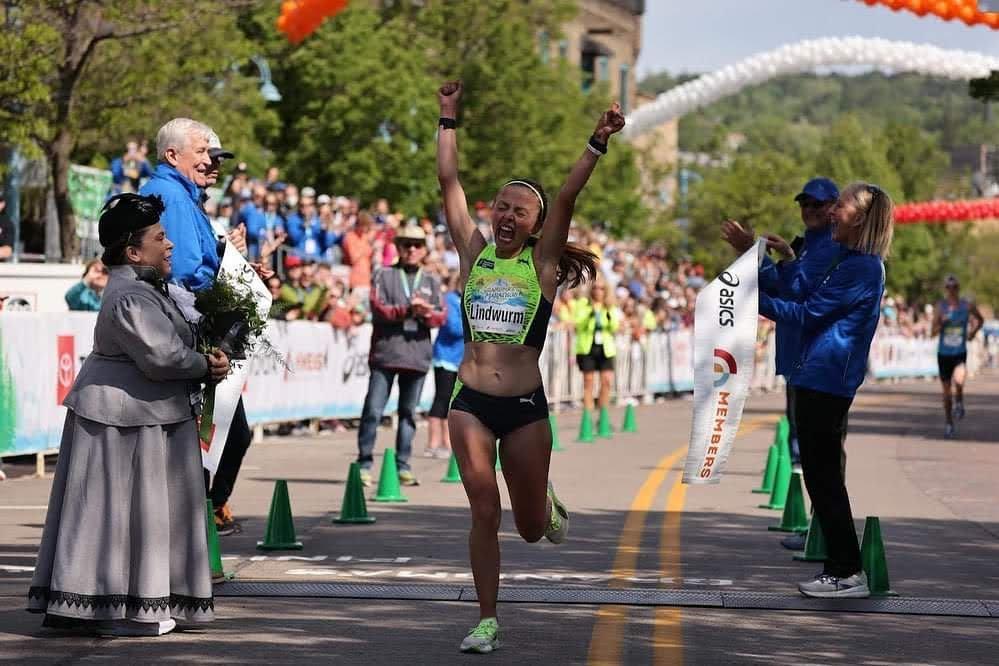 ABERDEEN, S.D. – The day before Grandma's Marathon, Dakotah (Bullen) Lindwurm was asked many times about her goals for the race.
"My answer to everyone was that I would be happy with a 2:26," said Lindwurm, a Northern State University alumna. "But I thought, on the right day, I had a 2:25 in me."
June 18 was the right day for Lindwurm.
She finished at two hours and 25 minutes—only 33 seconds from the course record—and won her second straight Grandma's Marathon in Duluth, Minn.
"The way I like to race is by going big and swinging for the fences," Lindwurm said. "I would rather go out hard and give myself a shot at a great day than be conservative and have a good day. So I went out hard and ran an aggressive race, and even though I ran 4 minutes faster than last year, this year was much, much easier."
Last year, Lindwurm took the women's title in the prestigious Minnesota marathon with a time of 2 hours, 29 minutes and 4 seconds. This year, she said, was even more thrilling.
"I was really close to the course record, so chasing that down was really exciting," she said. "Also, the women's field was much stronger this year, so I felt like I really had to earn the win." 
Originally from St. Francis, Minn., Lindwurm graduated from Northern in 2017 with a degree in biology education and a minor in chemistry. At NSU, she competed on the Cross Country and Indoor/Outdoor Track and Field teams, where her honors included being named an All-American in the 2017 NCAA Cross Country Championship.
Now a professional runner with Minnesota Distance Elite, Lindwurm followed up last summer's Grandma's Marathon win with an outstanding run at the Boston Marathon last fall, coming in 13th among women with a time of 2:31:04.
Next up for Lindwurm are a few smaller races this summer, such as the Falmouth Road Race, and the 20K Championships in New Haven, Conn. This fall, she has a major marathon on the calendar, though she can't quite announce it yet.
Her success is inspiring—and it was influenced by her time at Northern.
"NSU cultivated my current success," Lindwurm said. "The coaches cared about me as a person before my accomplishments. My professors were some of my biggest fans, and I still get messages from a few of them after races. I love that I wasn't just a number to them, I was someone they believed in. And I know I'm not a special case, they all care about all of their students/athletes."
For other runners, Lindwurm's advice is to believe in themselves.
"You have to bet on yourself," she said. "Out of high school I didn't have a single recruitment letter; I had to take the first step of reaching out to Kevin Bjerke to join the NSU Track and Field team. After college I reached out to my current coach to see if he would take me on post-collegiately. Even if right now you aren't at the level you want to be at but are willing to work hard, you will find success, but you have to be the first person to believe in you."
Image
About Northern State University
Northern State University is a student-centered institution that provides an outstanding educational experience, preparing students through the liberal arts and professional education for their future endeavors. A regional university, Northern offers rigorous academics; diverse civic, social and cultural opportunities; and a commitment to building an inclusive environment for all points of view. Northern also offers a broad-based athletics program, sponsoring 15 NCAA Division II intercollegiate varsity sports that compete in the Northern Sun Intercollegiate Athletic Conference (NSIC). The university strives to enrich the community through partnerships such as its Educational Impact Campaign, which opened a new South Dakota School for the Blind and Visually Impaired; new athletic and recreation fields; and an on-campus regional sports complex. With the $55 million campaign, NSU has been the recipient of more than $150 million in privately funded building projects and scholarships within a decade. To learn more, visit NSU Admissions.