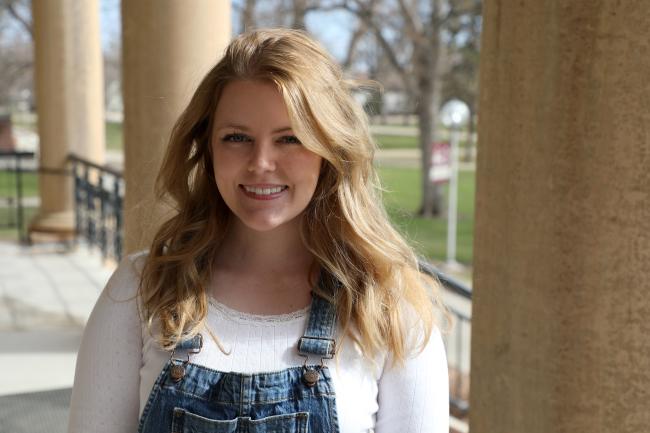 ABERDEEN, S.D. – For recent Northern State University graduate Grace Kramer, adding entrepreneurship to her scientific skillset was almost like learning a new language.
"I am pretty confident with the science stuff; basically, I can do that myself," said Kramer, who graduated this month with a degree in biochemistry. "It's a totally different language because I've only been working on my science craft up until senior year."
Kramer has definitely mastered this new language—she won second place in the recent South Dakota Governor's Giant Vision Competition Student Competition for her business idea, eqUTI, which prevents urinary tract infections in women.
Dr. Sal Villegas, who helped Kramer prepare for the Governor's Giant Vision Competition, said her dedication was inspiring.
"Throughout the entire process, Grace demonstrated an unwavering drive to show how her business idea provides a practical solution to a real-world problem," said Villegas, Assistant Professor of Management. "The amount of time, effort and dedication that she put into this project is inspiring and a testament that rural entrepreneurs are leading the charge in business innovation."
Kramer's idea also won Northern's Idea Pitch Competition last fall. This spring, it won the top prize in the Microbiology, Membranes and Glycan category at the American Society for Biochemistry and Molecular Biology International Conference in Seattle, Wash.
This success is only the beginning for Kramer, who will begin pitching eqUTI to investors this summer with the help of the Aberdeen Development Corporation. She is already working with the South Dakota Biotech Association, and soon hopes to obtain additional research and development funding as well as a patent.
"I never planned on running a company," she said. "My original plan was going to medical school."
But then she came up with the idea for her product and realized it was viable—and something that can be manufactured in South Dakota.
"So I want to see where that goes," she said.
It all started with her Honors Program thesis, when Kramer researched the genetic component of urinary tract infections. There is a high prevalence of UTIs in women, she said, but because people don't want to talk about it, there is nothing preventative on the market besides taking an antibiotic before and after intercourse, or taking supplements that aren't effective.
Her solution: An over-the-counter patch that sticks onto the urethra to stop bacteria from entering during intercourse.
"It just provides a protective barrier," she said.
Passion for Women's Health
For Kramer, eqUTI is a product of her passion for women's health issues and erasing the stigma surrounding UTIs.
"I really want to make women feel heard," she said.
For other young women in the sciences, Kramer's advice is to be bold.
"That quote, 'be the change you want to see in the world' is very true," she said. "If you have an idea, you have to take the initiative. You have to be bold. You have to not get embarrassed when you talk about it. I think just really coming at it with confidence is going to help people listen to you. I think we owe it to ourselves, and we owe it to other women; if we have a good idea, we do have to share it."
Part of her boldness is thanks to the support of her parents, Kasia and John Kramer of Aberdeen.
"My parents have been there, supporting me," she said. "My mom actually came up with the name for company, eqUTI. It's kind of playing on how the field of urology is mostly focused on prostate cancer and things like that. It's not very equitable to women. My parents have been so supportive, rooting me on."
NSU has Helped her Succeed
Kramer said that Northern, too, has helped her achieve success.
"I'm able to be the person I am. I'm able to be bold. When I talk about my ideas, people here listen… they are interested," she said. "Everyone has been really excited for me. They want to help me in any way that they can."
Northern has also allowed her to gain more research experience than would have been possible at other schools.
"If you're in the honors program, or even if you just want to do your own research, or work with a professor, you can totally do that; it's fully student based," Kramer said. "All the professors here just want to help you… I keep saying, I don't think if I went to a bigger school, this would ever have happened. You don't get to do your own research as an undergraduate."
About Northern State University

Northern State University is a student-centered institution that provides an outstanding educational experience, preparing students through the liberal arts and professional education for their future endeavors. A regional university, Northern offers rigorous academics; diverse civic, social and cultural opportunities; and a commitment to building an inclusive environment for all points of view. Northern also offers a broad-based athletics program, sponsoring 15 NCAA Division II intercollegiate varsity sports that compete in the Northern Sun Intercollegiate Athletic Conference (NSIC). The university strives to enrich the community through partnerships such as its Educational Impact Campaign, which opened a new South Dakota School for the Blind and Visually Impaired; new athletic and recreation fields; and an on-campus regional sports complex. With the $55 million campaign, NSU has been the recipient of more than $150 million in privately funded building projects and scholarships within a decade. To learn more, visit NSU Admissions.