Image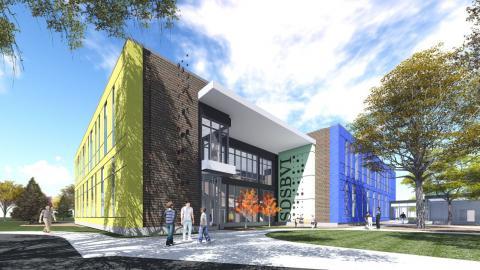 ABERDEEN, S.D. – A generous gift from Plains Commerce Bank will help with construction of the new South Dakota School for the Blind and Visually Impaired, one of three projects of the Educational Impact Campaign.
The bank's donation will create two spaces inside and outside of the new school:
Plains Commerce Bank Plaza: This prominent open area, located between the west main entrance and the southwest corner of the school, may feature a sidewalk with benches and landscaping to create a warm, welcoming presence for the school.
Plains Commerce Bank Large Conference Room: Located near the main entrance, this large conference room will be a high-use space where all students and their families will meet with the SDSBVI staff upon arrival to the school.
Brent Heinert, president of Plains Commerce, said the bank likes to contribute to projects that benefit the community – and a new SDSBVI definitely does.
"We're proud that we can help out in any way we can, especially with the School for the Blind and Visually Impaired," Heinert said. "I think that's just a great cause in itself."
The new SDSBVI facility will be constructed at the site of the former NSU Jerde Hall, with a projected completion date of fall 2019. A public groundbreaking ceremony will be held at 2 p.m. Wednesday, Oct. 17, in the parking lot north of the former site of Jerde Hall. Guests are encouraged to park in the Barnett Center parking lot, and attend a reception in the Barnett Center lobby following the groundbreaking.
Campaign Details
The Educational Impact Campaign, a collaborative effort between Northern and SDSBVI, also includes the NSU Athletic and Recreation Fields and an on-campus regional sports complex
Northern broke ground on the Athletic and Recreation Fields project in April, and the fields opened for the fall 2018 athletic season. A pavilion will soon be completed.
Once SDSBVI has moved into its new school, its current facility will be demolished and work will begin spring 2020 on the regional sports complex, which includes Dacotah Bank Stadium and Koehler Hall of Fame Softball Field. Completion is expected by 2022.
Employs NSU Graduates
Plains Commerce employs numerous Northern graduates, Heinert said, and the bank has also hired NSU interns, including a summer 2018 internship.
Heinert himself is a 1994 Northern alum who has always supported the university. He encourages others to support NSU as well – because doing so benefits the entire community.
"If Northern continues to grow and draw in more students, that's just going to help the whole community in general to draw more of a workforce and grow the community," Heinert said. "Everybody should try to help if they can."
The $45 million Educational Impact Campaign has already received pledges totaling $35 million. For more information about the campaign and other campus improvements projects at Northern, visit the NSU Master Plain webpage.
About Northern State University
Northern State University is a regional university that offers outstanding academics and exceptional extracurricular activities at an affordable price on a safe, welcoming campus. Northern State recently announced its Educational Impact Campaign, with a goal of raising $45 million for a new South Dakota School for the Blind and Visually Impaired, new athletic and recreation fields, and an on-campus regional sports complex. Once the campaign is complete, NSU will be the recipient of more than $100 million in privately funded building projects and scholarships within a decade. To learn more, visit NSU Admissions.