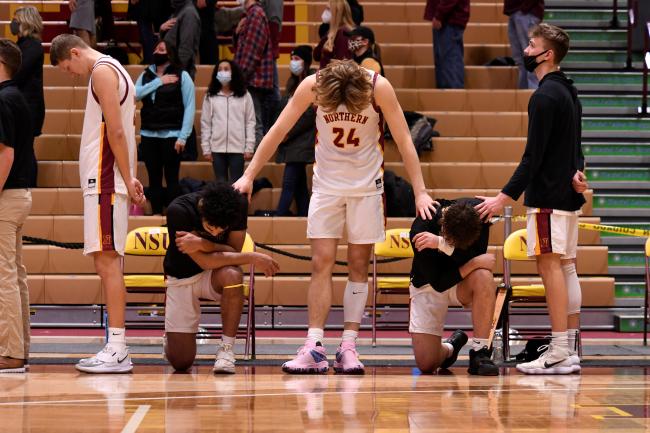 NSU student-athletes want to raise awareness of racism and inequality
Northern State University student-athletes Tommy Chatman and Jaylen Robinson wanted to find a peaceful way to raise awareness of the issues of racism and inequality.
So the Wolves basketball players decided to kneel before their games during the National Anthem. They've received support from around campus, and especially their teammates – the entire men's basketball team wore "End Racism" shirts at a recent game.
"That was kind of cool to see that everybody was behind it," Chatman said.
Image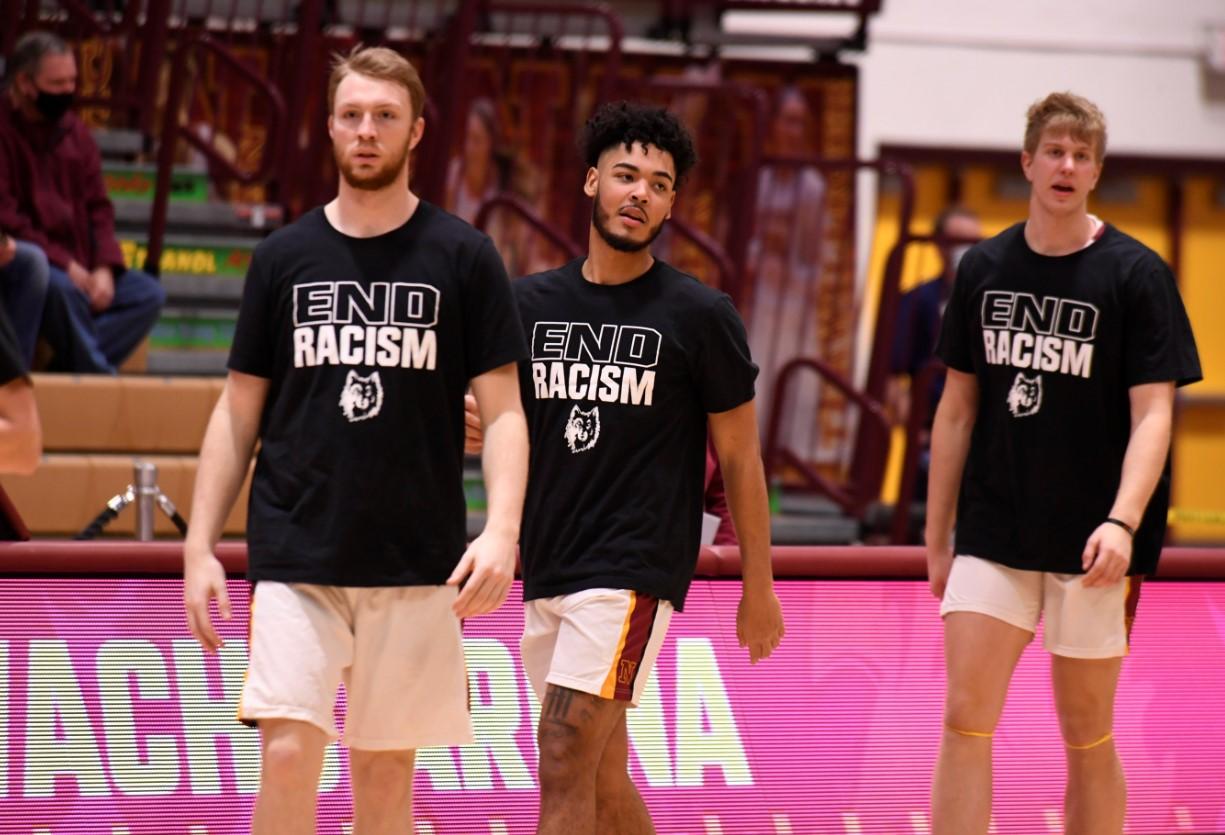 For both Chatman and Robinson, their reason for kneeling is to shed light on the problem of racial injustice. It's something that has impacted them personally as well as on a national scale.
"Incidents happened to us where we've been affected by it, so I think that really motivated me to also kneel and try to use my voice," Robinson said.
Chatman added, "Especially me being from Minneapolis, and all the things that happened over quarantine, some of that stuff really hit home for me, and just seeing it and having some experiences really pushed me to want to see change and do my part in being the change."
They first knelt during the Wolves' first home game, though they met with the team beforehand to discuss it. Their coach and teammates have been supportive, including some teammates who put their hands on their shoulders during the anthem in solidarity.
"All of my teammates have shown their support," Chatman said. "Even the higher-ups of the university have shown that they've got our backs in supporting us, and that's really been big for us, to know that we have the support of a lot of people at this university, and that just kind of pushes me more to keep going."
Robinson said in kneeling, they are in no way trying to be disrespectful to people in the military.
"Both of us have family members on both sides that have been in the military, so it's nothing disrespectful, and we just want people to know that," he said.
Chatman agreed, stressing that it's not about disrespecting the military. He said he would be happy to have a conversation and explain his reasoning to anyone who doesn't understand.
Overall, they've gotten a lot of support.
"The continued support is really something that helps," Chatman said. "Just knowing that people are understanding and opening their eyes to some of the stuff that we've seen and kind of keeping that wave on, that really helps."
While not everyone might share their views, they want to continue to raise awareness.
"Not everybody's going to agree," Robinson said, "but we're just going to continue to do what we do and just try to use our voice in an important way."
From the university's standpoint, the students are supported in their endeavors.
"The bottom line stance of Northern, as a public university, is that we support their 'freedom of speech' Constitutional Rights, based on the First Amendment," said NSU President Dr. Tim Downs. "We hope that our efforts to support our students as they engage in civil discourse can be respected, as we respect the very premises of the U.S. Constitution."