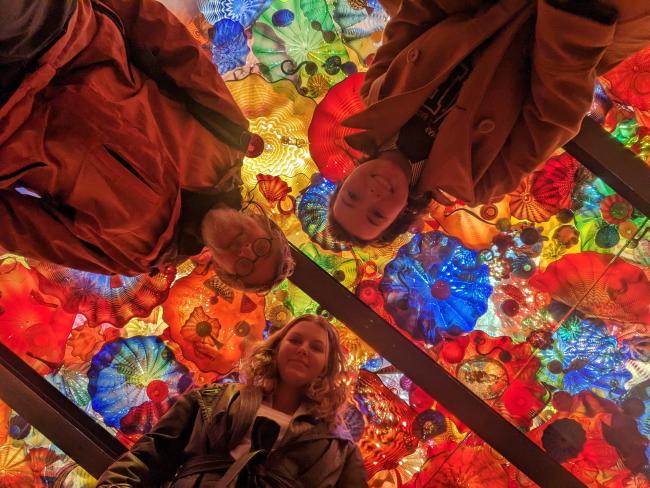 Grace Kramer and Kennedy Davis are pictured above and below with Dr. Jon Mitchell at the American Society for Biochemistry and Molecular Biology International Conference.
ABERDEEN, S.D. – Two Northern State University Honors students presented their research at the American Society for Biochemistry and Molecular Biology International Conference, with one taking home top honors.
Grace Kramer and Kennedy Davis attended the conference in Seattle, Wash., March 25-28, along with NSU Professor of Biochemistry Dr. Jon Mitchell. The students competed alongside more than 2,500 international scientists from industry and academia.
Kramer, a biochemistry major from Aberdeen, presented her Honors research, "Preventing Post-Coital Urinary Tract Infections with Lactobacillus Impregnated Hydrocolloid." Kramer's research won the top prize of $500 in the Microbiology, Membranes and Glycan category, beating out competitors from much larger schools, Mitchell said.
Kramer's idea also won Northern's Idea Pitch Competition last fall, and she was recently named a finalist in the S.D. Governor's Giant Vision Competition Student Business Competition.
Davis, a biochemistry and German major from Fairfax, Va., presented her Honors research, "Selected Cytochrome P450 Transcript Expression Analyses in Candida albicans in Response to Natural Products, Silymarin and Turmeric." 
Candida albicans is a major human pathogen, so understanding the potential inhibitory properties of turmeric and silymarin (from milk thistle) generated huge excitement, Mitchell said. Both natural product small molecules have been shown to play roles in biofilm inhibition, inflammatory responses, insulin responses—and even linked to anti-Alzheimer's.  
About Northern State University  

Northern State University is a student-centered institution that provides an outstanding educational experience, preparing students through the liberal arts and professional education for their future endeavors. A regional university, Northern offers rigorous academics; diverse civic, social and cultural opportunities; and a commitment to building an inclusive environment for all points of view. Northern also offers a broad-based athletics program, sponsoring 15 NCAA Division II intercollegiate varsity sports that compete in the Northern Sun Intercollegiate Athletic Conference (NSIC). The university strives to enrich the community through partnerships such as its Educational Impact Campaign, which opened a new South Dakota School for the Blind and Visually Impaired; new athletic and recreation fields; and an on-campus regional sports complex. With the $55 million campaign, NSU has been the recipient of more than $150 million in privately funded building projects and scholarships within a decade. To learn more, visit NSU Admissions.