Image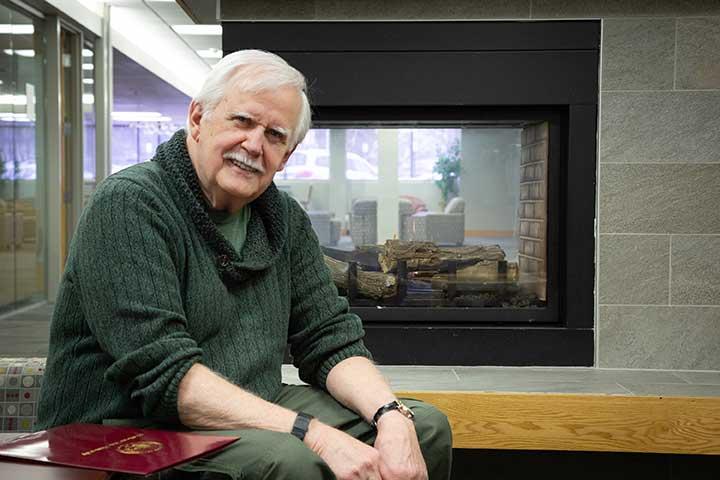 ABERDEEN, S.D. – When Jim Kurkowski first started as a student at Northern State, he never dreamed he'd one day finish his education entirely online – there weren't even computers on campus back then.
Kurkowski, 74, of Webster, is graduating this weekend 57 years after he first enrolled at Northern. He has earned his bachelor's degree in general education from NSU with a certificate in public history, taking all of his courses online.
Affectionately known by the NSU Registrar's Office staff as the "bucket guy" since he's completing his bucket list, Kurkowski earned a 4.0 and even made the dean's list several semesters. It's an impressive accomplishment – and one made possible, he said, thanks to support from his wife and other family members, as well as faculty and staff at NSU.
While he won't be taking part in Northern's spring commencement on May 5, he hopes his story inspires others who are considering going back to school to take the leap.
"Overall, I encourage anyone, regardless of age, that if they have an inclination to continue or complete some aspect of their education and gaining of knowledge…do NOT ever think of yourself as being too old," Kurkowski said. "Just do it!"
First Enrolled in 1961
Kurkowski originally started at Northern State Teachers College in fall 1961. Though there have been a lot of changes since then, on a recent visit to NSU he said that campus is still laid out pretty much the same. He started his studies shortly after the Central Building burned down and recalls that, because of that fact, two of his history courses were held in what was called "the old barn" – the old music practice hall.
Kurkowski has plenty of fond memories of his time as a student, including playing pranks with his fellow dorm mates in the former Lindberg Hall. But there were also times when national strife hit close to home. Sitting in the Student Center during his recent NSU visit, Kurkowski recalled lining up with his classmates right outside that building's doors as Vietnam draft numbers were drawn.
"I knew a couple of guys within the first 20 or 30 names called," he said.
While unrest caused by the national turmoil surrounding the war was a factor in Kurkowski's decision to leave school, there were other reasons as well. Financially, he was self-supported, which was difficult. Also, he realized he did not want to pursue a career in teaching, which was Northern's primary focus then.
Lifetime of Successful Business Roles
So Kurkowski left school and embarked on a lifetime of successful roles in business management and business ownership, including serving as the regional manager for Universal Hospital Services medical equipment company.
"I was fortunate to have been able to align with and grow professionally with a small, family-owned business, which over the years grew to a national company when I resigned from it 23 years later," he said.
In 2005, he and his wife decided to move back to his hometown of Webster. After buying and renovating a house, the move was finalized in 2007. The couple has five kids, seven grandchildren and three great-grandchildren.
"After having done whatever we could or wanted to do with it, life became rather 'settled,'" he said.
Bit by the 'Education Bug'
Then, while moving one of their granddaughters from Omaha to Maryville to attend Northwest Missouri University, Kurkowski was bitten by what he calls "the education bug." Being on that campus got him thinking of his own college days, so his wife encouraged him to look into going back to Northern. At first he thought he'd take a few online courses, but when he contacted the NSU Admissions Department, he discovered he had enough courses with viable credits to enable him to pursue his degree online.
"I decided that if I was going to this, I may as well do it all the way," he said. "So five semesters later, here we are – graduating with a lifelong delayed degree from NSU!"
Throughout his time at NSU, Kurkowski said he received incredible support, especially from Academic Advisor Justin Bartel. When Kurkowski needed a math class to graduate and one wasn't available at NSU, Bartel got him registered for a class through Black Hills State University so that he could graduate this semester.
"I really enjoyed all correspondence from Jim because they were almost always about a recent success he's experienced in one of his tougher courses," Bartel said. "Though he described finishing his degree as more of a bucket-list item, it was clearly more than that as he worked hard and took great pride in his achievements. He was truly learning for the sake of learning."
Professors Also Supportive
Professors, too, were very supportive, Kurkowski said – particularly NSU Professor of History Dr. David Grettler and NSU Assistant Professor of English Dr. Peter Ramey.
"We often talk about teachers that have inspired us, but in Jim's case it has been the reverse—he's an inspiring student," Ramey said. "Jim's enthusiasm, rich life experience, and hard work have helped fire me up in my role as instructor and I feel he's brought out the best in me as a teacher. Kudos to Jim!"
Grettler said Kurkowski is everything that a non-traditional student can be.
"I should be paying him to take my classes," he said. "He's smart, interested in lots of different things, and bring an enormous amount of life and work experience to every table in the room."
Grettler pointed out that Kurkowski went back to school during the online revolution. 
"He's a veteran of two big sea changes: going back to school after umpteen years of work and the shift to online classes," he said. "Jim navigated both with exceptional aplomb and good humor. We really learned a lot together."
On to the Next Challenge
What's his next challenge after graduation? Kurkowski is working with Grettler to look into the possibility of starting his own consulting service to help museums tackle specific needs, such as grant writing, facilities management, exhibit planning and marketing.
To others thinking of pursing their education, Kurkowski advises that organization and self-discipline are crucial, particularly with the online format.
And above all, don't let your age limit you. Many people think you can't go back to school after your mid-20s, he said, but that's not true.
"If you self-limit yourself to that type of thinking, you're missing out on a lot of opportunities."
About Northern State University
Northern State University is a regional university that offers outstanding academics and exceptional extracurricular activities at an affordable price on a safe, welcoming campus. Northern State recently announced its Educational Impact Campaign, with a goal of raising $45 million for a new South Dakota School for the Blind and Visually Impaired, new athletic and recreation fields, and an on-campus regional sports complex. Once the campaign is complete, NSU will be the recipient of more than $100 million in privately funded building projects and scholarships within a decade. To learn more, visit NSU Admissions.