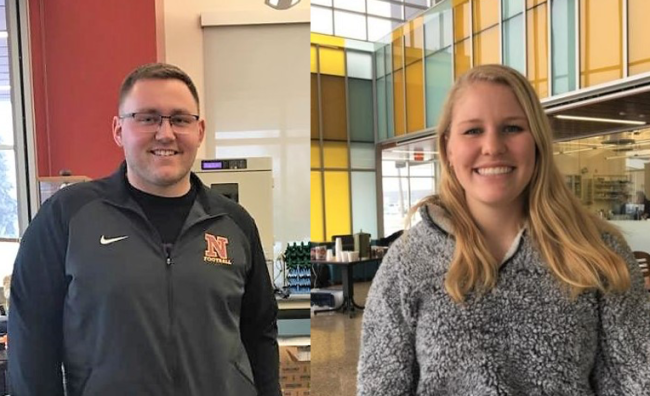 Recent NSU graduates headed to medical, physician's assistant school
ABERDEEN, S.D. – Northern State University can take you anywhere, according to recent NSU graduate Zach Mohs.
That includes medical school.
Mohs, from Horace, N.D., will attend the University of North Dakota School of Medicine and Health Sciences. For Mohs, Northern was the perfect place to start his education, thanks to dedicated faculty members and state-of-the-art Jewett Regional Science Education Center.
"Northern is an affordable state school. We have great backing. Professors are second to none," Mohs said. "The building is amazing. The classes are rigorous, and you can go anywhere with Northern. I think that's the big selling point."
Fellow recent graduate Shayla Steinley is headed to physician's assistant school at the University of Nebraska Medical Center. Steinley, from Lakeville, Minn., said attending Northern actually puts students at an advantage over bigger schools. At a small, tight-knit school like NSU, students have the benefit of professors who care and truly get to know them – and thus write stellar letters of recommendation for professional school.
"When you're in a class with 15 people, you get to know that faculty a lot better, so they can write you a better letter," she said. "Also, since they are smaller classes and the faculty care so much about you, you can go in any time and they're willing to help you. So I found that it was easier to do well in classes and get a better GPA for professional school because the faculty is so great."
Steinley, who played softball for the Wolves, also praised Northern's community feel.
"I'll walk down the halls and see so many people I know, and you just stop and say hi," she said. "It's the same with the faculty. They're so kind and they genuinely know you and know a lot about you. I really like the tight-knit family aspect of the smaller school."
Mohs agreed that the campus community as well as the community as a whole is outstanding.
"The community backing for Northern has really shown how much everyone believes in us and what we're doing here," said Mohs, who played football for the Wolves.
Now as he heads off to his next chapter, Mohs said he's happy about his choice to attend NSU.
"If I had to go back to high school and make the decision all over again, I'd pick Northern."
Steinley agreed.
"Northern has made me a better person, a better student just all around," she said. "I love it."
To learn more about Northern's pre-professional degrees, including pre-medicine and pre-physician's assistant, visit NSU Pre-Professional Programs.
About Northern State University
Northern State University is a student-centered institution that provides an outstanding educational experience, preparing students through the liberal arts and professional education for their future endeavors. A regional university, Northern offers rigorous academics; diverse civic, social and cultural opportunities; and a commitment to building an inclusive environment for all points of view. Northern also offers a broad-based athletics program, sponsoring 15 NCAA Division II intercollegiate varsity sports that compete in the Northern Sun Intercollegiate Athletic Conference (NSIC). The university strives to enrich the community through partnerships such as its Educational Impact Campaign, which opened a new South Dakota School for the Blind and Visually Impaired; new athletic and recreation fields; and, soon, an on-campus regional sports complex. With the $55 million campaign, NSU has been the recipient of more than $120 million in privately funded building projects and scholarships within a decade. To learn more, visit NSU Admissions.