The Northern Galleries mission is to enhance the beauty, educational opportunities and cultural climate of NSU and northeast South Dakota through the presentation of professional art exhibitions.
---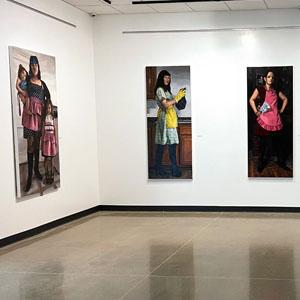 Feminine Attempts by Klaire Lockheart
Johnson Fine Arts Center Gallery
Feminine Attempts Virtual Tour
See all virtual art exhibit tours
---
The Northern galleries operate mostly between September and May. The President's Gallery and the Student Center Gallery operate throughout the summer. Though individual gallery hours may vary, generally they are open from 8 a.m. to 4:30 p.m. The Northern galleries are free and open to the public. Student interaction with artwork and artists, through the exhibitions presented in the Northern galleries, is a core element in the curricular programming of the art department. This involves critical analysis writing, small group discussion, and interactive dialogue. Many of the artists also come to campus and work with the students for a week through artist collaborations and technical workshops.
JFAC Art Gallery
Located off the vestibule in the Johnson Fine Arts Center, the JFAC Gallery has been designed from the ground up for the exhibition of nationally or internationally recognized contemporary artists.
The 1,000-square-foot gallery also is an exhibition space for student artworks and pieces from the permanent collection, as well as a reception area.
Student Center Art Gallery
The Student Center Art Gallery is a dedicated venue to display student artwork. Located on the second floor of the NSU Student Center, the gallery has a multifunctional louge area in front of seven display showcates.
24' length north to south
98.5' length east to west
43.75 running feet of useable wall space
8' height of showcases
6' width of showcases
15" depth of showcases
President's Gallery
This display area usually features semester-long exhibits of guest-artist works or pieces from our permanent collection. The President's Gallery is located on the second floor of Spafford Hall.
137' floor length north to south
10.75' floor length east to west
134' running feed of useable wall space
11.25' height of ceiling
8.75' height of useable wall space
Other Art Facilities
Northern's art facilities recently underwent a $1.4 million renovation. Students will find ample space and equipment to explore art education, design, art history, advertising design, computer and design, drawing, painting, sculpture, photography, ceramics, printmaking, and mixed media and fiber arts.
SPAFFORD STUDIOS
The spacious Spafford Studios area features natural light, hardwood floors, and spaces for design, drawing, and painting and printmaking labs; with semi-private studio spaces for junior and senior art students.
SCULPTURE, PRINTMAKING, CERAMICS
The Spafford Studios are also home to the ceramics, sculpture and printmaking studio classrooms. The ceramics lab features four gas kilns and three large capacity electric kilns. The ceramics area features a generous work area with eight ceramics wheels.
The sculpture area features MIG welders, power equipment for woodworking, a bronze/metal foundry and well equipped hand tools.
The printmaking area features a Takach Intaglio press and Graphic Chemical Lithography press. The print lab offers traditional lithographic stones, tools for etching, relief and monotype methods, and technology equipment for digital printmaking.
DACOTAH HALL DESIGN STUDIO
Graphics and photography students will find that the newly renovated Dacotah Hall Design Studio features spacious graphics classrooms offering iMac workstations and professional Adobe Creative Cloud graphics software such as Adobe Illustrator, Photoshop and After Effects.
The graphics area also features high-end printers and digital drawing and video production equipment, including Apple's Final Cut Pro editing software.
PHOTOGRAPHY, VIDEO
The Dacotah Hall Design Studio also offers a modern darkroom and chemical room, eight film enlargers and facilities for processing black and white film. Digital photography is well supported with cameras, iMacs and high-quality inkjet printers. Students will also find a state-of-the-art lighting studio with a green screen for video and digital imaging applications.