Image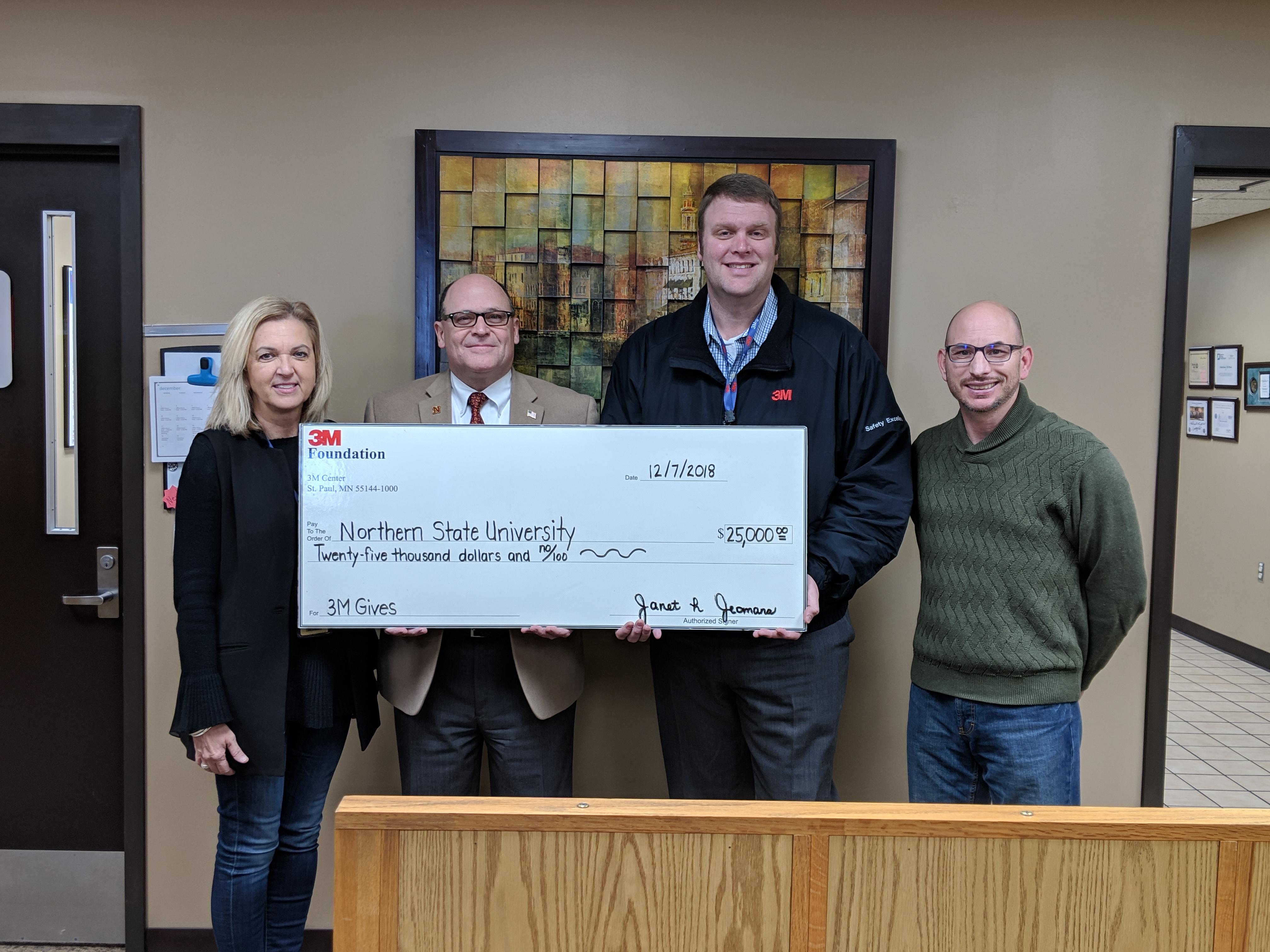 ABERDEEN, S.D. – The 3M Foundation has awarded a $25,000 grant to the Northern State University Harvey C. Jewett IV Regional Science Education Center.
Aberdeen 3M Plant Manager Allen Chasteen said the company is happy to continue to strengthen its relationship with Northern – and to support a project that is good for students and the community. Chasteen said the science center is in line with 3M's 110-plus years of fostering a culture of science and innovation.
"I do think it's an opportunity to continue to build upon our STEM relationship within the community," he said.
The state-of-the-art Harvey C. Jewett IV Regional Science Education Center is currently under construction at the corner of Twelfth Avenue Southeast and South State Street, and will open for the fall 2019 semester. The two-story building will provide a new home for NSU's biology and chemistry programs, offering collaborative spaces.
Community Outreach Concept
The facility's benefits will extend beyond campus, as the building was designed around a community outreach concept. Most of the labs will include glass walls so high school student tours and others passing by can see science in action. Regional outreach opportunities will abound, including the possibility of summer camps and teacher workshops.
Outreach is a theme that 3M strives to promote in all of its communities, said Andrew Rehder, value stream manager at the Aberdeen plant.
"It's all about a passion of 3M for science and what that means for youth," Rehder said.
Positive Momentum on Campus
The RSEC is one of many improvement projects at Northern, which is experiencing a great deal of positive momentum. Three new residence halls have opened in the last two years. NSU also recently announced that $44 million has been pledged for the Educational Impact Campaign, a joint effort with the South Dakota School for the Blind and Visually Impaired that includes the Athletic and Recreation Fields, which opened this fall; a new SDSBVI facility, currently under construction; and a regional sports complex, expected to open in 2021.
"There's so much growth happening at our university right now, and we're so grateful for the support of businesses such as 3M," said NSU President Dr. Tim Downs. "It's a game-changing time not only for Northern, but for our community and the entire region as well."
To learn more about the NSU Regional Science Education Center and other campus improvement projects at Northern, visit the Master Plan webpage.
About Northern State University
Northern State University is a regional university that offers outstanding academics and exceptional extracurricular activities at an affordable price on a safe, welcoming campus. Northern State recently announced its Educational Impact Campaign, with a goal of raising $55 million for a new South Dakota School for the Blind and Visually Impaired, new athletic and recreation fields, and an on-campus regional sports complex. Once the campaign is complete, NSU will be the recipient of more than $100 million in privately funded building projects and scholarships within a decade. To learn more, visit NSU Admissions.