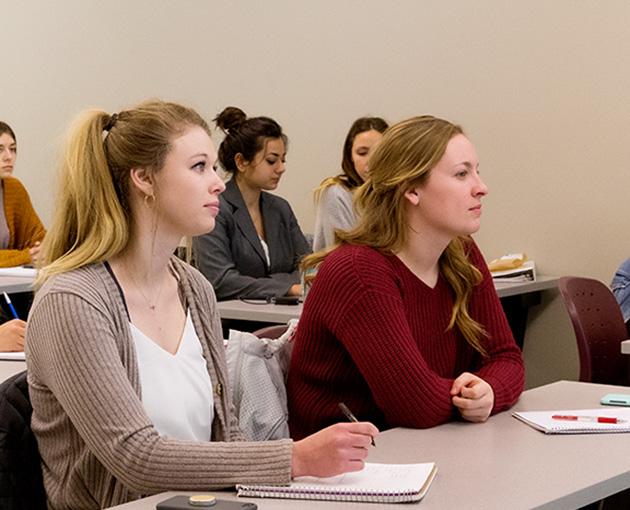 ABERDEEN, S.D. – Northern State University is now offering priority admission into its counseling master's program for eligible NSU psychology, sociology and criminal justice majors.
That means students who qualify can gain early admission in to the counseling program, one of the region's highest accredited (CACREP) programs. It also gives them early access to the listing of available Graduate Assistantships, which include reduced tuition and a monthly stipend.
Counseling's priority admission program not only benefits current Northern students, but is also a draw for incoming undergraduate students considering a career in counseling.
Northern's counseling program prepares students to take a state licensure or national certification exam to become a licensed counselor. The program enables students to choose their career path in clinical mental health, school counseling or forensic counseling.
Current Student Information Session
An information session for current Northern students who want to learn more about the priority admission program and the NSU counseling program will be held via Zoom at 10 a.m. Central time Thursday, Nov. 5.
Community Information Session
An information session for members of the community who graduated from college and are interested in careers in clinical mental health, school counseling or forensic counseling will be held via Zoom at 7 p.m. Central time Wednesday, Nov. 11.
To learn more, contact Department Chair Dr. Karyl Meister at karyl.meister@northern.edu, Graduate Studies Coordinator Tammy Griffith at tammy.griffith@northern.edu, or Director of Graduate Studies Dr. Erin Fouberg at erin.fouberg@northern.edu.
About Northern State University
Northern State University is a student-centered institution that provides an outstanding educational experience, preparing students through the liberal arts and professional education for their future endeavors. A regional university, Northern offers rigorous academics; diverse civic, social and cultural opportunities; and a commitment to building an inclusive environment for all points of view. Northern also offers a broad-based athletics program, sponsoring 15 NCAA Division II intercollegiate varsity sports that compete in the Northern Sun Intercollegiate Athletic Conference (NSIC). The university strives to enrich the community through partnerships such as its Educational Impact Campaign, which opened a new South Dakota School for the Blind and Visually Impaired; new athletic and recreation fields; and, soon, an on-campus regional sports complex. With the $55 million campaign, NSU has been the recipient of more than $120 million in privately funded building projects and scholarships within a decade. To learn more, visit NSU Admissions.