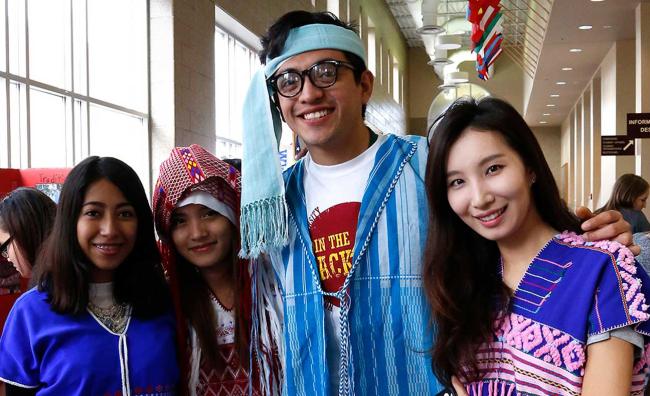 ABERDEEN, S.D. –  Northern State University international students will present a gala of global cuisine and culture in the center of campus at this year's revamped NSU Culturefest.
 
Culturefest: NSU's International Festival will take place 9 a.m.-2 p.m. Friday, Oct. 28, in the NSU Student Center.
 
Home to students from over 40 different countries, Northern's Culturefest aims to offer a more intimate setting for students to explore and be devoured by different cultures. Featuring over 20 different booths reflecting various cultures from around the world, Culturefest will offer a unique view of the diversity represented on the Northern campus and surrounding community. Many of these booths will offer traditional food samplings and artifacts to view.
 
International students will also run an open mic entertainment event on the stage in the Wolves Den, highlighting various talents throughout the event. In years past, Culturefest has showcased a vast array of talent featuring acts presenting traditional song and dance. This year's event will feature talents such as the Korean Dance Group "Impact" and the student led jazz/rock group "Jet Lagged," led by Daniel Jimenez.
 
The ever-present energy and atmosphere of the event is what gets Culturefest's director, Ioana Hojda,most excited for the festivities along with the amazing food.
;
In connection with Culturefest, the Wolves Den will offer traditional international cuisine to those attending for a low price.
 
Students from NSU's Center for Statewide E-learning will again be invited, with e-learning games and activities set up in the Centennial Rooms.
 
A Northern Visit Day will also be held on the NSU campus on Oct. 28, in the Krikac Auditorium and Johnson Fine Arts Center. Students attending the visit day will have an opportunity to visit the Student Center during the festivities.
 
Culturefest is geared toward potential NSU students and e-learning students, but the public is welcome. There is no admission fee, but lunch tickets will be available for purchase. Parking on campus will be free for the day.
 
Organizations involved in the event from the community include the Aberdeen Exchange Club, NESD Celtic Fair and Frederick Forward.
 
The festivities will be streamed on the NSU International Program's Facebook page for the duration of the event.
 
For more information about Culturefest, please email international@northern.edu or follow Culturefest on Instagram and Twitter @NSUCultureFest.