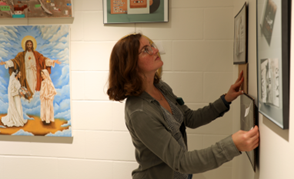 ABERDEEN, S.D. – Northern State University art students have a new space to showcase their work with the opening of Gallery X in the Johnson Fine Arts Center.
The gallery, located in JFAC Room 106, will primarily be used as a student gallery, and it will be a student-run space, said Northern Galleries Director Tim Rickett. Rickett said the space is all about experimentation, and Gallery X in particular is the students' space in which to do whatever they want.
"It is a professional academic gallery space that will allow the students to put on their own shows throughout the year and serve as a space for critiques, documentation and even a space for larger installation-based work," he said. "Having another space to show work is vital for artistic opportunities for our students, and we are beyond thrilled to begin our exhibitions in the space."
Gallery X officially opens today, Monday, Sept. 12, to the public. On display will be the Gallery X Grand Opening Exhibition, which features artwork by several NSU art students, including Kai Brisk, Aunna Cloos, Emilie Crosby, Olivia Gohl, Gabby Grieme, Jaci Mollman, Abby Patton, David Romero, Hunter Russell, Esther Santiago, Kelly Stadel, Levi Stern and Tia Swiontek.
Friends of the Arts/NSU also hosted its 2022-23 Season Kick-Off Social Friday evening in an event open to Friends of the Arts members and Northern art students.
Gallery X is now the second art exhibition space in the Johnson Fine Arts Center, along with the main JFAC Art Gallery. With this new addition, Northern now has more galleries than any other South Dakota school, Rickett said. Campus art spaces also include the Student Center Gallery, the President's Gallery in Spafford Hall, Lincoln Gallery and the Beulah Williams Library Gallery.
Cloos, Northern Galleries student assistant, said the new gallery provides students an opportunity to see their artwork outside the classroom. She will have two photographs on display in the Grand Opening Exhibition—it'll be the first time she'll see her work in a studio.
"That's really cool," she said. "I'm excited for people to come see it."
Cloos, a junior from Big Stone City, is double majoring in business administration and graphic design. Part of the reason she chose Northern is because her sister, mom, grandma and aunt all attended as well. "It's a family thing," she explained.
When she toured campus, the community feel at NSU also influenced her decision. "It just felt like home."
For more information on Gallery X and studying the arts at Northern, contact the NSU School of Fine Arts at 605-626-2497.
About Northern State University
Northern State University is a student-centered institution that provides an outstanding educational experience, preparing students through the liberal arts and professional education for their future endeavors. A regional university, Northern offers rigorous academics; diverse civic, social and cultural opportunities; and a commitment to building an inclusive environment for all points of view. Northern also offers a broad-based athletics program, sponsoring 15 NCAA Division II intercollegiate varsity sports that compete in the Northern Sun Intercollegiate Athletic Conference (NSIC). The university strives to enrich the community through partnerships such as its Educational Impact Campaign, which opened a new South Dakota School for the Blind and Visually Impaired; new athletic and recreation fields; and an on-campus regional sports complex. With the $55 million campaign, NSU has been the recipient of more than $150 million in privately funded building projects and scholarships within a decade. To learn more, visit NSU Admissions.