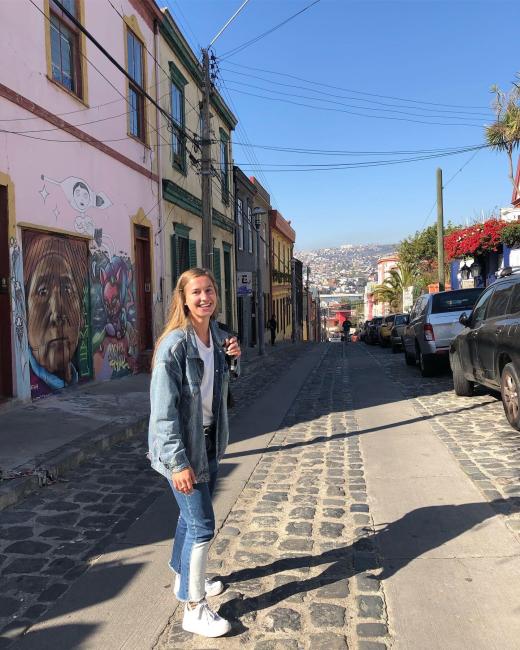 NSU senior to take teaching job in Lithuania after graduation
ABERDEEN, S.D. – Karlie Brown came to Northern State University with a plan: earn a teaching degree and find a job somewhere in the area.
"However, nothing ever goes to plan," said Brown, who is from Sioux Falls.
After taking a required Spanish class, Brown fell in love with the language. This led her to study abroad in Santiago, Chile, last summer – an experience that completely changed her life.
"I knew immediately after my month in Chile I had to live abroad," said Brown, an elementary education major with a minor in Spanish.
After graduating this spring, she will. Brown has taken a job as a grade 7 English and history teacher at American International School of Vilnius in Lithuania starting Aug. 1.
Now, she's looking forward to learning a new culture completely outside her own.
"I have never been to Eastern Europe, and there is so much to explore," she said.
Exploring new countries – and getting out of your comfort zone – is something Brown now encourages.
"Studying abroad made me realize there are so many beautiful areas to see, wonderful people to meet, and amazing food to try," Brown said. "Money returns, time does not. Get out of your comfort zone and experience the world!"
Though she says she "couldn't locate Lithuania on a map prior to the interview," Brown was drawn to the school's values and missions. The school features a student-centered, collaboration-focused curriculum, including a "week without walls," where students travel to a different country to learn about the culture and history.
Brown learned about the opportunity in Lithuania by attending an international job fair in Boston. She was referred to the job fair by NSU Office of International Programs Director Dominika Blum. Brown said she's very grateful to Blum, and thankful for her NSU Study Abroad experience, which had such an impact on her decision to live overseas.
During interviews at the job fair, she realized how much Northern had prepared her.
"I've had the opportunity to observe and be in classrooms since my freshman year," she said. "The professors here truly love their job, and their passion for education is contagious."
School of Education faculty create a comfortable learning environment, Brown said, where everyone feels accepted and actually wants to be there.
"I have great relationships with my professors and I know I can trust them," she said. "You can't always get that at larger schools with class sizes ranging into the hundreds."
To learn more about earning an education degree at Northern, visit the NSU Millicent Atkins School of Education online. To learn about study abroad opportunities, visit NSU Study Abroad.
About Northern State University
Northern State University is a regional university that offers outstanding academics and exceptional extracurricular activities at an affordable price on a safe, welcoming campus. Northern State recently announced its Educational Impact Campaign, with a goal of raising $55 million for a new South Dakota School for the Blind and Visually Impaired, new athletic and recreation fields, and an on-campus regional sports complex. Once the campaign is complete, NSU will be the recipient of more than $100 million in privately funded building projects and scholarships within a decade. To learn more, visit NSU Admissions.