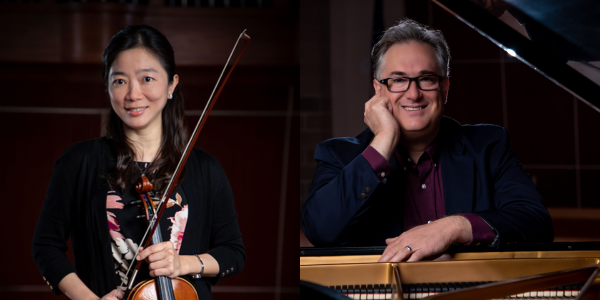 Caption: Yu-Mei Huang, left, will play violin and Fritz Gechter, right, will play piano at an upcoming concert.
ABERDEEN, S.D. – A guest musical duo from Texas A&M International University (TAMIU) will perform an upcoming concert at Northern State University.
Yu-Mei Huang, violin, and Fritz Gechter, piano, will present a recital of music by Tchaikovsky, Beethoven, and Mozart on Monday, Nov. 13 at 7:30 p.m. in the Krikac Auditorium.
A native of Tiawan, Huang received her bachelor's and master's degrees in violin performance and conducting from Florida International University, and a doctoral degree in violin performance from the University of Miami. She has appeared in concert throughout the United States and Asia, and directs the International Chamber Music Festival at TAMIU.
Originally from Seattle, Gechter received his bachelor's degree in piano performance from Central Washington University, and master's and doctoral degrees in piano performance from the University of Texas at Austin. He has performed as soloist and collaborative musician throughout the world, and directs the Steinway Series at TAMIU.
The recital is free and open to the public, and will also be livestreamed on the NSU Music Department Facebook page.
For more information, contact the NSU School of Fine Arts at 605-626-2497.