Image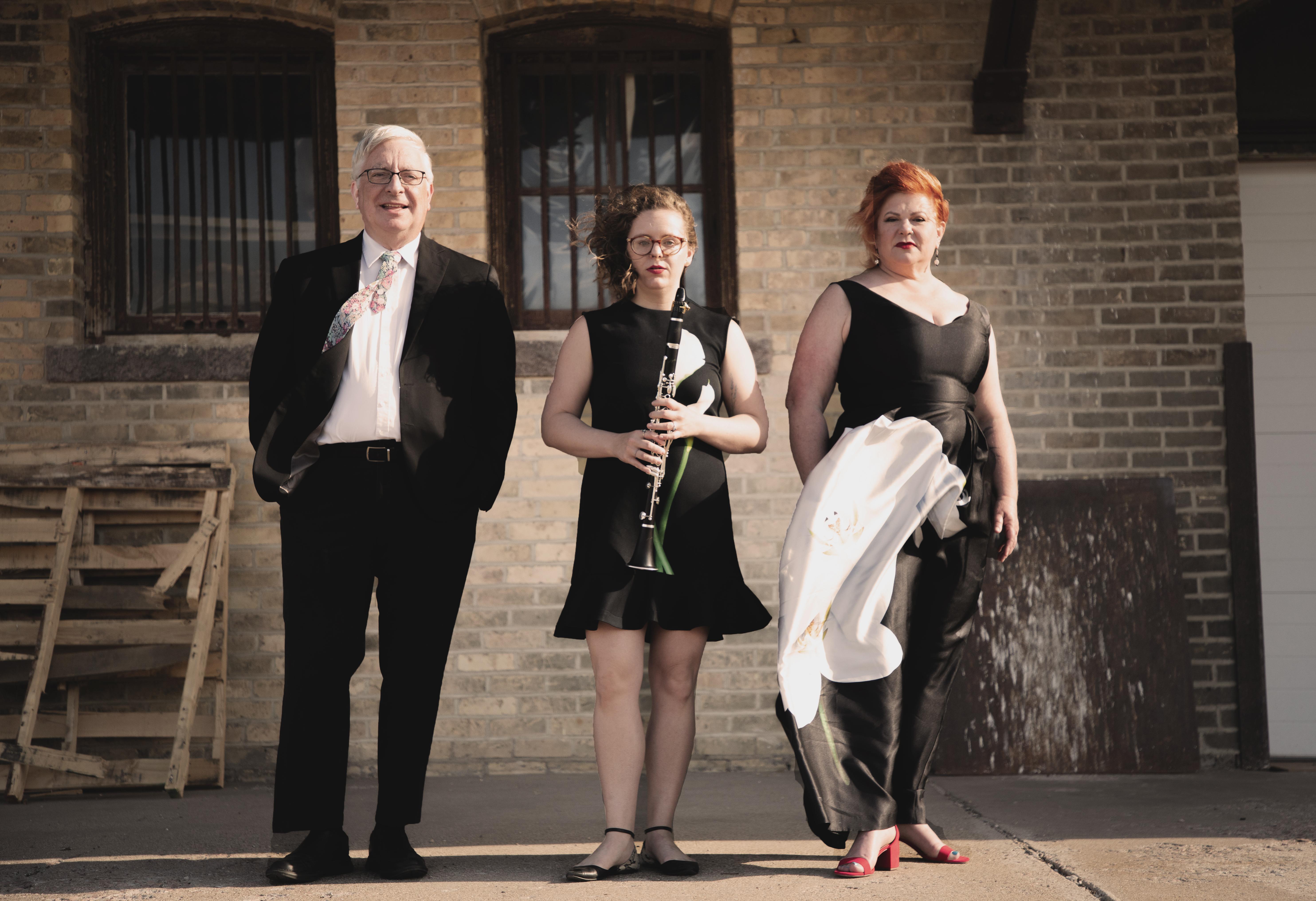 Pictured, left to right, are Drs. Philip Everingham, Audrey Miller and Darci Bultema. (Photo credit: Carrie Wegleitner, 2017 NSU alum, B.A. Graphic Design)
Bultema, Miller win Nora Staael Evert Research Award for 'Songs of Inclusivity'
ABERDEEN, S.D. – For Northern State University's Drs. Darci Bultema and Audrey Miller, what started as an effort to make a difference has grown into them shining a spotlight on music by underrepresented artists.
They are also gaining global attention for their project, "Songs of Inclusivity," which won Northern's 2021 Nora Staael Evert Research Award. Bultema, professor of music, voice/opera, and Miller, associate professor of clarinet/music, were both chosen for highly competitive South Dakota Arts Council Artist Fellowships for work related to this project. They were also selected to present and perform at three prestigious worldwide conferences.
The trio now plans to record a CD of their inclusive works in a professional studio, which could lead to representation by a major label. They will present a pre-CD release performance on the NSU campus in spring 2022.
"Songs of Inclusivity" is a recital performance of songs based on works by women, African-American and LGBTQIA+ poets written specifically for the Virinca Trio, which includes Bultema, Miller, and pianist Dr. Philip Everingham. Everingham, of Columbus, Ohio, is a longtime recital and opera collaborator with Bultema, including collaboration at the Barcelona Festival of Song in Spain in 2018.
The Virinca Trio's mission has been to perform rare and under-served repertoire and champion works from traditionally marginalized voices, as well as to commission works from American composers. With origins in the Esperanto international language as well as Sanskrit, "virinca" (vee-REEN-cha) loosely means the creator, God, and all the creator's followers and believers.
Commissioned Composers
For "Songs of Inclusivity," the Virinca Trio has commissioned a total of 17 songs by four composers. All of the songs are accessible to both students and professionals in the field.
The first three composers they commissioned are: New York-based composer Richard Pearson Thomas, who wrote his own music and lyrics; Aberdeen University Civic Symphony Director Dr. Christopher Stanichar, who composed songs based on poetry by Sara Teasdale, Emily Dickinson, Christina Rossetti and Elizabeth Barrett Browning; and Jonathan Bailey Holland, whose songs were based on the work of African American poets such as Langston Hughes and Rita Dove.
The Virinca Trio will receive their fourth and final commission on March 1 from Minneapolis-based composer Jocelyn Hagen, who will base her songs on the work of Pakistani poet Noor Unnahar. The trio will premiere Hagen's work in July 2022 at the National Association of Teachers of Singing conference in Chicago.
That's only the latest example of the far-reaching recognition the trio has achieved for their efforts. Stanichar's commission premiered on the NSU campus, but Bultema and Miller premiered Thomas' work with the composer at the piano at the International Clarinet Association's ClarinetFest 2019 and Holland's work at ClarinetFest 2021.
"Internationally, we're being recognized for these commissions we have done," Bultema said.
On the state level, they received the same Artist Fellowship, but in separate years. This competitive Arts Council program recognizes artists of exceptional talent, assisting them in further developing their artistic careers.
Going forward, they have interest from a record label, but in order to represent them, they need the recordings, Bultema said. The label would publish their work, which will allow others to listen to it. A performance guide will also be available.
'Don't Give Up'
All of this started when Bultema and Miller were feeling helpless with the state of the world and wanted to do something about it. What they could do, they decided, was make music.
"It's how we can make a difference," Miller said. "We can do something with our skillset. So we have to try."
For others looking to do the same, especially young women, they offer advice.
"Stick to their guns," Miller said. "Don't give up."
That means practicing perseverance. Bultema and Miller did not get the Nora Staael award the first time they applied, but they kept trying and working toward their goal, and now they've been recognized internationally.
"It's not like we're doing an incredible amount of work all the time in this project. Just little bits make up a big idea," Miller said. "If you keep on doing the little bits, you will get somewhere. I want students to see that. If you only look at the big picture, you're going to get so upset with yourself because it takes so long to get there. So, little bits."
Finding your passion is also important, Bultema added.
"Obviously music is our passion, but we recognized this other part, that we wanted to say something," she said. "We wanted our voices heard."
Said Miller, "We're helping other people's voices be heard, through wanting our voices to be heard."
Watch a video about the Virinca Trio:
About Northern State University
Northern State University is a student-centered institution that provides an outstanding educational experience, preparing students through the liberal arts and professional education for their future endeavors. A regional university, Northern offers rigorous academics; diverse civic, social and cultural opportunities; and a commitment to building an inclusive environment for all points of view. Northern also offers a broad-based athletics program, sponsoring 15 NCAA Division II intercollegiate varsity sports that compete in the Northern Sun Intercollegiate Athletic Conference (NSIC). The university strives to enrich the community through partnerships such as its Educational Impact Campaign, which opened a new South Dakota School for the Blind and Visually Impaired; new athletic and recreation fields; and an on-campus regional sports complex. With the $55 million campaign, NSU has been the recipient of more than $150 million in privately funded building projects and scholarships within a decade. To learn more, visit NSU Admissions.