Image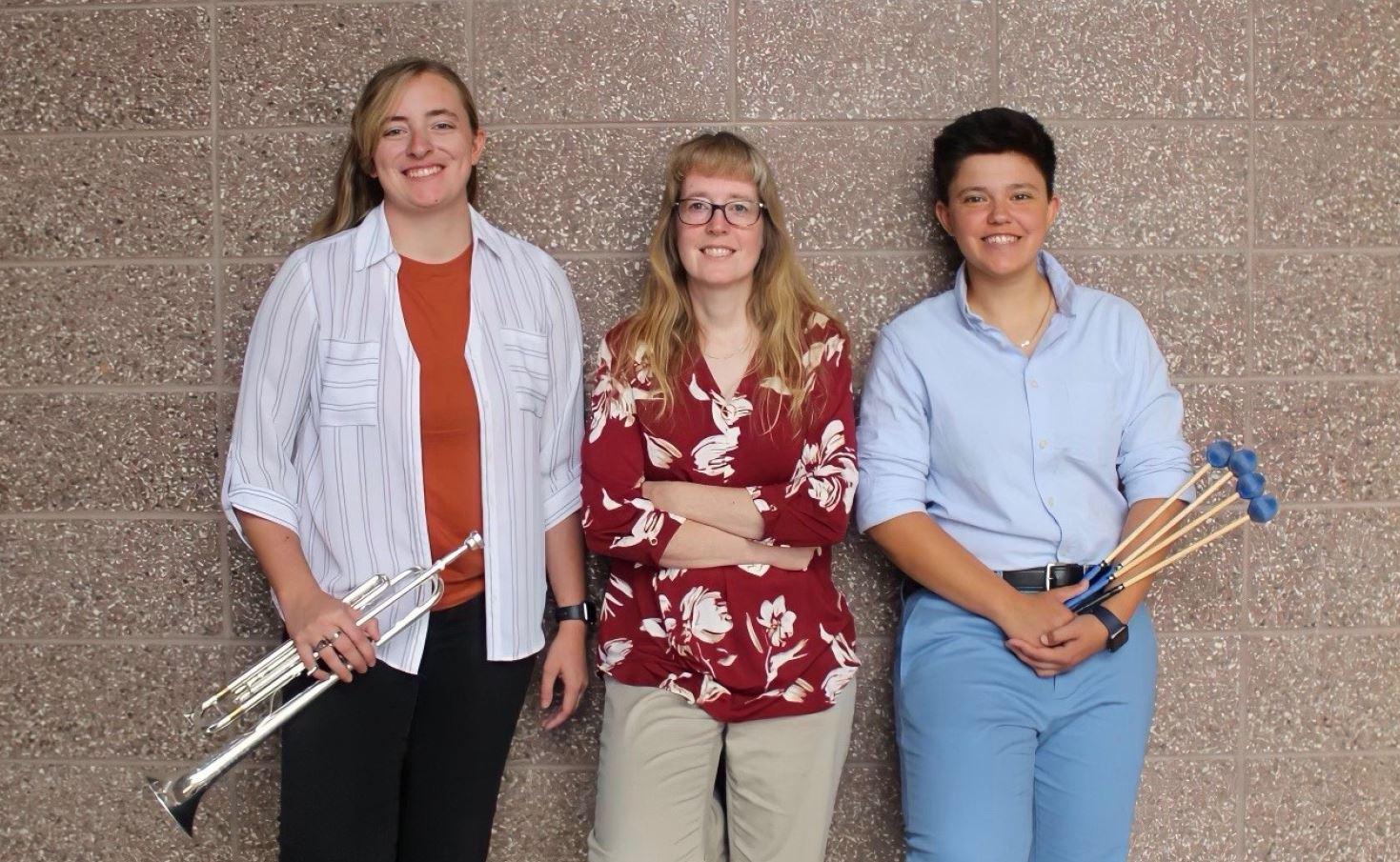 Pictured, left to right: Madison March, Katrina Weigel and Melissa Ulber.
ABERDEEN, S.D. – Northern State University students Madison March, Melissa Ulber and Katrina Weigel will hold their senior recital at 3 p.m. Nov. 13 in the Johnson Fine Arts Center Jewett Theater.
March, who plays the trumpet, will perform "Sonate pour Trompette et Piano, I. Sarabande & 2. Intermede," Jean Hubeau; "Trumpet Concerto in Eb Major, I. Allegro," Johann Baptist Georg Neruda; and "Sonata for Trumpet & Piano, Movt. 1," Kent Kennan. Her accompanist will be Kay Fischer.
Ulber, who plays percussion, will perform "Moon Chasers," by Mark Ford (marimba); "Bushido The Way Of The Warrior," by John Willmarth (timpani); and "Tambourine Chinios," by Fritz Kreisler (xylophone).
Weigel, whose primary instrument is piano, will perform three songs by Dmitri Kabalevsky: "Toccatina," "A Fairy Tale" and "Sonatina." She will also perform "Rondo," a piano/clarinet duet she wrote in 1995, accompanied by Connor Knigge on clarinet; "Slavonic Dance, Op. 72, No. 2 in E minor" by Antonin Dvorak, featuring duet partner Jayda Hunstad; and "Memory" (from the Andrew Lloyd Webber musical, "Cats," with music by Webber, text by Trevor Nunn after T.S. Eliot), featuring Hunstad as vocalist.
March, the daughter of Michele Dunham of Rapid City and Terry March of Hot Springs, grew up in Rapid City, graduating from Rapid City Central High School in 2019.
An instrumental music education major, March has studied with Drs. Rolf Olson and Grant Manhart during her time at Northern.

"I chose Northern because of the smaller, more personalized atmosphere among students and faculty and the great music program it has," March said.
She will graduate in May 2023 and plans to become a middle or high school band teacher somewhere in South Dakota.
Ulber, the daughter of Melanie and David Richardson of Webster, grew up in Riverside, Calif., graduating from Valley View High School in 2017.
A music and criminal justice major, Ulber has studied with Drs. Terry Beckler and James McKinney while at Northern.
"After high school graduation, my family moved to South Dakota and I chose to attend Northern to be close to my family," she said.
Ulber will graduate in May 2023. She is currently an intern with the Aberdeen Police Department and plans to move and become a police officer after graduation.
Weigel, daughter of Joe and Simone Klemen of Jamestown, N.D., grew up in Woodstock, Ill., and Fairchild, Wis., graduating from Osseo-Fairchild High School in 1993. She has lived in Edgeley, N.D., for the past 26 years.
A music education major, Weigel has studied with Dr. Marcela Faflak during her time at Northern.

"NSU is relatively near to my home and we've always liked Aberdeen," she said as to why she chose Northern.
Also, Dr. William Wieland and advisor Rhonda Carda made her feel very welcome, working to get her enrolled last-minute in fall 2021. Another factor, as a nontraditional student, was that a plan was created to enable her to graduate in two years through utilizing prior college credits.

Weigel, who will graduate in May 2023, has a job waiting for her to teach K-12 music in a rural school in North Dakota.
About Northern State University
Northern State University is a student-centered institution that provides an outstanding educational experience, preparing students through the liberal arts and professional education for their future endeavors. A regional university, Northern offers rigorous academics; diverse civic, social and cultural opportunities; and a commitment to building an inclusive environment for all points of view. Northern also offers a broad-based athletics program, sponsoring 15 NCAA Division II intercollegiate varsity sports that compete in the Northern Sun Intercollegiate Athletic Conference (NSIC). The university strives to enrich the community through partnerships such as its Educational Impact Campaign, which opened a new South Dakota School for the Blind and Visually Impaired; new athletic and recreation fields; and an on-campus regional sports complex. With the $55 million campaign, NSU has been the recipient of more than $150 million in privately funded building projects and scholarships within a decade. To learn more, visit NSU Admissions.