Image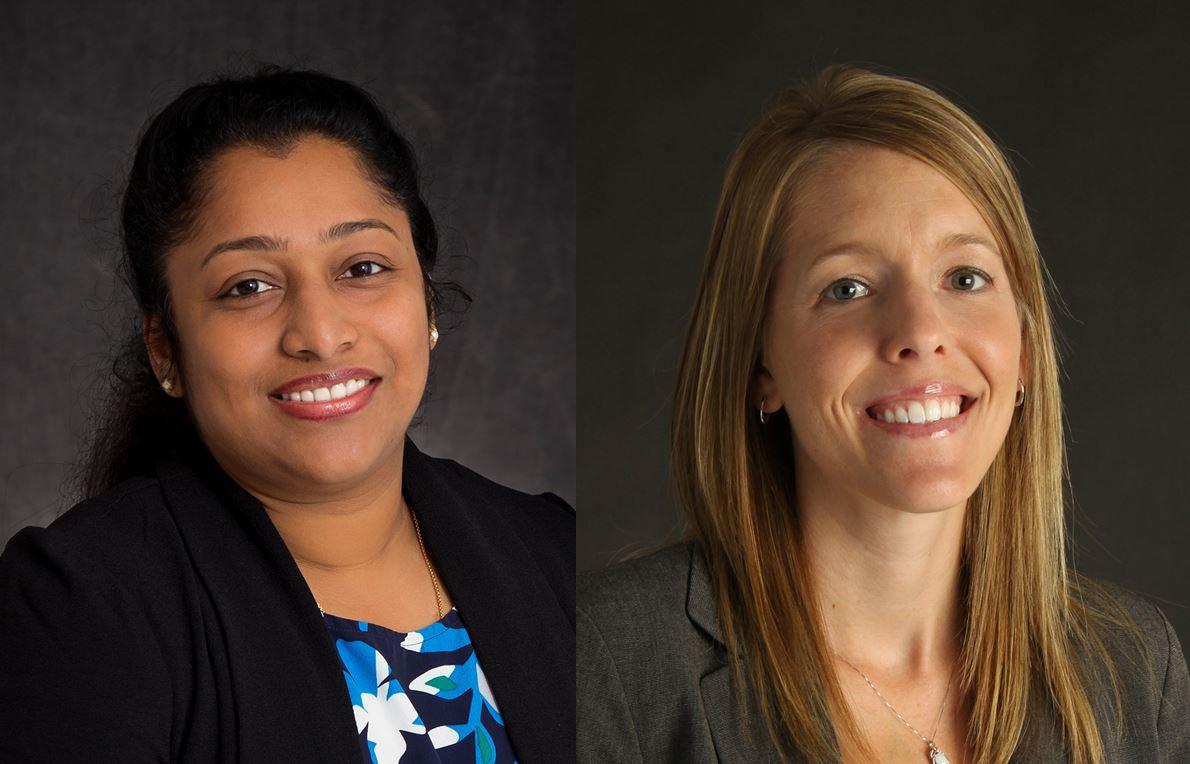 ABERDEEN, S.D. – Northern State University has named Drs. Shalini Mathew and Hannah Walters winners of this year's Outstanding Faculty Awards.
Walters, Associate Professor of Marketing/Department Chair in the NSU School of Business, is the winner of the 2023 NSU Foundation Faculty Excellence Award. This award recognizes faculty for excellence in teaching and learning, a sustained commitment to faculty service, and achievements in research and creativity within their discipline.
Mathew, Assistant Professor of Counselor Education in the Millicent Atkins School of Education, is the winner of the 2023 Outstanding Early Career Faculty Award. This award is presented to an early career, full-time faculty member who demonstrates a strong record and commitment to excellence in teaching, research and service.
Foundation Faculty Excellence Award
Walters, who has worked at Northern since 2012, was nominated by several faculty members, including Dr. Kristi Bockorny. In her letter of nomination, Bockorny said Walters excels in the classroom, with research and in service. She provides students with real-life opportunities by working on projects for Aberdeen area businesses.
"Since the day she started teaching at NSU, she has been driven and focused on student success," Bockorny wrote. "She has proven herself to be an outstanding teacher, a solid scholar, and a servant for NSU."
Early Career Faculty Award
Mathew, who has worked at Northern since 2019, was nominated by Heather Scott, Chair of the Department of Psychology and Counselor Education. In her nomination letter, Scott discussed how Mathew has mentored faculty, worked closely with students and contributed significantly through service activities.
"Dr. Mathew also developed the Wolves Emerging Scholars Program to assist first-year students with study skills, time management, self-advocacy, self-care and overall well-being," Scott wrote. "She is a wonderful and conscientious colleague who is always willing to contribute."
The awards were announced May 6 at Northern's spring commencement ceremony. Past award winners are listed below.
NSU Foundation Faculty Excellence Award/Outstanding Faculty Member Award
2022 Elizabeth Haller
2021 Kristi Bockorny
2020 Jon Mitchell
2019 Greg Blair
2018 Peter Ramey
2017 Courtney Waid-Lindberg
2016 Anthony Wachs
2015 Sara Schmidt
2014 Sara Christensen Blair
2013 Alyssa Kiesow
2012 Daniel Yurgaitis
2011 Erin Fouberg
2010 Robin Rosenthal
2009 Peter Kilian
2008 Gayle Bortnem
2007 Paul Everson
2006 William Wieland
2005 Jon Schaff
2004 Jon Lim
2003 Jeff Jay
2002 Grant Manhart
2001 Lysbeth Benkert-Rasmussen
2000 Ken Blanchard
1999 Connie Geier
1998 Ric Dias
1996 Abid Elkhader
1996 David Grettler
NSU Outstanding Early Career Faculty Award
2022 Benjamin Harley
2021 Anna Schwan
2020 Kristi Brownfield
About Northern State University

Northern State University is a student-centered institution that provides an outstanding educational experience, preparing students through the liberal arts and professional education for their future endeavors. A regional university, Northern offers rigorous academics; diverse civic, social and cultural opportunities; and a commitment to building an inclusive environment for all points of view. Northern also offers a broad-based athletics program, sponsoring 15 NCAA Division II intercollegiate varsity sports that compete in the Northern Sun Intercollegiate Athletic Conference (NSIC). The university strives to enrich the community through partnerships such as its Educational Impact Campaign, which opened a new South Dakota School for the Blind and Visually Impaired; new athletic and recreation fields; and an on-campus regional sports complex. With the $55 million campaign, NSU has been the recipient of more than $150 million in privately funded building projects and scholarships within a decade. To learn more, visit NSU Admissions.