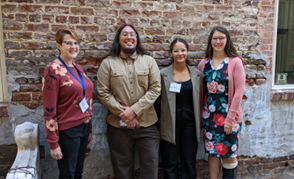 Pictured: Dr. Liz Sills and students Jaeden Shaving, Kenissa Ross and Kristi Schurr
ABERDEEN, S.D. – Three Northern State University students were selected for a panel at a recent national humor studies conference—and one of the students took home a top award.
NSU student Kenissa Ross, from Aberdeen, won the Eugenio E. Zaldivar Award for Top Undergraduate Paper at the annual meeting of the Lighthearted Philosophers' Society, which was held Oct. 7-8 in Greensboro, N.C.
Ross, an English major with TESOL emphasis, received the award for her paper about the ethics of the book, "The Inconvenient Indian."

The other two Northern students on the panel were Kristi Schurr, a communication studies major from Roscoe, and Jaeden Shaving, a history major from Aberdeen. Schurr wrote about the standup comedy of Jimmy O. Yang, and Shaving wrote about Sherman Alexie's "The Lone Ranger and Tonto Fistfight in Heaven."
The students were selected for papers they wrote in courses taught by Dr. Liz Sills, assistant professor of communication studies. Students from schools across the country applied to be on this panel, Sills said, and all three students accepted were from Northern.
"It's phenomenal to see student work being recognized beyond the classroom. Not only did all three panelists write great papers, but they had the opportunity to gain real respect for their ideas from people who weren't just grading them," Sills said. "All three students have benefitted from a Northern education that encourages them to think on their feet, speak well, and converse easily with a lot of different people. Those skills helped them perform beautifully in front of some of the top Philosophy of Humor scholars in the nation."
About Northern State University
Northern State University is a student-centered institution that provides an outstanding educational experience, preparing students through the liberal arts and professional education for their future endeavors. A regional university, Northern offers rigorous academics; diverse civic, social and cultural opportunities; and a commitment to building an inclusive environment for all points of view. Northern also offers a broad-based athletics program, sponsoring 15 NCAA Division II intercollegiate varsity sports that compete in the Northern Sun Intercollegiate Athletic Conference (NSIC). The university strives to enrich the community through partnerships such as its Educational Impact Campaign, which opened a new South Dakota School for the Blind and Visually Impaired; new athletic and recreation fields; and an on-campus regional sports complex. With the $55 million campaign, NSU has been the recipient of more than $150 million in privately funded building projects and scholarships within a decade. To learn more, visit NSU Admissions.