Image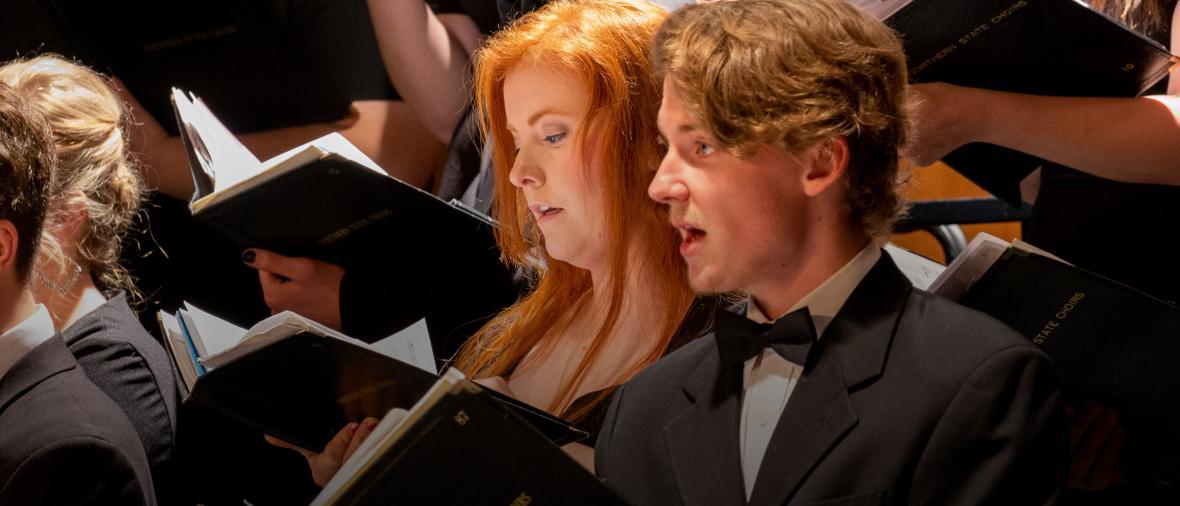 ABERDEEN, S.D. – The Northern State University Winter Choral Concert will take place at 7:30 p.m. Dec. 1 at the First Presbyterian Church of Aberdeen, 318 S. Kline St.
The concert will feature performances by the NSU Concert Choir, Chamber Singers and Early Musick Ensemble, under the direction of Dr. Timothy Woods.
On Nov. 30, the choirs will tour high schools in the region in preparation for the event, including visits to Aberdeen Central High School and Langford High School.
There is no cost to attend the Dec. 1 concert, but attendees are asked for a freewill donation. For more information, contact the NSU School of Fine Arts at 605-626-2497.
Choir members are as follows:
SOPRANOS
Eliza Allen, Watertown#
Anna Brotzel, Frederick
Evelynn Carlson, Minot, N.D.#
Chloe Carroll, Castlewood
Yunjin Choi, Seoul, South Korea
Megan Dockter, Watertown*
Alexis Greshik, Wimbledon, N.D.
Therese Haberman, Bottineau, N.D.*#
Jayda Hunstad, Aberdeen *
Kayla Jensen, Claremont
Kristin Johnson, Menoken, N.D.#
Ji Min Kim, Gyeong gido, South Korea
SooHyeon Kim, Seoul, South Korea
Maggie Knippling, Huron*
Kennadie Machovec, Fort Dodge, Iowa
Emily Palmer, Langford*
Hope Patton, Aberdeen*
Sydney Raap, Aberdeen*
Emma Rahm, Clark#
Madeline Ramsey, Aberdeen
Morgan Rathjen, Huron*
Meghan Sheets, Belle Plaine, Minn.
Demi Waldner, Hutterville
Madelyn Westby, Aberdeen*
Tessa Wiest, Aberdeen
Maggie McDermott#
ALTOS
Jennifer Appl, Aberdeen*
Samantha Bambas, Hill City
Mia Dougherty, Aberdeen
Soyeon Eom, Seoul, South Korea
Suzanne Fitterer, Sioux Falls*
Hannah Gasperich, Aberdeen*# @
Delaney Greenway, Brea, Calif.#
Alexis Hanten, Groton
Anya Jones, Pierre*
Beca Langteau Holdofski, Marinette, Wis.
Jinhwa Lee, Seoul, South Korea
Alexis Martin, Aberdeen*
Hannah Mielitz, Watertown#
Natalie Miles, Spearfish#
Dongju Min, Seoul, South Korea
Anna Moore, Aberdeen*#
Jaycee Nelson, San Diego, Calif.
Noelle Nemmers, Huron
Julia Orr, Aberdeen*
Abby Stauffenecker, Dell Rapids
Madi Unser, Aberdeen
Olivia Vogt, Gary#
Tatum Waldrop, Aberdeen*
YeoJin Yoo, Seoul, South Korea
TENORS
Taye Cundiff, Aberdeen*#
Cameron Gauger, Mitchell*@
Eli Houdyshell, Pierre*#
Eric Jacobsen, Aberdeen*
Dylan Rausch, Yankton*
Xavier Scott, Mandan, N.D.#
Jacob Wild, Aberdeen *
BASSES
Chris Allen, Rapid City*
Justin Desens, Aberdeen*
Zeke Duncan, Mellette
Dylan Eckhart, Circle Pines, Minn.*
Hayden Erdmann, Wahpeton, N.D.
Braden Freeman, Groton
Jaron Gross, Pierz, Minn.*#
Brody Hampl, Hastings, Minn.
Andrew Holland, De Smet
Cole Holmes, Aberdeen*#
Gabriel Johnson, Garretson
Cadin Kallenberger, Leola*
Davis Lorimer, Keystone
Tanner Pietz, Aberdeen*
Michael Rooks
Stephen Rowenhorst, Redfield*
Trapper Simmers Stanley, N.D.*#
Alex Snell, Aberdeen#
Garytt Tostenson, Mina#
Katrina Weigel@
* member of Chamber Singers
# member of Early Musick Ensemble
@ Accompanist
About Northern State University
Northern State University is a student-centered institution that provides an outstanding educational experience, preparing students through the liberal arts and professional education for their future endeavors. A regional university, Northern offers rigorous academics; diverse civic, social and cultural opportunities; and a commitment to building an inclusive environment for all points of view. Northern also offers a broad-based athletics program, sponsoring 15 NCAA Division II intercollegiate varsity sports that compete in the Northern Sun Intercollegiate Athletic Conference (NSIC). The university strives to enrich the community through partnerships such as its Educational Impact Campaign, which opened a new South Dakota School for the Blind and Visually Impaired; new athletic and recreation fields; and an on-campus regional sports complex. With the $55 million campaign, NSU has been the recipient of more than $150 million in privately funded building projects and scholarships within a decade. To learn more, visit NSU Admissions.