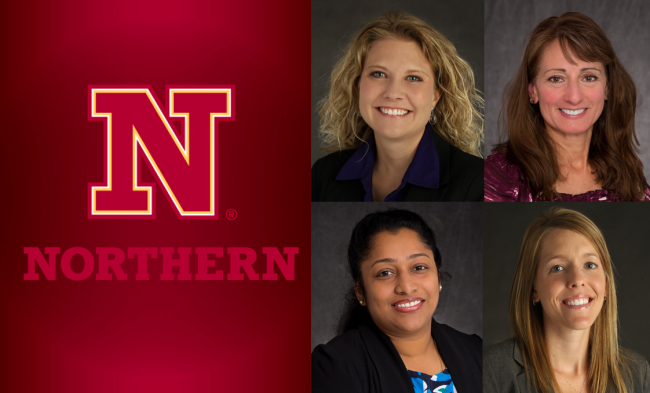 Pictured top, left to right: Drs. Kristi Bockorny and Theresa Giannavola; bottom, left to right: Drs. Shalini Mathew and Hannah Walters
ABERDEEN, S.D. – Northern State University faculty members have published a scholarly paper based on their research of student engagement in Hybrid Flexible (HyFlex) courses.
Drs. Kristi Bockorny, Theresa Giannavola, Shalini Mathew and Hannah Walters published "Effective engagement strategies in HyFlex modality based on intrinsic motivation in students" in the SAGE Publishing journal, "Active Learning in Higher Education."
Bockorny is Associate Professor of Management and Honors Program Director at Northern. Giannavola is former Assistant Professor of Banking and Financial Services. Mathew is Assistant Professor of Counselor Education. Walters is Associate Professor of Marketing and the Department Chair.
Last spring, they conducted research in 12 HyFlex courses across campus, exploring student engagement. Universities are scheduling more online and blended courses, including HyFlex, but there is limited research supporting its effectiveness in terms of student engagement.
The faculty members' two-pronged study explored engagement using quantitative and qualitative data. On the quantitative side, findings showed no difference in engagement levels between students attending face-to-face, virtually synchronously or virtually asynchronously. Qualitative results showed decreased stress; positive learning experience; flexibility to choose based on learning styles; increased control of learning; and increased accountability.
These findings, along with strategies for effective engagement in HyFlex courses, are shared in their paper, which can be viewed online at this link.
"I am thrilled by the insights in this article," said Dr. Ben Harley, NSU Center for Excellence in Teaching and Learning Director. "Moreover, the work demonstrates Northern's continued leadership in the area of HyFlex pedagogies and proves that, when done well, HyFlex course design empowers students to take control of their education and in so doing alleviates stress and sets them up for success. This work exemplifies why Northern continues to train faculty in HyFlex and why we are offering graduate certificates in this method of teaching. I am incredibly proud of the work these faculty have done and am honored that the project began with classroom discussions in the HyFlex certification program."
Northern State University offers a HyFlex Pedagogy Graduate Certificate to help educators and talent managers improve teaching and training. Learn how to deliver courses and training simultaneously in person, online synchronously, and online asynchronously. Courses are offered this summer. For more information, visit NSU HyFlex Pedagogy Graduate Certificate.
About Northern State University

Northern State University is a student-centered institution that provides an outstanding educational experience, preparing students through the liberal arts and professional education for their future endeavors. A regional university, Northern offers rigorous academics; diverse civic, social and cultural opportunities; and a commitment to building an inclusive environment for all points of view. Northern also offers a broad-based athletics program, sponsoring 15 NCAA Division II intercollegiate varsity sports that compete in the Northern Sun Intercollegiate Athletic Conference (NSIC). The university strives to enrich the community through partnerships such as its Educational Impact Campaign, which opened a new South Dakota School for the Blind and Visually Impaired; new athletic and recreation fields; and an on-campus regional sports complex. With the $55 million campaign, NSU has been the recipient of more than $150 million in privately funded building projects and scholarships within a decade. To learn more, visit NSU Admissions.