Image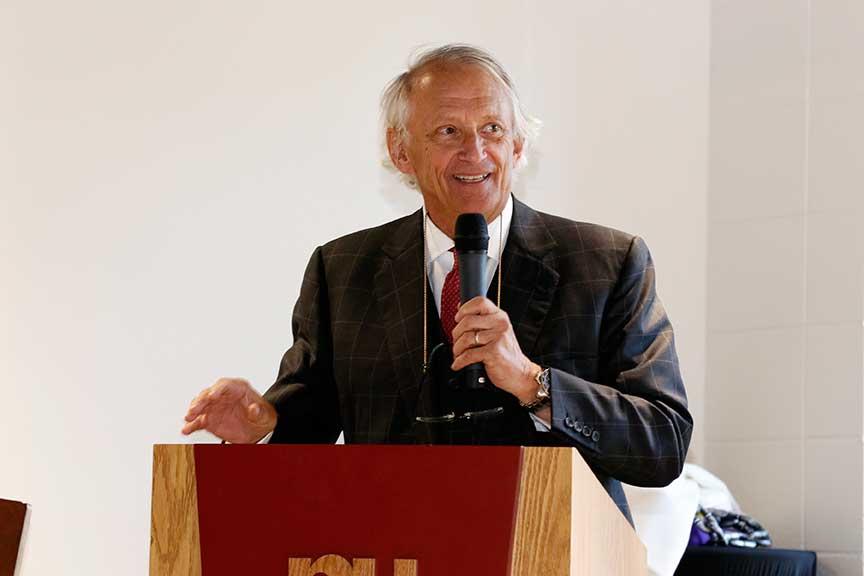 ABERDEEN, S.D. – Northern State University's new state-of-the-art science center will be named after a longtime regent who was instrumental in securing approval for the facility.
The Harvey C. Jewett IV Regional Science Education Center, currently under construction on the Northern campus, will open for the fall 2019 semester. The South Dakota Board of Regents approved the facility's name at its meeting today at NSU.
Jewett, an Aberdeen native, retired from the Board of Regents last year after two decades on the board. He played a central role in expanding the campus revitalization program that has been adopted and now underway. His advocacy for Northern included a push to secure approval of the RSEC, as well as support of the Johnson Fine Arts Center renovation. The main JFAC theater is dedicated to Jewett and his wife: the Harvey and Cynthia Jewett Theater.
"Harvey has been a tireless advocate for Northern throughout the years, and we are so pleased that he will be honored in this way," said NSU President Dr. Tim Downs. "I truly could not think of a more fitting namesake for a building that will be our new gateway to campus."
Jewett said he is honored for the recognition.
"This facility will be a huge asset not only to Northern, but to the entire region, offering educational programs for K-12 students as well as college students," Jewett said. "I'm humbled to have my name attached to it, and happy to continue to support NSU."
Science Center Details
Situated at the corner of Twelfth Avenue Southeast and South State Street, the two-story science center will provide a new home for NSU's biology and chemistry programs, offering collaborative spaces.
Features will include faculty offices and classroom space; biology labs and chemistry labs; a climate-controlled cadaver lab; a classroom fitted to contain a GIS lab; and an imaging suite that will house Northern's confocal microscope and two fluorescent scopes.
Outside, there will be an additional greenhouse; landscaping that will include Dakota native prairie grasses; green space featuring benches and picnic tables; and an outdoor classroom that could be used by courses such as ecology or plant systematics.
The building was also designed around a community outreach concept, with the possibility of summer camps and teacher workshops, as well as interdisciplinary activities across campus.
For more information on the Regional Science Education Center and other improvement projects at Northern, visit the NSU Campus Master Plan webpage.
About Northern State University
Northern State University is a regional university that offers outstanding academics and exceptional extracurricular activities at an affordable price on a safe, welcoming campus. Northern State recently announced its Educational Impact Campaign, with a goal of raising $55 million for a new South Dakota School for the Blind and Visually Impaired, new athletic and recreation fields, and an on-campus regional sports complex. Once the campaign is complete, NSU will be the recipient of more than $100 million in privately funded building projects and scholarships within a decade. To learn more, visit NSU Admissions.