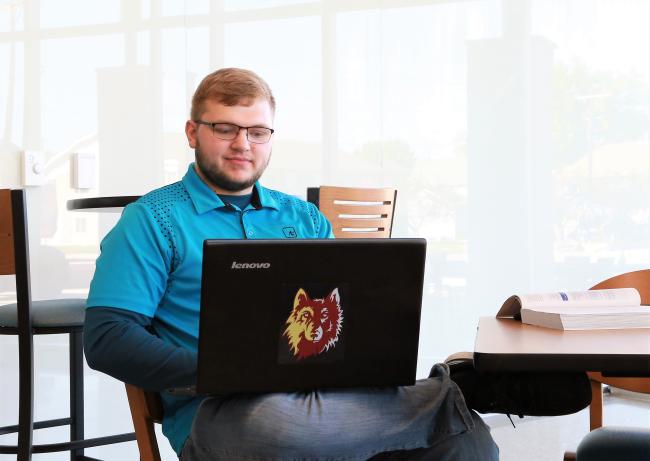 ABERDEEN, S.D. – Northern State University is now offering an online Spanish-International Business dual-degree option. 
Both the International Business and Spanish degrees are already offered online. Now, they have been re-worked into a dual-degree structure allowing students to obtain both degrees online in four years.
The creation of this dual-degree option builds on the high interest in Northern's online Spanish program, and pairs it with a business degree that will better prepare students for careers in a variety of national and international workplace settings.
There are a multitude of businesses that hire individuals to make connections with Spanish speaking countries, said Dr. Alyssa Kiesow, NSU College of Arts and Sciences Dean. 
Dr. Doug Ohmer, Dean of the College of Professional Studies, added that U.S. companies seek individuals with Spanish language skills to help them make connections to the growing Spanish-speaking populations in the United States. Career areas include domestic and international sales, marketing, communications, logistics, and customer services, among many other options. Money.com suggests that individuals with foreign language skills can earn up to $1,000 more per month than a monolingual individual.
"Having a business background along with Spanish language skills would solidly prepare students for such careers," Kiesow said.
For more information, visit NSU International Business Program or NSU Spanish Program.
About Northern State University
Northern State University is a student-centered institution that provides an outstanding educational experience, preparing students through the liberal arts and professional education for their future endeavors. A regional university, Northern offers rigorous academics; diverse civic, social and cultural opportunities; and a commitment to building an inclusive environment for all points of view. Northern also offers a broad-based athletics program, sponsoring 15 NCAA Division II intercollegiate varsity sports that compete in the Northern Sun Intercollegiate Athletic Conference (NSIC). The university strives to enrich the community through partnerships such as its Educational Impact Campaign, which opened a new South Dakota School for the Blind and Visually Impaired; new athletic and recreation fields; and an on-campus regional sports complex. With the $55 million campaign, NSU has been the recipient of more than $150 million in privately funded building projects and scholarships within a decade. To learn more, visit NSU Admissions.