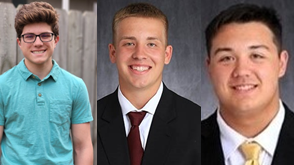 Pictured, left to right: Dante Casanova, William Madler and Brandon Steinhauer
ABERDEEN, S.D. – A team of three Northern State University students participated in a statewide data analytics competition this spring that was open to all South Dakota Board of Regents institutions.
Dante Casanova, William Madler and Brandon Steinhauer competed in the event, which was administered by Dakota State University and sponsored by Capital Services of Sioux Falls.
The students were given a dataset of approximately 300,000 records and used predictive analytics techniques to create a model prediction of the probability of credit card default.
"I was excited to try and venture into this project not having much experience at all with doing statistical analysis," said Steinhauer, of West Fargo, N.D., who graduated this month with a management information systems degree. "I'm really happy we were able to work on this together and be able to learn new things along the way that I otherwise would not have been exposed to."
Madler, of Bismarck, N.D., said Drs. Scott Peterson and Aaron Scholl of the NSU School of Business invited the students to participate in this competition.
"They each helped us greatly in getting started and prompting us with new ideas to include in our process," said Madler, who graduated this month with a finance degree. "They understood that a great amount of learning can occur when students take initiative. Our group did that in this competition, and we developed skills that we may have already possessed, yet those skills have now grown to a spot that may have taken a few years of work experience to attain."
Casanova, of Aberdeen, said he's grateful for the opportunity to participate in the competition, and he encourages other students with an interest in data analytics to participate next year.
"This experience benefited me because it exposed me to a wide array of analytic techniques that I had not explored in my prior business statistics course," said Casanova, a second-year finance major also pursuing minors in economics and accounting. "It is my hope that I will be able to utilize my experience from this competition to succeed in my upcoming business analytics course."
To learn more about studying business at Northern, visit the NSU School of Business webpage.
About Northern State University

Northern State University is a student-centered institution that provides an outstanding educational experience, preparing students through the liberal arts and professional education for their future endeavors. A regional university, Northern offers rigorous academics; diverse civic, social and cultural opportunities; and a commitment to building an inclusive environment for all points of view. Northern also offers a broad-based athletics program, sponsoring 15 NCAA Division II intercollegiate varsity sports that compete in the Northern Sun Intercollegiate Athletic Conference (NSIC). The university strives to enrich the community through partnerships such as its Educational Impact Campaign, which opened a new South Dakota School for the Blind and Visually Impaired; new athletic and recreation fields; and an on-campus regional sports complex. With the $55 million campaign, NSU has been the recipient of more than $150 million in privately funded building projects and scholarships within a decade. To learn more, visit NSU Admissions.