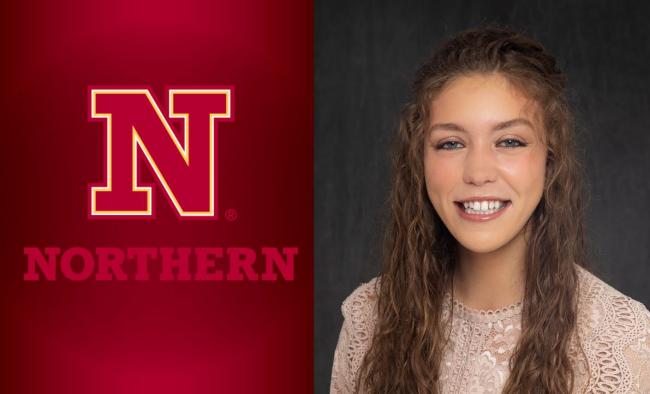 ABERDEEN, S.D. – Northern State University Honors Program student Alexandria Arndt has been accepted to law school through the new Honors Law Opportunity Program.
The program, a collaboration between Northern and the University of South Dakota, guarantees admission for up to five NSU Honors Program students into the USD Knudson School of Law.
Arndt, of Blue Springs, Mo., will be granted automatic acceptance into the Knudson School of Law.
Arndt is a criminal justice major with minors in legal studies, business and entrepreneurship. Besides being involved with the Honors Program, she is a catcher on the Wolves Softball Team, a legal and writing tutor, TRIO member, Student Government executive, President of Speech and Debate, and Student Athlete Advisory Committee representative.
Northern has helped her succeed, she said, "By pushing me to apply for the opportunity and challenging me to grow into my own ideas and goals."
Her career plans are to continue research and advocate for drug law changes, explore criminal law, family law, and business law internships, and become a practicing attorney.
"Alex is a phenomenal student who is driven and focused," said NSU Honors Program Director Dr. Kristi Bockorny. "She excels at so many different things on campus from softball to speech and debate to her Honors thesis, that she was awarded first place in the social justice field and won the Sloane Prize for Undergraduate Research at the 2022 National Collegiate Honors Conference in Dallas, Texas, last fall. Alex is going to do great things in the future and her acceptance into HLOP is just the beginning."
About the Honors Law Opportunity Program
The Honors Law Opportunity Program aims to help grow the number of committed, talented lawyers in northeast South Dakota. To qualify, Northern students must: be admitted into the Honors Program; have a cumulative GPA of at least 3.5 and ACT score in the 80th percentile (26 or above on the ACT or SAT equivalent); and demonstrate strong academic achievement and a personal commitment to building South Dakota communities.
Bockorny said the NSU Honors Program is grateful for its relationship with the USD Knutson School of Law to offer the Honors Law Opportunity Program (HLOP).
"HLOP is a great opportunity for our students who want to pursue law school," she said. "Alex is the sixth student that has qualified for the HLOP opportunity and we look forward to others in the future."
For more information about the HLOP, contact Bockorny at Kristi.Bockorny@northern.edu.
About the NSU Honors Program
The NSU Honors Program began in 1983 and has risen to national recognition. To graduate In Honoribus, students are required to complete an original Honors thesis and pass an oral defense in front of faculty. Northern Honors students have had success presenting that thesis research nationally, with students placing at the National Collegiate Honors Conference four times in recent years. To learn more, visit NSU Honors Program.
About Northern State University

Northern State University is a student-centered institution that provides an outstanding educational experience, preparing students through the liberal arts and professional education for their future endeavors. A regional university, Northern offers rigorous academics; diverse civic, social and cultural opportunities; and a commitment to building an inclusive environment for all points of view. Northern also offers a broad-based athletics program, sponsoring 15 NCAA Division II intercollegiate varsity sports that compete in the Northern Sun Intercollegiate Athletic Conference (NSIC). The university strives to enrich the community through partnerships such as its Educational Impact Campaign, which opened a new South Dakota School for the Blind and Visually Impaired; new athletic and recreation fields; and an on-campus regional sports complex. With the $55 million campaign, NSU has been the recipient of more than $150 million in privately funded building projects and scholarships within a decade. To learn more, visit NSU Admissions.