Image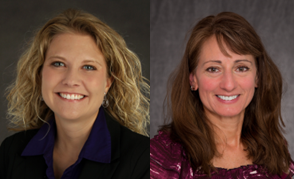 Pictured: Bockorny, left, and Giannavola, right
ABERDEEN, S.D. – Two Northern State University School of Business faculty members have received a top award at a recent national conference.
Drs. Kristi Bockorny and Theresa Giannavola won a Best Paper Award at the Academy of Business Research Conference, held Oct. 3-5 in Las Vegas. They received the award for their paper, titled, "Gratitude, Psychological Capital, Intent to Stay, and Satisfaction with Life: Toward a Conceptual Model."
In their paper, Bockorny and Giannavola propose that gratitude will positively impact an employee's psychological capital, intent to stay and satisfaction with life. There is a lack of research regarding gratitude in the workplace, according to the project abstract; benefits of gratitude could carry into various workplaces and possibly impact organizational culture, job satisfaction and productivity.
Bockorny is Associate Professor of Management and NSU Honors Program Director. Giannavola is Assistant Professor of Banking and Financial Services at Northern.
This research is part of their overall study that was funded with the Sanford Faculty Professional Development Award, which they won in spring 2022.
About Northern State University
Northern State University is a student-centered institution that provides an outstanding educational experience, preparing students through the liberal arts and professional education for their future endeavors. A regional university, Northern offers rigorous academics; diverse civic, social and cultural opportunities; and a commitment to building an inclusive environment for all points of view. Northern also offers a broad-based athletics program, sponsoring 15 NCAA Division II intercollegiate varsity sports that compete in the Northern Sun Intercollegiate Athletic Conference (NSIC). The university strives to enrich the community through partnerships such as its Educational Impact Campaign, which opened a new South Dakota School for the Blind and Visually Impaired; new athletic and recreation fields; and an on-campus regional sports complex. With the $55 million campaign, NSU has been the recipient of more than $150 million in privately funded building projects and scholarships within a decade. To learn more, visit NSU Admissions.