Image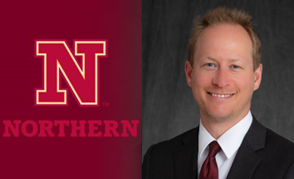 ABERDEEN, S.D. – Northern State University Vice President of Enrollment, Communications and Marketing Justin Fraase has accepted a Senior Director of Strategic Communications position at the University of Iowa.
Fraase has been at Northern since 2017, leading the Communications and Marketing Department for six years. In 2020, he added enrollment to his portfolio and was named Vice President of Enrollment, Communications and Marketing.
"Justin has been a valued member of our campus and community and will be missed," said President Neal Schnoor. "He has led campus rebranding efforts; conveyed the vision behind the $55 million Educational Impact Campaign; been a key communicator with state and local officials, and led critical changes to enrollment management and the WolfPACT unleashed scholarship."
Fraase has also been an engaged citizen of Aberdeen, serving on multiple community boards, including the Salvation Army Aberdeen, Aberdeen Area Chamber of Commerce Enhance Aberdeen Committee, and the Aberdeen Area Convention and Visitors Bureau.
"I cannot begin to express my sincere gratitude," said Fraase. "From my executive leadership colleagues, to the hard-working and creative team within the Enrollment, Communications and Marketing division, I never imagined all we would achieve when I started on campus in 2017. It's an exciting time to be at Northern, and Megan and I wish the absolute best for campus and the community."
Fraase will transition to his new role in January 2023 at the University of Iowa, which is located in Iowa City and serves more than 30,000 students.
About Northern State University
Northern State University is a student-centered institution that provides an outstanding educational experience, preparing students through the liberal arts and professional education for their future endeavors. A regional university, Northern offers rigorous academics; diverse civic, social and cultural opportunities; and a commitment to building an inclusive environment for all points of view. Northern also offers a broad-based athletics program, sponsoring 15 NCAA Division II intercollegiate varsity sports that compete in the Northern Sun Intercollegiate Athletic Conference (NSIC). The university strives to enrich the community through partnerships such as its Educational Impact Campaign, which opened a new South Dakota School for the Blind and Visually Impaired; new athletic and recreation fields; and an on-campus regional sports complex. With the $55 million campaign, NSU has been the recipient of more than $150 million in privately funded building projects and scholarships within a decade. To learn more, visit NSU Admissions.