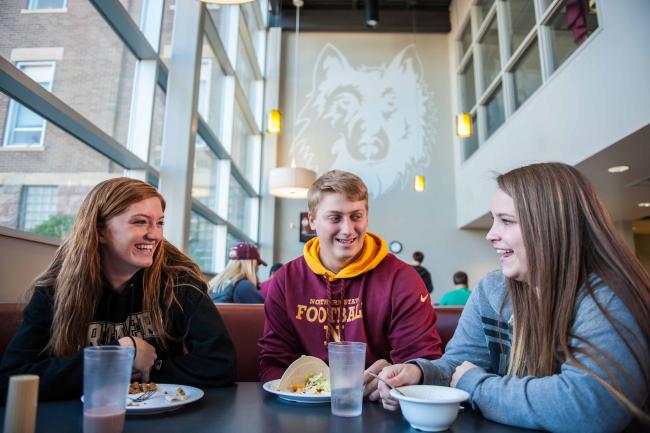 ABERDEEN, S.D. – Partnerships with community agencies provide free or cost-effective services for Northern State University students that support their academic and personal success.
Engaging community partners in strategies and projects to advance NSU, Aberdeen and the region is Northern's third Strategic Priority.
Community agencies include:
• Aberdeen Police Department
• Avera Health
• Northeastern Mental Health Centers
• Safe Harbor
• The Salvation Army
• Sodexo Campus
Avera Health
Thanks to the generosity of Avera Health, a Certified Nurse Practitioner (CNP) and physician's assistant are available on campus to support students' health. Avera Student Health is open Monday-Friday during the academic year. Students may be seen free of charge for assessment and treatment of acute or sudden onset of illness or injury, certain lab testing, over-the-counter medications, flu shots, referral services, and discounted prescription medications. These services are donated by Avera Health and represent significant savings to students and the university.
To learn more about Avera Student Health, visit Student Affairs in Suite 222, Avera Student Center, or call 605-626-3007.
Northeastern Mental Health Center
Northeastern Mental Health Center offers broad support and student-friendly pricing throughout the region and at its Aberdeen location. To meet the growing demand for personal counseling, Student Affairs and Counseling Services expanded their partnership with NEMHC this past fall semester. Students may contact Student Affairs for assistance with appointments or other referrals. A locally managed, 24-hour crisis line is available at 605-229-1000.
Northeastern Mental Health Center is a community treatment center dedicated to the health, wellness and recovery of those with mental health and substance use disorders and may be reached at 605-225-1010 or nemhc.org.
Sodexo Campus
Food insecurity is a growing problem for college students who are already stretched financially to cover the costs of higher education. Thanks to a partnership between Residence Life and Sodexo Campus, a new program was launched in fall 2022 called Wolves Attacking Hunger. This program will allow any student who is food insecure to request a set number of meal swipes per week to be used in the Wolves Den. While this program is limited, the hope is to assist students with a few meals each week throughout the semester as they work with various agencies in the community to find additional assistance. This program is free to Northern, and a result of a new campus food contract developed from a South Dakota Board of Regents Senate Bill 55 project.
The Salvation Army
The Salvation Army knows that many students struggle to afford all the expenses of college. To support students in need, the Mobile Market and Pantry was created in fall of 2021 and is offered monthly in the Avera Student Center. With only an ID, students may receive free pantry items, produce and pastries.
The main Salvation Army Food Pantry, at 1003 Sixth Ave. S.W., is open Monday, Wednesday and Friday from 9 to 11 a.m. and Tuesday and Thursday by appointment. Call 605-225-7410 for more details.
Safe Harbor
Northern State University is committed to providing a safe and harassment-free environment for all students, faculty and staff. Safe Harbor is available on campus the first and third Tuesday of every month through the academic year to support men, women and children who are victims of sexual or domestic violence. They are also available 24/7 via phone or text at 605-622-0104. A confidential space to visit with an advocate is in the Student Affairs Suite, 222, in the Avera Student Center. This partnership provides convenient advocacy services to the Northern community free of charge.
Safe Harbor also provides community education, emergency shelter, assistance with protection orders, advocacy, safety planning, and support groups at their Aberdeen location. For more information, contact Tori Collesso, toric@safeharborsd.org, or call 605-226-1212.
Aberdeen Police Department
Aberdeen Police Department Officer Angela Senger is stationed on campus and serves the Northern community during the academic year. A 24-year veteran of law enforcement, Officer Senger may be found in the Avera Student Center Monday-Thursday. Given our student population, Northern would not be able to operate a cost-efficient and professionally managed law enforcement unit without support. APD also provides training and other services free of charge to the university community like ALICE Active Shooter Training and the Prescription Medication Takeback. Internships are available for Northern students by contacting Captain Jondahl.
The Aberdeen Police Department is a community-oriented police organization comprised of 53 commissioned officers, eight civilian employees and four volunteer reserve officers. Visit aberdeen.sd.us/21/Police or call 605-626-7000 for more information.
"We are grateful for these partnerships, which help us meet our mission of supporting students in the most efficient manner, and look forward to many more years of collaboration," said Sean Blackburn, Dean of Students.
For more information about Student Affairs partnerships with community agencies, email sean.blackburn@northern.edu or visit NSU Student Affairs.
About NSU Student Affairs
For more information on Student Affairs, please visit our website. Student Affairs is comprised of the Avera Student Center, Avera Student Health, Campus Safety, Counseling Services, Dean of Students Office, Homecoming, Multicultural Student Affairs, New Student Programs (HOWL and Wolf Pack Welcome), Student Rights and Responsibilities, Prevention Services, Residence Life and Dining Services, Student Accessibility Services, Student Government Association, Student Involvement and Leadership, Student Organizations, Summer Camps and Conferences, and Title IX. Student Affairs advances the student success agenda of Northern and the Student Affairs Strategic Plan (2021-2025).
About Northern State University

Northern State University is a student-centered institution that provides an outstanding educational experience, preparing students through the liberal arts and professional education for their future endeavors. A regional university, Northern offers rigorous academics; diverse civic, social and cultural opportunities; and a commitment to building an inclusive environment for all points of view. Northern also offers a broad-based athletics program, sponsoring 15 NCAA Division II intercollegiate varsity sports that compete in the Northern Sun Intercollegiate Athletic Conference (NSIC). The university strives to enrich the community through partnerships such as its Educational Impact Campaign, which opened a new South Dakota School for the Blind and Visually Impaired; new athletic and recreation fields; and an on-campus regional sports complex. With the $55 million campaign, NSU has been the recipient of more than $150 million in privately funded building projects and scholarships within a decade. To learn more, visit NSU Admissions.