Image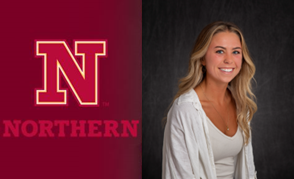 ABERDEEN, S.D. – Northern State University student Gabby Grieme's senior art exhibition will be on display Nov. 18-Dec 18 in Gallery X, located in room 106 of the NSU Johnson Fine Arts Center.
A reception for her exhibition, titled "More Than a Body," will take place 6:30-8:30 p.m. Dec. 3 in Gallery X. "More Than a Body" consists of digital illustrations that aim to deconstruct societal gender norms, beauty standards and sexual objectification of women.
Grieme, a digital media major with a graphic design emphasis, was a spring 2022 recipient of the Northern Edge Award. Through this, she had the opportunity to go to New York to visit several art museums such as The MET, Museum of Modern Art (MoMA), and the Guggenheim.
"Being able to immerse myself in this world of creativity and culture has had an extremely positive impact on my art education, enriching the knowledge I have thus far and cultivating new information alongside it," she said. "This research directly influences my work for my senior show, allowing me to apply new concepts of feminism with an unbiased view into my digital art for my senior show."
Grieme grew up in Brandon, graduating from Brandon Valley High School in 2019. She will graduate from Northern in December.
"Since I was young, I have always enjoyed art and being creative; a career in digital media and graphic design seemed like the perfect way to make a life out of it," she said. "After graduation, I plan to move to a bigger city in the Midwest and find a career in design for a marketing or in-house advertising agency."
About Northern State University
Northern State University is a student-centered institution that provides an outstanding educational experience, preparing students through the liberal arts and professional education for their future endeavors. A regional university, Northern offers rigorous academics; diverse civic, social and cultural opportunities; and a commitment to building an inclusive environment for all points of view. Northern also offers a broad-based athletics program, sponsoring 15 NCAA Division II intercollegiate varsity sports that compete in the Northern Sun Intercollegiate Athletic Conference (NSIC). The university strives to enrich the community through partnerships such as its Educational Impact Campaign, which opened a new South Dakota School for the Blind and Visually Impaired; new athletic and recreation fields; and an on-campus regional sports complex. With the $55 million campaign, NSU has been the recipient of more than $150 million in privately funded building projects and scholarships within a decade. To learn more, visit NSU Admissions.