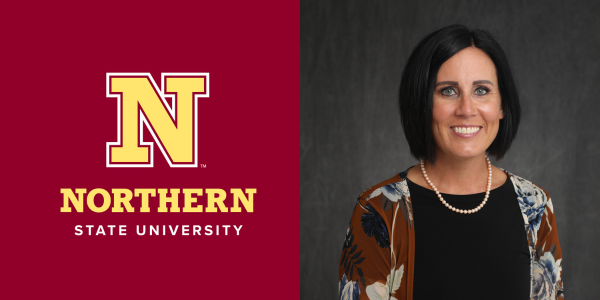 ABERDEEN, S.D. – Northern State University officials are pleased to announce the appointment of Dr. Anna Schwan as Dean of the Millicent Atkins School of Education.
Schwan is well known on campus and in the community. She has been a passionate and respected advocate for teacher excellence for many years. In 2021, Schwan was awarded the Outstanding Early Career Faculty Award for going above and beyond to improve curriculum, mentor students and serve on numerous committees.
"For me, education is not only what I do, but also who I am. Continuing to serve as dean of the Millicent Atkins School of Education allows me the opportunity to empower the faculty and staff to make the changes that they truly want to see…the intentional changes that they believe will impact our students' lives," Schwan said.
Schwan has been serving as the interim dean since fall 2022. She has already made monumental changes that will benefit education students. In the last year, Schwan launched a 2-year degree in early childhood education to help meet the demand for qualified childcare providers in South Dakota and brought the Teacher Apprenticeship Pathway program to Northern as a flexible, low-cost option for educational assistants to earn their bachelor's degree in secondary education. In addition, she revamped a previous scholarship into the 1901 Scholarship, which is available to a wider range of students and ties more closely into Northern's history as a teacher education college. She will start her new role immediately.
"I see this position as a means of making a difference, of having the capacity to support and guide new programs, foster a climate of innovation and risk-taking, and to fight for what we believe is right for the School of Education, our departments, and most importantly, our students," said Schwan.
Schwan started at Northern in 2017 as an assistant professor. Since then, Schwan has served as a graduate programs recruiter, graduate faculty coordinator and teacher education department chair. Previously, Schwan was a school administrator for the Groton Area Middle School and High School.
Schwan earned her Doctor of Education and Specialist in Education from the University of South Dakota, her Master of Arts in Education from Valley City State University, her Bachelor of Arts in Arts & Sciences from South Dakota State University, and her Specialization in Spanish Culture and Language from La Escuela Internacional in Spain
"What we have in the Millicent Atkins School of Education is special, and every day when I shut the lights off and walk out of our building, I know that the work that we are doing is important," said Schwan. "I know that everyone in this building has chosen this career path out of passion and heart, and we genuinely love to teach and serve students. That's what special, that's what will inspire true change, and that is why I know this is where I want to be…where I'm meant to be."
For more information about the Millicent Atkins School of Education, visit northern.edu/academics/school-education.