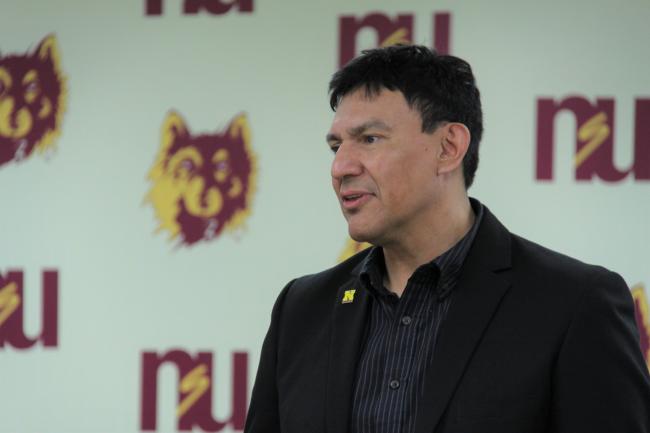 ABERDEEN, S.D. – Northern State University will hold a Wolf Talk speaker series this fall, culminating in a presentation and performance by Northern alumnus Dr. Darryl Tonemah.
Each of the fall 2022 Wolf Talks will be free and open to the public. The first event features the hosts of the popular podcast, "Shrink Rap." Drs. Franne Sippel and Becky Kuch will discuss the topic of bullying and their goal to be a resource for individuals who have experienced bullying or would like to help someone who is being bullied.
This event, sponsored by Northern's TRIO Student Support Services and the NSU Honors Program, is set for 6:30 p.m. Sept. 21 in the Johnson Fine Arts Center's Berggren Recital Hall.
In October, the Wolf Talk is sponsored by TRIO SSS in conjunction with Mental Wellness Week. The presenters will be Debra Butman-Perkins, Clark Perkins and Deb Langrehr, who will discuss where stress comes from and how to incorporate "de-stressing" activities in our daily lives. The presentation, "Never Too Old to Play," will be interactive, with participants trying out new and fun techniques. This event will take place at 6:30 p.m. Oct. 19 in the JFAC Jewett Theater.
Then on Nov. 16, Dr. Darryl Tonemah will deliver an unforgettable experience, bringing his intimate storytelling of friendship and family loyalty to Northern for the November Wolf Talk. A 1989 NSU graduate, Tonemah is an acclaimed singer, songwriter and author. He has spoken on campus in the past, including delivering Northern's spring commencement address in 2014.
Tonemah's Wolf Talk and concert performance, which will begin at 6:30 p.m. in the JFAC Jewett Theater, is sponsored by TRIO SSS and the NSU American Indian Circle Program.
The fall 2022 Wolf Talks are being held in conjunction with the 2022 Common Read Lecture. Patty Blount, author of the 2022 Common Read selection, "Send," will deliver the lecture at 7:30 p.m. Monday, Nov. 7, in the JFAC Jewett Theater.
About Northern State University
Northern State University is a student-centered institution that provides an outstanding educational experience, preparing students through the liberal arts and professional education for their future endeavors. A regional university, Northern offers rigorous academics; diverse civic, social and cultural opportunities; and a commitment to building an inclusive environment for all points of view. Northern also offers a broad-based athletics program, sponsoring 15 NCAA Division II intercollegiate varsity sports that compete in the Northern Sun Intercollegiate Athletic Conference (NSIC). The university strives to enrich the community through partnerships such as its Educational Impact Campaign, which opened a new South Dakota School for the Blind and Visually Impaired; new athletic and recreation fields; and an on-campus regional sports complex. With the $55 million campaign, NSU has been the recipient of more than $150 million in privately funded building projects and scholarships within a decade. To learn more, visit NSU Admissions.