Image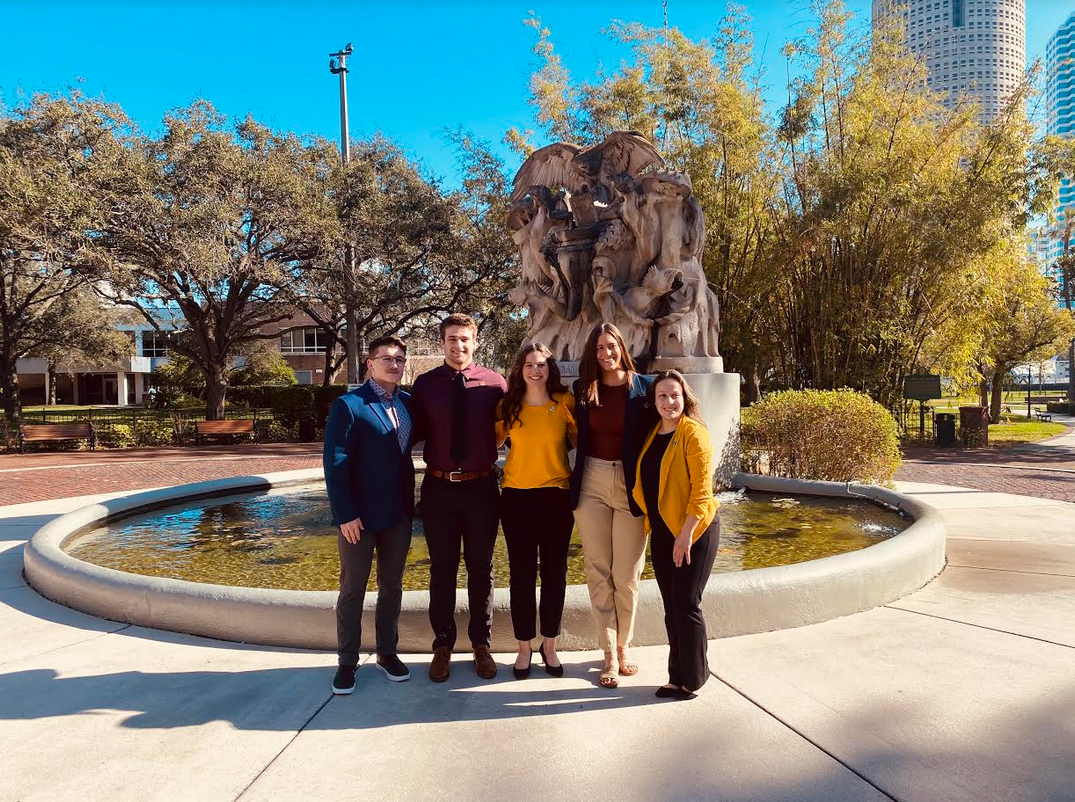 Pictured left to right: Garret Thompson, Brock Baker, Shelby Novotny, Aimee Roy and Katy Wolf

ABERDEEN, S.D. – Students in the Northern State University Department of Sports Sciences recently earned second place in the Case Study Cup at the Council on Sport Management Accreditation (COSMA) Conference.
NSU students Brock Baker, Shelby Novotny, Aimee Roy, Garret Thompson and Katy Wolf were given a case study that focused on integrated strategies to engage Esports Consumers in the Tampa area. They prepared a presentation and competed against other sport marketing students from programs across the country.
Also as part of the COSMA Conference, held last month in Tampa, Fla., the students were able to attend research and academic presentations in the field of sport management and network with other academic and industry professionals.
Wolf, of Piedmont, S.D., said she enjoyed the networking opportunities with fellow students in the field.
"It was exciting to hear about their program, school and journey to higher education," said Wolf, who is pursuing a master's degree in Sports Performance and Leadership. "I feel empowered to work alongside these young professionals."
Thompson, of Logan, Iowa, said the COSMA conference was a great opportunity to connect with other professionals.
"It was awesome to be able to present research and compete in the Case Study Competition," said Thompson, who is also pursuing a master's in Sports Performance and Leadership. "Experiences like this are something we can use to help us in future opportunities."
Shelby Novotny, of Elk River, Minn., said the conference was an incredible experience that not only gave them an opportunity to network, but to push themselves academically.
"I learned so much from others in our case study team and from attending presentations at the conference," said Novotny, a Biology and Biology Education major. "It really opened my eyes to new opportunities in the sport industry and I look forward to what the future has in store for the sport sciences discipline."
Aimee Roy, of Aberdeen, said she appreciates the advocacy of NSU faculty to lead students to opportunities such as the COSMA Case Study Cup.
"Inclusive and diverse research and presentations like those we heard at COSMA are imperative to the advancement of student careers and the future of athletics and sport management," said Roy, who is pursuing a master's in Sports Performance and Leadership.
Brock Baker, of Aberdeen, said attending the COSMA conference provided a great experience for all who attended.
"I really enjoyed and appreciated all those who presented in Tampa and am grateful to Northern State and all of the faculty and staff who made this experience possible," said Baker, a Sport Marketing and Administration major.
Leading the Northern group was Faculty Representative Dr. Kelsie Roberts.
"It was such an incredible experience to watch our students grow academically, professionally, and even on a personal level. For instance, we had one student who had never seen palm trees before and another who didn't think they'd like to work in the sport industry until they competed in the Case Study Cup," said Roberts, NSU Assistant Professor of Sport Marketing and Administration. "As their professor, it was amazing to not only watch them get rewarded for their outstanding academic efforts in that way, but it was also very moving to see these young professionals step out of their comfort zones, embrace risk and challenge and really thrive in a very new environment for them."
Learn more about studying sports sciences at Northern at: Sport Marketing and Administration Bachelor's Degree and Sports Performance and Leadership Master's Degree.
About Northern State University

Northern State University is a student-centered institution that provides an outstanding educational experience, preparing students through the liberal arts and professional education for their future endeavors. A regional university, Northern offers rigorous academics; diverse civic, social and cultural opportunities; and a commitment to building an inclusive environment for all points of view. Northern also offers a broad-based athletics program, sponsoring 15 NCAA Division II intercollegiate varsity sports that compete in the Northern Sun Intercollegiate Athletic Conference (NSIC). The university strives to enrich the community through partnerships such as its Educational Impact Campaign, which opened a new South Dakota School for the Blind and Visually Impaired; new athletic and recreation fields; and an on-campus regional sports complex. With the $55 million campaign, NSU has been the recipient of more than $150 million in privately funded building projects and scholarships within a decade. To learn more, visit NSU Admissions.