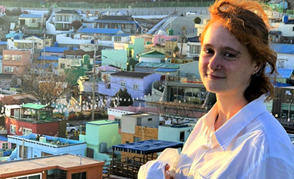 ABERDEEN, S.D. – For Northern State University student Demi Waldner, studying abroad was a life-changing experience—and even led to her determining her career path after college.
Waldner spent a year in South Korea—her first time traveling abroad—and said it was an amazing experience.
"I'd say the best part was learning both the language and the culture," said Waldner, a junior English major.
While there, she also learned that to work as an English teacher, she just needs a bachelor's degree from an English-speaking university.
"So that's what I decided to do once I graduate college," she said.
Waldner studied at Hanyang University in Seoul through of one of Northern's 27 exchange partnerships.
Overall, Northern offers 600 study abroad opportunities at 140 destinations around the world, said NSU International Programs Director Dominika Blum. And now, faculty-led programs are being offered again after two years of being impacted by the pandemic. The spring and summer 2023 programs are:
Guatemala: This spring break service-learning program will involve building a bottle school, led by Blum and Michael Mohammed.
Poland and Czech Republic: This program is geared toward education majors, led by Dr. Anna Schwan.
Morocco: This program, focusing on history and geography, will be led by Drs. Erin Fouberg and Steven Usitalo.
Fringe Festival in Edinburgh, Scotland: This program, led by Drs. Kane Anderson and Noah Files, will involve NSU theatre students performing at the worldwide arts festival.
Though each program is geared toward specific majors, they are open to all students, Blum said. Faculty-led study abroad options are good for students who might be nervous about traveling abroad.
"I always encourage people to go on a faculty-led first because then you're traveling with students from Northern, with faculty or staff that you know and trust," Blum said.
Always Wanted to Study Abroad
Waldner, who is originally from the Hutterville Hutterite community south of Aberdeen, has always known she wanted to study abroad.
"My parents both studied in Germany," she said. "They always encouraged me to travel."
Her first language is the Austrian dialect spoken in her community. Then when she started school at age 5, she learned English and German. This made her especially adept at languages, and in high school, she started learning Spanish on her own using Duolingo.
"My hobby has been kind of learning languages since I was a kid," she said.
When she became a fan of K-Pop, she started learning Korean as well, which led to her decision to study abroad in South Korea.
While it was a huge change going from Aberdeen to Seoul, which has almost 10 million people, Waldner had studied the language and culture for almost four years. In that time, she learned that Korean culture isn't that different from where she grew up.
"I realized Korean and Hutterite cultures are much more alike than either cultures are to American culture, actually," she said.
For example, the Hutterite culture really sticks to tradition, she said, whereas in American culture, there's a tendency to move toward the future, away from tradition.
Perhaps the highlight of the trip was that she got to see six different popular K-Pop artists perform for free, including Psy, the artist who performs "Gangnam Style."
Benefits of Studying Abroad
When students such as Waldner come back from a study abroad experience, Blum said, the benefits include increased self-confidence and growth from being immersed in another country's language and culture, becoming a better communicator, making lifelong friends, expanding your worldview, impressing your future employers, and becoming a global citizen.
They also make new networks, which can open doors—and potentially influence their future, like with Waldner, who plans to spend five years teaching English in South Korea after graduation. Studying abroad also led to success for recent graduates Karlie Brown, who accepted a teaching position in Lithuania after studying abroad in Chile, and Tawnie Williams, whose experience on Northern's first Guatemala bottle school trip factored into her winning business idea.
"It just opens up so many opportunities and adds layers of experiences to the students," Blum said.
What's Holding You Back?
To other students considering studying abroad, Waldner asks: "Why not? What's holding you back?"
The NSU Study Abroad office makes it easy, she said, and walks you through the process.
"If you're able to, you should absolutely go for it. If you go somewhere for a week, to a semester or a year, it'll teach you so much," Waldner said. "You learn a lot. You'll probably change. You might even find something that you really want to do. Even if it's not the country that you go to, you could learn something about another country, or another career. There's just so much opportunity for learning."
For more information, visit the NSU Study Abroad office on the second floor of Lincoln Hall, or contact them by emailing studyabroad@northern.edu.
About Northern State University
Northern State University is a student-centered institution that provides an outstanding educational experience, preparing students through the liberal arts and professional education for their future endeavors. A regional university, Northern offers rigorous academics; diverse civic, social and cultural opportunities; and a commitment to building an inclusive environment for all points of view. Northern also offers a broad-based athletics program, sponsoring 15 NCAA Division II intercollegiate varsity sports that compete in the Northern Sun Intercollegiate Athletic Conference (NSIC). The university strives to enrich the community through partnerships such as its Educational Impact Campaign, which opened a new South Dakota School for the Blind and Visually Impaired; new athletic and recreation fields; and an on-campus regional sports complex. With the $55 million campaign, NSU has been the recipient of more than $150 million in privately funded building projects and scholarships within a decade. To learn more, visit NSU Admissions.