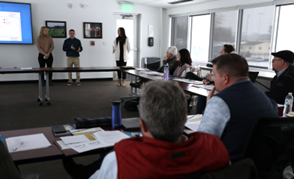 Caption: NSU students Meghan Anderson, Chase Groh and Ellie McCormick (left to right) present to members of the Aberdeen Area Community Foundation Board.
ABERDEEN, S.D. – Northern State University students gained real-world experience and helped a nonprofit organization enhance its marketing efforts, thanks to a local partnership.
NSU students collaborated with the Aberdeen Area Community Foundation, presenting their marketing recommendations to the AACF Board. The project was part of a marketing course taught by Dr. Hannah Walters, and a graphic design course taught by Ms. Alexis Doerr.
"This is an outstanding project because it fulfills two of our five strategic priorities: integrated experiential learning and building collaborative partnerships that produce value for NSU, Aberdeen and the region," said Dr. Neal Schnoor, NSU President. "I'm proud of the excellent work by our students and faculty, and I appreciate the Aberdeen Area Community Foundation's involvement in this public-private partnership."
Walters said this is just one example of the types of field experiences students have access to at Northern, with the guidance of supportive faculty and staff.
"Our students have a variety of opportunities for experiential learning throughout their college career, including undergraduate research, artistic creation, service learning, study abroad and internships," she said.
This particular project, she said, helped students build their portfolios, acquire new skills and network with potential employers.
"As a result of the project with AACF, students improved their professional communication and interpersonal skills while gaining a better understanding of the expectations and demands of the industry," Walters said.
Doerr said the collaborative project was a unique learning experience for the students.
"The AACF served as a real client for the graphic design students, whose mission, story, and goals were the foundation for the designers' brand refresh proposal," she said. "As an educator, it was rewarding to see the graphic design students problem-solve and collaborate as a creative unit. Community and department collaborations such as this one enrich the educational opportunities and experience provided to Northern students."
Applied Classroom Lessons to Real-world Setting
Paige Johnson, a marketing major from Park Rapids, Minn., said students were able to apply lessons learned in the classroom to a real-world setting.
"We had to do some research about the Aberdeen Area Community Foundation to find out who they served, what their mission and values were as a company, and then apply knowledge that we learned from the textbooks to morph and mold into what they wanted it to look like," she said.
Heath Johnson, Chair of the Aberdeen Area Community Foundation, said the student presentations were excellent.
"Both the marketing and the graphic design students did a great job," he said. "This is a great opportunity, and hopefully we can continue the relationship in the future and give other opportunities to students to put their knowledge into practice."
Digital media major Lexy Forred said the project provided beneficial real-world experience when it comes to working with large teams and clients.
"And in the end, I think we made a great team and created some really cool things," said Forred, of Aberdeen.
Fellow digital media major Olivia Gohl of Ipswich added, "The experience of a real-world graphic design situation really helped me get a better grasp on how these kinds of things work with real companies and clients."
Strengthened Communication, Collaboration Skills
The hands-on experience allowed students to work through unexpected challenges and strengthen communication and collaboration skills, said new media major Trinity Martin.
"These types of projects really help me to diversify my portfolio and build connections with other students and community members while also investing in the Aberdeen area," said Martin, of Aberdeen. "So grateful to our dedicated instructors for providing us with this opportunity!"
Digital media major Hsa Law Eh, of Aberdeen, added, "This collaborative project was very beneficial because it's a great experience to know how the 'real world' works and what it feels like to be working with different departments/groups other than our own. We really appreciate this opportunity."
Additional NSU students involved in the project were:
• Meghan Anderson, marketing major, Verona, Wis.
• Brian Baker, marketing major, Reno, Nev.
• Jalen Chase, sport marketing and administration major, New Town, N.D.
• Ricardo Chase, sport marketing and administration major, New Town, N.D.
• Macyn Flanigan, business administration major, Brandon, S.D.
• Rachel Garvey, marketing major, Dayton, Minn.
• Chase Groh, human performance major, Mankato, Minn.
• Dan Istvanovich, marketing major, Chisago City, Minn.
• Ashley Landmark, marketing major, White, S.D.
• Deanna LeMire, communication studies major, Ham Lake, Minn.
• Ellie McCormick, marketing major, Mahtomedi, Minn.
• Alyssa Meyer, business administration major, Orient, S.D.
• Jack Miller, marketing major, Minnetonka, Minn.
• Lucia Serra Calvo, exchange student majoring in marketing/communication studies/digital media, Gava, Spain.
• Anthony Vespo, sport marketing and administration major, Bolingbrook, Ill.
• Matthew Weber, business administration major, Aberdeen.
About Northern State University

Northern State University is a student-centered institution that provides an outstanding educational experience, preparing students through the liberal arts and professional education for their future endeavors. A regional university, Northern offers rigorous academics; diverse civic, social and cultural opportunities; and a commitment to building an inclusive environment for all points of view. Northern also offers a broad-based athletics program, sponsoring 15 NCAA Division II intercollegiate varsity sports that compete in the Northern Sun Intercollegiate Athletic Conference (NSIC). The university strives to enrich the community through partnerships such as its Educational Impact Campaign, which opened a new South Dakota School for the Blind and Visually Impaired; new athletic and recreation fields; and an on-campus regional sports complex. With the $55 million campaign, NSU has been the recipient of more than $150 million in privately funded building projects and scholarships within a decade. To learn more, visit NSU Admissions.
About the Aberdeen Area Community Foundation
The Aberdeen Area Community Foundation was established in 1984 as a standalone 501(c)(3) nonprofit corporation with a goal of creating a long-term funding source for charitable causes in the local area. With careful investment, the fund will continue to grow and enhance quality of life in the local area forever. This fund is one of more than 80 Community Savings Accounts in partnership with the South Dakota Community Foundation. For more information, visit aberdeencommunityfoundation.com.
About the South Dakota Community Foundation (SDCF)
SDCF is a public non-profit organization established in 1987. SDCF, with offices in Pierre, Rapid City, Sioux Falls and Aberdeen administers 1,200 funds benefiting hundreds of charitable organizations annually. The Foundation distributed nearly $30 million in grants in 2022 which made a tremendous difference in communities statewide. This would not have been possible without the generosity of our donors. If you have a specific cause you would like to support or would prefer to give for the general good of our state, please visit sdcommunityfoundation.org/giving to learn more or call 1-800-888-1842.