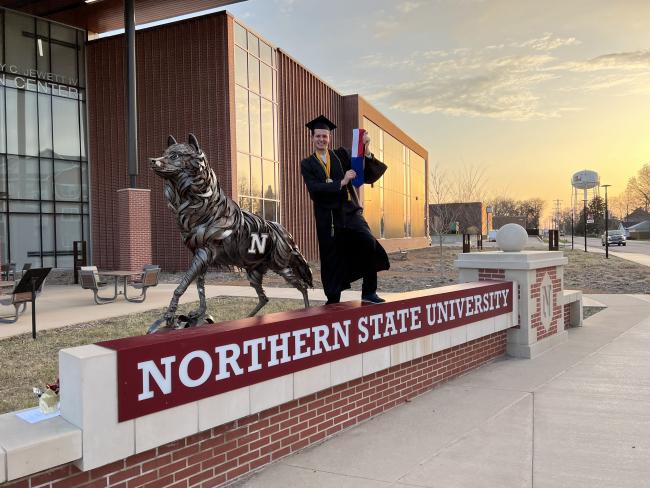 ABERDEEN, S.D. – Northern State University international alumnus Matěj Číp is on his way to a prestigious graduate school in New York City—and he said NSU played a pivotal role in helping him get there.
"Northern quickly became a transformative environment in my life," said Číp, from Hodslavice, Czech Republic. "The opportunity to engage with inspiring professors and peers, coupled with an education style vastly different from that in the Czech Republic, fueled my passion and opened up a world of possibilities."
Číp said NSU Professor of Music Dr. Marcela Faflak provided the impetus for him to attend Northern, where he studied the cimbalom and graduated in spring 2022 with a B.A. in Music.
During his time at Northern, Číp served as a Resident Assistant and an International Senator in the Student Government Association; volunteered in Guatemala through Northern's outreach programs; studied in South Korea as part of the Honors Program; and even ran with the NSU Cross Country Team. He also delivered lectures on his instrument at esteemed U.S. universities such as the University of Chicago and the University of Kansas.
"These experiences also served as invaluable assets during my application process for a master's program with the cimbalom at Berklee NYC," Číp said. "My journey serves as a testament to the transformative power of NSU, a place that not only nurtures talents but also unleashes the potential within each individual. I stand as a proud beacon of Northern's success, immensely grateful for the opportunities and experiences that have shaped my artistic journey."
Fundraising for Berklee NYC
Now this fall, Číp will begin his master's studies with the cimbalom at the renowned Berklee NYC. He's looking for support on his journey through this fundraising link.
"I am eager to embark on this new chapter and am brimming with anticipation for the great opportunities that lay ahead," Číp said.
Following grad school, Číp said his career goals include potentially establishing a recording studio and cimbalom center.
"This hub would serve as a beacon for talented cimbalom students worldwide, providing them with a platform to refine their skills and share their artistry," he said.
Grateful for Support
He's thankful for all support he has received along the way—and especially grateful for his "host mom," Diana Osborne, through the NSU Friendship Family Program.
"Her unconditional love and support became my anchor when my family in the Czech Republic was out of reach," he said. "As I navigated through the adventure of adapting to a completely new country and environment, she was there, providing a sense of home and comfort. This adventure was not just a personal journey, but a collective effort of countless individuals, and I am forever indebted to their kindness and support."
For more information on studying at Northern as an international student, visit NSU International Programs.
About Northern State University

Northern State University is a student-centered institution that provides an outstanding educational experience, preparing students through the liberal arts and professional education for their future endeavors. A regional university, Northern offers rigorous academics; diverse civic, social and cultural opportunities; and a commitment to building an inclusive environment for all points of view. Northern also offers a broad-based athletics program, sponsoring 15 NCAA Division II intercollegiate varsity sports that compete in the Northern Sun Intercollegiate Athletic Conference (NSIC). The university strives to enrich the community through partnerships such as its Educational Impact Campaign, which opened a new South Dakota School for the Blind and Visually Impaired; new athletic and recreation fields; and an on-campus regional sports complex. With the $55 million campaign, NSU has been the recipient of more than $150 million in privately funded building projects and scholarships within a decade. To learn more, visit NSU Admissions.