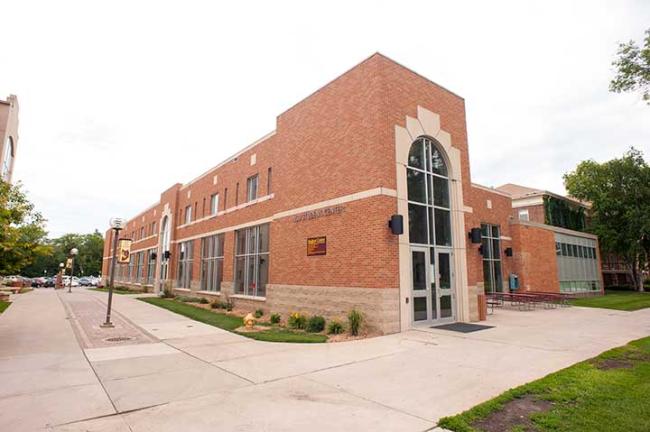 ABERDEEN, S.D. – Northern State University Prevention Services is a new part of campus whose goal is to support the health and well-being of NSU campus community. 
Created in March 2021 as part of the Student Affairs Strategic Action Plan, Prevention Services works to monitor, measure and improve prevention approaches to increase safety and reduce risks for members of the NSU campus community.  
"Whether working with students individually or providing population-wide programming, our goal is to empower students to make healthy choices while creating an environment that is conducive to academic and social success," said NSU Coordinator of Prevention Services Erin Olson. 
In her new role, Olson's goal is to provide training and services on campus and increase the department's visibility by collaborating with staff, faculty and student groups across campus. 
Accredited and funded by the Department of Social Services, NSU Prevention Services provides services that are open to all Northern students. That includes suicide prevention, drug and alcohol diversion, and sexual assault prevention. It also offers the Insight Program, a substance misuse diversion program that uses an evidence-based approach to help students evaluate their risk regarding alcohol and substance abuse. 
Olson said the NSU Counseling Center has provided this type of programming for many years. But now by introducing Prevention Services, Northern looks to continue to provide quality holistic wellness programming while reaching more students and community members as a recognizable, branded entity on campus. 
Prevention Services is located in the Student Center Suite 240. For more information, students, faculty and staff may contact Olson at 605-626-2371 or Erin.Olson@northern.edu. 
 
About Northern State University   
Northern State University is a student-centered institution that provides an outstanding educational experience, preparing students through the liberal arts and professional education for their future endeavors. A regional university, Northern offers rigorous academics; diverse civic, social and cultural opportunities; and a commitment to building an inclusive environment for all points of view. Northern also offers a broad-based athletics program, sponsoring 15 NCAA Division II intercollegiate varsity sports that compete in the Northern Sun Intercollegiate Athletic Conference (NSIC). The university strives to enrich the community through partnerships such as its Educational Impact Campaign, which opened a new South Dakota School for the Blind and Visually Impaired; new athletic and recreation fields; and, soon, an on-campus regional sports complex. With the $55 million campaign, NSU has been the recipient of more than $120 million in privately funded building projects and scholarships within a decade. To learn more, visit NSU Admissions.